« Monday Overnight Open Thread (7/9/18 )
|
Main
|
Mid-Morning Open Thread »
July 10, 2018
The Morning Report 7/9/18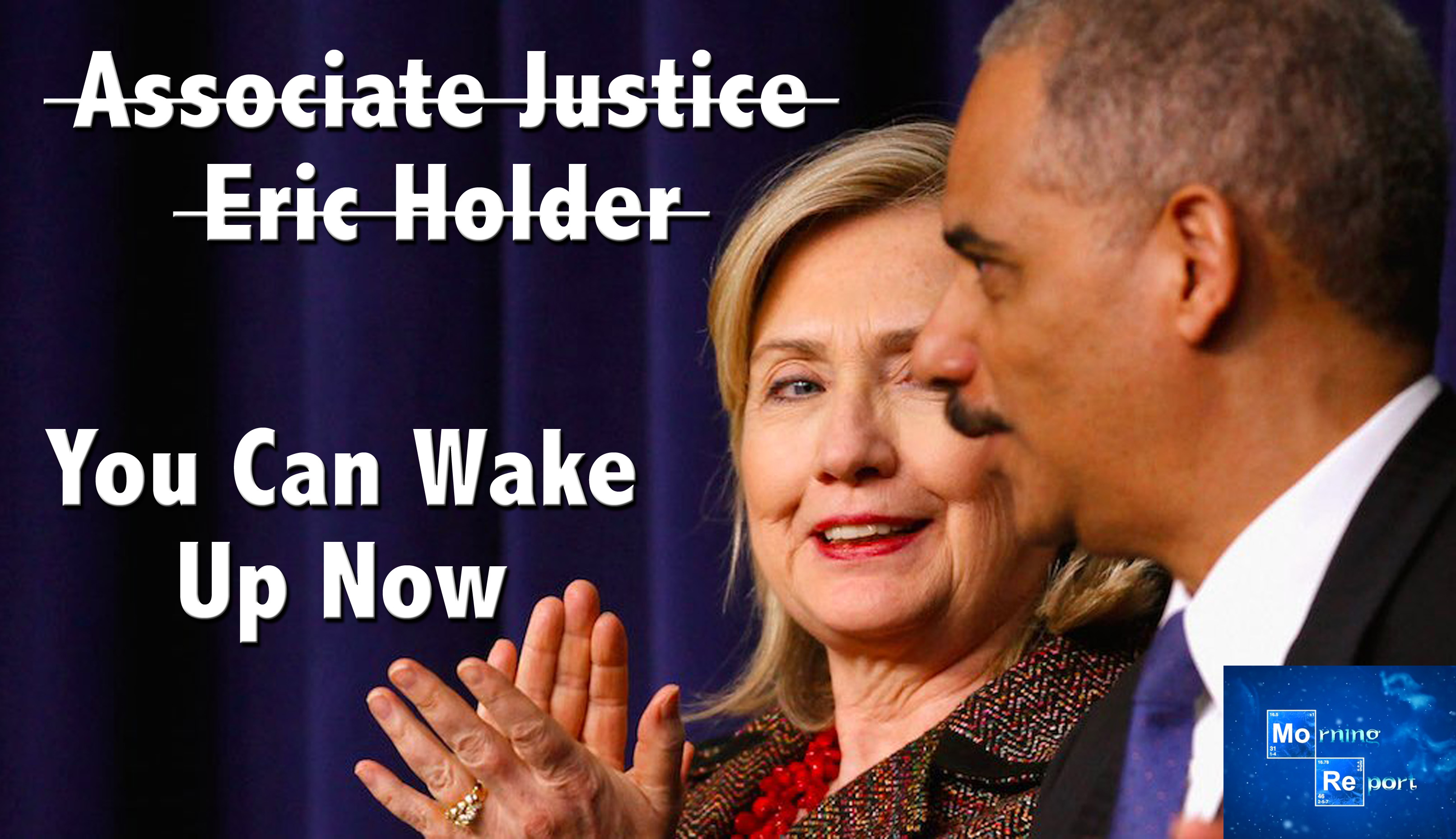 Good morning kids. The big story this Tuesday is President Trump's second pick for a seat on the SCOTUS, Brett Kavanaugh. From our side, there has been some trepidation about his record and beliefs, although judging by reactions from conservative circles, the reaction has been nothing but positives and praise for the President. From the other side, the reaction has been a vast wave of epithets, rants, obscenities, theatrics and rhetoric heaped upon the President, conservatives, his supporters and especially Judge [ XX ] who will keep women and blacks in chains and toss little brown babies into the gas chambers.
Yes, Trump's choosing [ XX ] is made even more horrible since he stole the election from Hillary Clinton. By everything that is just and right in this world, last night should have seen her on that stage, standing alongside the mummified remains of William Kunstler and his family, heralding a bright future for American jurisprudence and the safeguarding of the Constitution. Luckily, the evil Mitch McConnell only delayed the installation of Justice Merrick Garland by only a few months. Now Ruth Ginsberg can retire safe in the knowledge that President Clinton's next pick will be Hawaiian Judge Punchy Macadamia Molokai Leper, or Eric Holder...
Now, after that dose of a (un)reality sandwich of what, G-d forbid, might have happened, let's get down to cases. Despite the press to the contrary, by all indications, Brett Kavanaugh (note to Women's Marchers: you can fill in the [XX] now) has an excellent record of sound jurisprudence. He gets the thumbs up from Leonard Leo of the Federalist Society who, along with the Heritage Foundation, was instrumental in putting together the field of nominees that PDT had to choose from. And that field also included Neil Gorsuch who I seem to recall was also met with some skepticism when he was nominated to fill the seat left by the death of Antonin Scalia. And the wave of incredibly huge decisions over the past few weeks bears out the soundness of the choice as I think and hope Brett Kavanaugh's will as well.
On the political side of things, Mitch McCoCbrother was lobbying hard for Raymond Kethlidge because he felt it would have been an easier confirmation. If that's the case then that is a sure indicator of seating another Anthony Kennedy or a David Souter had he got his way. No word from Murkowski but Susan Collins has indicated that she is going to support Kavanaugh; Collins always plays these kinds of games, vis a vis making noises to placate the libs Down East and in the end voting to confirm. Also there are sure to be a number of red state Dems like Joe's Man-Chin who are not going to take it in the neck and commit political suicide for the sake of blue state blowhards like domestic terrorist-linked Dick Durbin.
Lots of links with all the analysis and the confirmation process ahead, which is going to be insane to say the least. As I have been saying, to the left, this here is for all the marbles. Mark Levin is correct; the left views the SCOTUS as a "politburo" with which they can use to circumvent normal electoral or political processes that would prevent their advancing their policies. If you think the Clarence Thomas hearings were bad, fasten your seatbelts; you ain't seen nothing yet.
Moving on to other things (most of which are directly affected by who sits on the judicial benches across the fruited plane), on the immigration and amnesty front a federal judge has tossed the administration's attempt to hold illegal alien children for more than 20 days while 24 of Nancy Pelosi's peace-loving MS-13 animals have been indicted in Maryland for a panoply of heinousness, another shining example of humanity accused of raping teen sisters has already been deported 4 times and two good links refuting the Democrat propaganda about the nature of "immigrants" and what Ronald Reagan really said about them.
In the uncivil war, about to heat up even more with Brett Kavanaugh, Shannon Bream beat a hasty retreat when she felt threatened by Kavanaugh protersters, Stephen Miller, too, had to de-ass with the quickness after being harassed at a sushi bar and fearing a poisoning, Kellyanne Conway was harassed whilst at a DC supermarket and some thoughts on the increased intolerance of the "tolerant" left.
Politically, the so-called "MeToo" movement and the Womens Marchers are being touted by a Dem pollster as the key to the Blue Wave in November, Daniel Greenfield dissects the hypocrisy of Bernardo Sandersnista and a couple of positive links on the wild success of PDT's first 18 months and a bright prognostication for conservatism in America.
Status quo on the Mueller witch hunt, but numerous people are coming out swinging in defense of Jim Jordan including several former wrestling coaches, key congressional politicos and Ginni Thomas, wife of Justice Clarence Thomas, among them. It certainly appears now that this too is an orchestrated character assassination, quite possibly with the bony, booger-encrusted fingers of Rod Rosenscum all over it. Jordan made him look ridiculous and so, Jack Woltz, etc.
On to foreign policy where the Chi-Coms are angry over Mike Pompeo's most recent trip to North Korea, our trade deficit with Peking's pirates, plagiarists and pilferers is obscene, Iran is definitely on the brink and the administration is attempting to block pallets of cash from Berlin from getting to them and Ethiopia has a new president who is seemingly turning that perpetual hellhole around.
In first amendment news, while the momentum seems to be mounting to break up Facebook, New Jersey is now moving to circumvent free speech and an open internet (among other things) by creating an actual state-controlled media in the Garden State. Ugh. Somewhat related, and moving on to the campus scene, the good news is that USC is going to have to fork over money to a male student it attempted to railroad after a false rape charge, more on the reinstating of the conservative professor suspended by Marquette and Heather MacDonald on the potential downfall of racial preferences and affirmative action.
On the healthcare front, happy birthday to England's NHS, which marks the 70th anniversary of universal healthcare with Charlie Gard as well as the reports of a doctor being fired for stating the heresy that gender is not a construct you choose. And finally, the Montreal Jazz Festival canceled a performance of a show where, gasp! white women were singing slave songs. Oh the humanity. Sheesh.
Anyway, links from around the world, across the nation and up your street. Have a better one and remain blessed.
SCOTUS VACANCY: TRUMP PICKS BRETT KAVANAUGH