« Tuesday Overnight Open Thread (7/3/18 )
|
Main
|
Mid-Morning Open Thread »
July 04, 2018
The Morning Report 7/4/18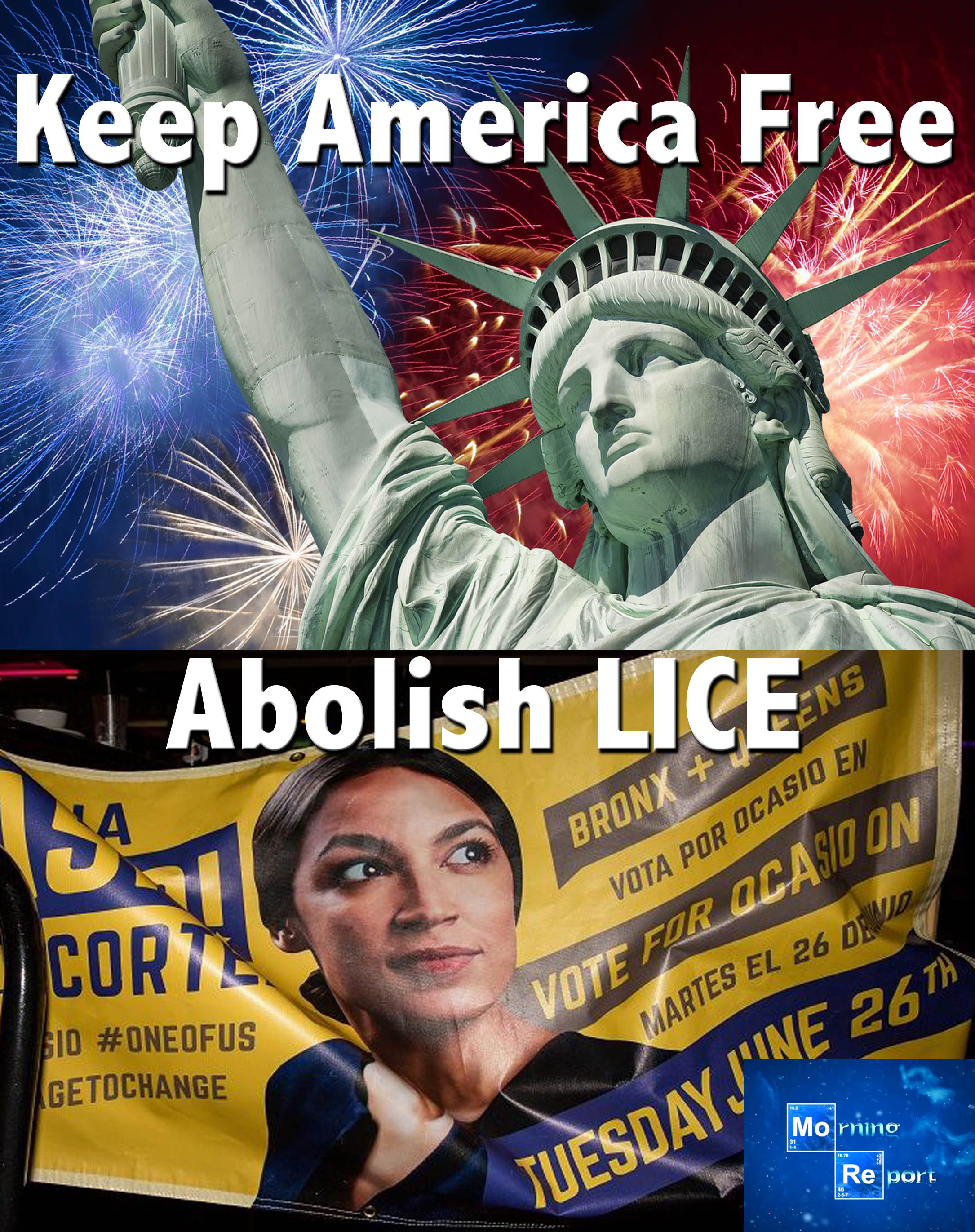 Good morning kids. Happy Independence Day 2018! We actually have a decent amount of content so let's dive in (I'll try to be brief given I got a a late start and it is a holiday, but I anticipate that effort will come to naught).
First up, several great links with which to ponder the American Revolution as we live through perhaps a defining moment of the 100+year counterrevolution that started around 1913. From my perspective, a nation is more than just the land and its borders (hang on, I'll get to that). A nation is defined by its people via shared history, language, customs, traditions and culture. And as I have always learned and hoped, in this country since many people have different cultures whether from abroad or even regionally, a part of what makes America "the exception" and unique is tolerance and respect for our fellow citizens' differences. Naturally this can only happen when everyone plays by and defends a common set of rules, in this case our Constitution and Bill of Rights. Sad to say, that is not the case, as I know you are all well aware of.
As I had mentioned, a nation is not just the land and its borders but it most certainly cannot exist without them. Hence the drive to erase them and thereby erase our culture, heritage and history that binds us via the drowning of all of them in a sea of aliens, both human and cultural. In any case, on the positive side, when you look at the state of the rest of the world and you look at America, despite the upheaval and chaos, there really is no other place that's better than right here. And as we get into the links, there are places here that I'd definitely prefer not to go (California for one) but thank G-d for America and for the courage of the Founders to throw off the shackles of tyranny and create not just a land to live in freedom but the divinely inspired guiding principles and laws that allow people to live their lives as they decide to the best of their talent, drive and ability. Happy birthday America! And to those who have other opinions, you are free to get the hell out of here any damn time you want.
With that, let's get to the headlines. First up is the battle over the SCOTUS pick. So far the prognosticators have Brett Kavenaugh and Amy Coney-Barrett among the top contenders on the short list but a dark horse Raymond Kethledge is now a contender as well. Conservatives are concerned he might be another Anthony Kennedy (he was once his clerk) but there's really no way of knowing. Two links on him as well as Tony Perkins and Alan Dershowitz urging the selection of a conservative. Whoever it is, we need an originalist, strict constructionist (if possible) and preferably under 50 who doesn't have a penchant for Snickers bars or swallowing their My Pillow whole (though that is not within their control). Stay tuned.
On to Amnesty/Immigration/Nation-Killing invasions, as Leftist Lice seek to abolish ICE and with it sow anarchy and dissolution per Go-Go-Gohmert, the President likens ICE to an army of liberators vis a vis its fight against the dreamy MS-13 DREAMers. Rightly so, given the article about the manhunt for illegal alien rapists on the loose. Meanwhile, Tom Perez is openly flaunting Alexandria "Loopy Velez" Ocasio-Cortez as the future of the Democrat Party; that is her avowed Marxist-Leninist Communism. It's not the future, really. It was its past and present, just covertly, so I guess the future is out and proud. That's either good or bad depending upon the mindset of the electorate. And given the brainwashing of the past several generations of American youth to hate the country, I'm not so sanguine.
Then again, we do have a poll showing that white men are abandoning the Democrat party and flocking to the President and more importantly his vision of Americanism. No wonder since a massive rise in income as a result of the Trump economy. And with Maxine "Polluted" Waters doing her cray-cray schtick (actually, it's not schtick if it's real), the internecine struggle between the old bull Trotskyites in the Party and the younger ones seeking a "shining path" (nudge-nudge-wink-wink), I can't for the life of me see the Dem-Left winning in November and even beyond. All they can do is shoot people, riot, burn down buildings and verbally abuse real Americans. Case in point Scott Pruitt. Unreal.
On the Deep State end of things, the Senate Intel Committee has concluded that the Russkies tried to sabotage the election and wanted Trump to win. Lost in that news is that after Trump won they tried sabotaging his nascent presidency. And worse, the DoJ hasn't given Imran Awan a slap on the wrist, they kissed him on the mouth with tongue. Forget abolishing ICE. Abolish the DoJ. Total joke.
Going around the horn, the First Lady is a total class act, the Calexit Commies are going to proclaim independence today (I hope so!), California's insane climate policies mean the poor and minorities are, for once, hardest hit, a must read, tragic story about the little girl who wound up in a coma after a botched tonsillectomy and who has now passed away (California,again), Obama's affirmative action diktats have been given the deep six and lastly Jim Jordan is going to be deposed by Perkins-Coie (remember them?) about his role in OU's wrestling scandal (he was an assistant coach there). Man, I hope there's no there there. I am leery about all politicians but he is one of the very few likable and seemingly honest, decent guys that we really need in there.
Lastly, please be safe! I blew out an eardrum and lost some hearing in one ear due to a large shell exploding five feet away from me. Damn lucky it didn't do worse.
Anyway, links from around the world, across the nation and up your street. Have a better one and remain blessed.


IN THE LEAD - HAPPY 4th of JULY!


posted by at
08:09 AM
|
Access Comments