« What Can I Say? It's The ONT
|
Main
|
Mid-Morning Open Thread »
June 22, 2018
The Morning Report 6/22/18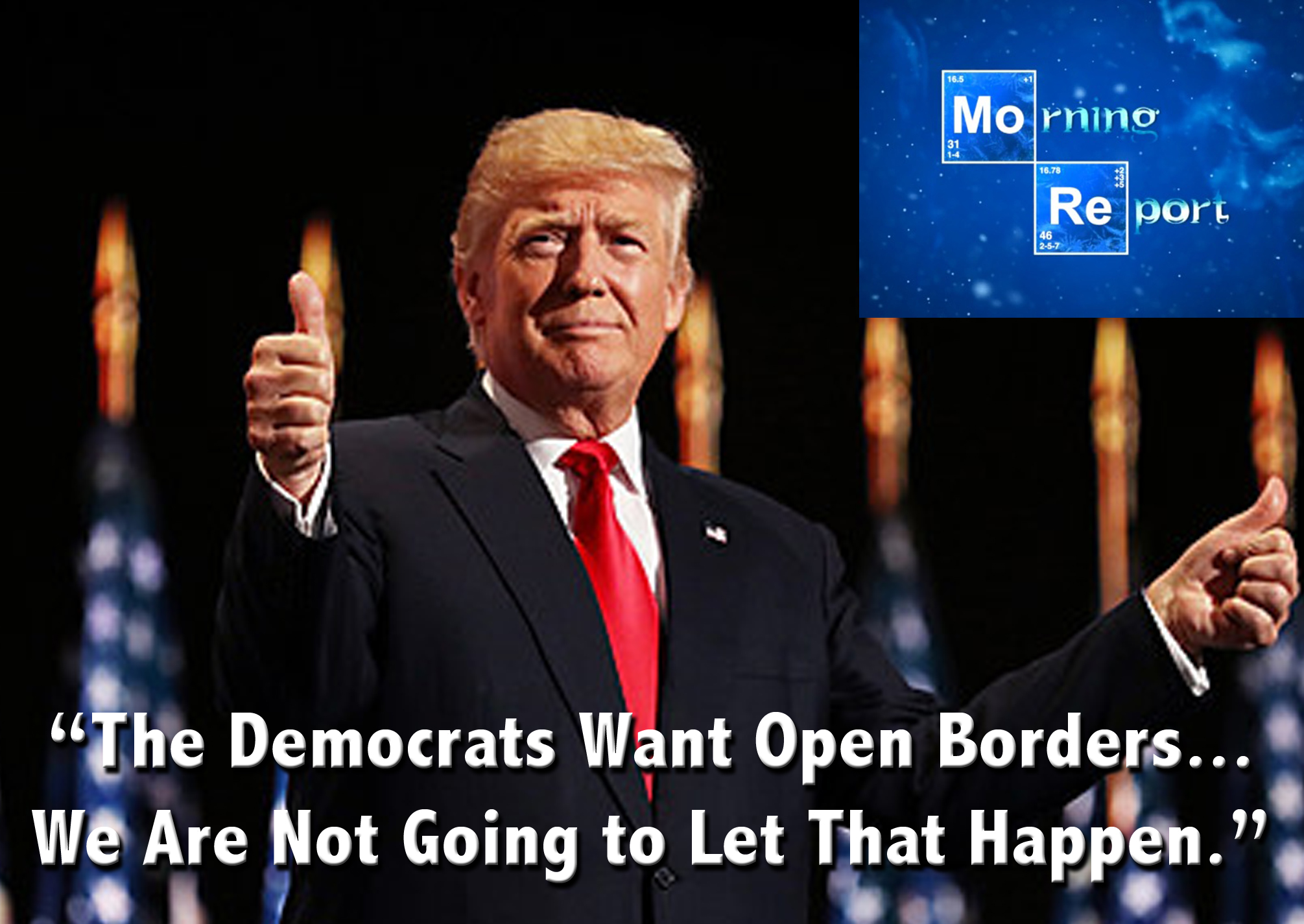 Good morning kids. The weekend is here and with it brings a mixed bag of news, and from my perspective it seems mostly positive, all things considered. As I had alluded to the other day, aside from its long-standing goal of flooding the country with a massive, permanent voting bloc, the Democrat-Left-Media complex manufactured a border crisis of migrant babies being torn from the arms of their loving parents by Adolph Trump and tossed into a concentration camp. The reason was the evaporation of the vaunted midterm Blue Wave along with the Mueller witch hunt and now the revelations that Obama and Clinton with a willing FBI, CIA and NSA conspired to sabotage the Trump campaign and subsequently overthrow his administration.
Well, after almost a week of non-stop lies, smears and utter fakery, the President singlehandedly exposed this sham for what it is by his executive order to reunite the children with their parents - without turning them loose. He made them admit that what he was doing was merely following a long-standing law, that the conditions he was blamed for were in fact the fault of Obama and most importantly that the Democrat-Left merely cares about these kids insofar as it gets them to their holy grail of open borders. The latest Rasmussen poll shows that a majority of Americans place the blame for this on the parents for placing their kids in mortal danger to be used as political pawns. Most importantly, the President's rhetoric on all these issues is plain, straightforward and brutally honest. It's also reassuring to hear for the first time a Republican president calling it like it is and calling out the Left for their intentions. Well played, sir. And with the embarrassing defeat of the first House bill to address DACA, Paul Ryno was forced tp postpone the more moderate bill (read: total sellout) for Monday and, as of this writing, the situation is in doubt if he'll be able to whip the necessary votes for passage, and even so, it would have to clear the Senate and then face PDT's veto pen. So, at least for now, the status quo such as it is is maintained.
From my perspective, when you consider the corrupt nature of the bureaucracy, a large portion of our judiciary and the rogue nature of blue states and cities where upwards of 20-30 million illegal aliens live, in a very real sense already have open borders. Unless and until you cut off the money and benefits that attract and keep these people here, and severely punish any person or enterprise that knowingly employs them, this problem is not going to go away. Along with that, if we are going to even have a chance at saving the nation and preserving whatever vestige of America as founded still exists, we must have a moratorium on legal immigration for a period of minimum 20 years. I realize that that is almost assuredly a non-starter given the political climate and mindset of a large part of the nation and more importantly those in DC and those with deep pockets. But it has to be said and it has to be proposed. In any case, all in all, it was a good week for the President and the American people on this most crucial issue.
That said, the rage and anger goes on and as the Media drum up more propaganda, the potential for violence ramps up. A former cop is being charged for making death threats to the President while some writer up in Canada is taking a cue from Petered-out Fonda and threatening Donald Trump Jr's 4-year-old daughter, and some raving college socialist burped out a sick, violent, inchoate diatribe against the GOP. Jackie Speier rushes to the defense of that Hrabar slag who verbally assaulted DHS Sec Nielsen at a DC restaurant while Cynthia "Tricky Dickless" Nixon has openly slimed ICE as a "terrorist organization." Considering an NYU prof doxed several thousand ICE agents' personal info yesterday, if one of them or a family member is attacked a la Friend-of-Durbin James Hodgkinson, then the Democrat-Left-Media will have blood on their hands. Meh, that's exactly what they want.
Moving along, the big news in the Mueller Flea Circus and Spygate is the DoJ has revoked Peter Strzok's security clearance (gee, that was quick /s) and Peter Kadzik, the DoJ official who sought a job on the Hillary campaign for his son while being part of the investigation into her e-mail servers will not even get a slap on the wrist. Not a smidgen of corruption. Nope.
On the 1st amendment front, anti-American front group SPLC is facing a potential huge lawsuit over its smearing of companies as "hate groups," and as goes Tommy Robinson, so goes whatever liberty and heritage of Magna Carta is left in the UK.
The big news from SCOTUS is its decision to allow states to collect taxes from internet sales. A boon for brick and mortar stores or taxation without representation? Discuss. On the political front, the question of California splitting up is causing heated debate over exactly what that's going to look like. My big fear is three state which have Los Angeles, San Francisco and Sacramento as their capitals. That would be suboptimal to say the least.
On the international scene, the Russians and Chi-Coms are going ballistic over PDT's proposed Space Force. I see parallels with President Reagan's SDI, since despite their image, my gut tells me that the volume and intensity of their reaction indicates that they know they can't compete, technologically or financially, in this area. No doubt a Democrat will try and reassure them a la Ted Kennedy that once Trump's gone, they'll scrap the program. Meanwhile, GOP lawmakers want to isolate Iran form the international financial community and want Treasury Secretary Mnuchin to m'nuke Obama's secret side deals in the now defunct nuke deal.
From hither and yon, ABC is booting up a spinoff of "Roseanne" minus Ms. Barr, a rather sobering essay from the Federalist about the end of America and lastly, today marks the 77th anniversary of Operation Barbarossa, Nazi Germany's invasion of the Soviet Union which they boasted as a war of annihilation. It was the bloodiest, most savage battle in history taking nearly 20 million Russian lives. It also marked the ramping up of the annihilation of the Jews. Over 1.5 million people - nearly one fourth of all the victims of the Holocaust - were shot, one by one, by the Einsatzgruppen in cities, towns and villages from the Baltic to the Black Sea. The mind boggles.
Anyway, links from around the world, across the nation and up your street. Have a better one and remain blessed.


IN THE LEAD: THE AMNESTY SCAM


posted by J.J. Sefton at
07:47 AM
|
Access Comments