« Tuesday Overnight Open Thread (6/12/18 ) Apology Edition
|
Main
|
Mid-Morning Open Thread »
June 13, 2018
The Morning Report 6/13/18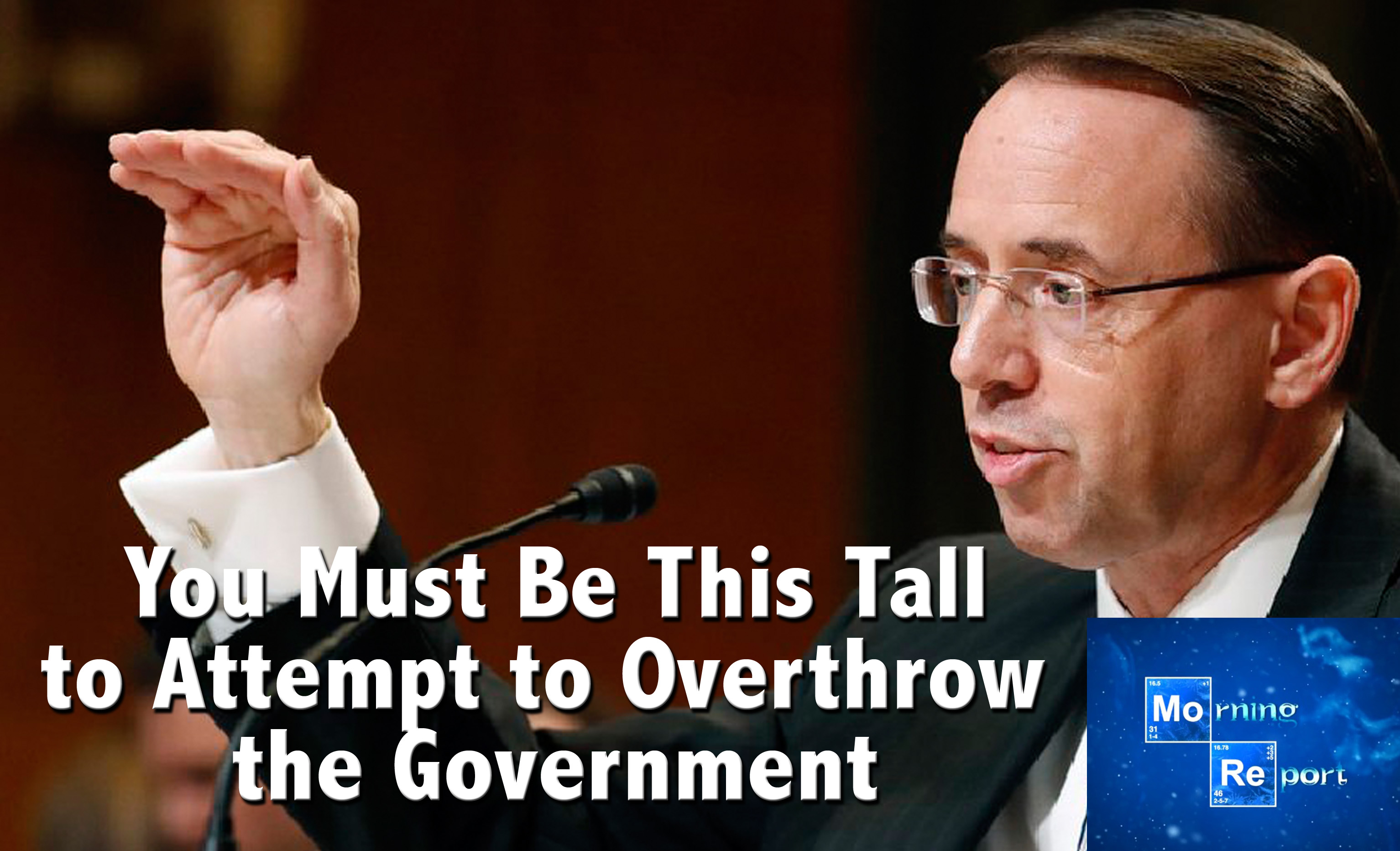 Good morning kids. Midweek and the top story for today is analysis of the Trump-Kim Singapore Summit just concluded and what the prospects and next steps are going forward. While CBD and Ace were perhaps much more reserved about it than I was yesterday at this time, both with good, sobering points that I do agree with, two enemy nations that have been in a state of war for 65 years (Panmunjom was a cease fire), with the rhetoric ramped up to eleventy-leven over the past 18 months nevertheless put that aside and at the very least sat down to meet face to face. In my view, from a political and diplomatic standpoint, that alone made the meeting an unqualified success. Now what remains is the question of next steps. And that really was the purpose of this whole thing; to get the ball rolling. As an aside, I find it interesting that the Senate now is reminding everyone about its Article 1 prerogatives, considering it spread its collective cheeks to let Obama do whatever the hell he wanted with Iran. In any case, this really was a major political victory for the President and, North Korea's history notwithstanding, a positive step for deescalating tensions in a geopolitical flashpoint, at least for now. Links with lots of analysis for your consideration in this regard.
Moving to Spygate, I posted yesterday of the vomit-inducing words of Rod Rosensteinpenis vis a vis patriots defending the rule of law which was followed mere hours later of a flaming skull report of the aforementioned threatening lawmakers who were rightfully demanding full disclosure on the nature and origins of the "dossier." Mark Meadows and Jim Jordan are hitting back with a draft resolution to force the Arnold Stang-looking tinpot traitor to fork over the documents or else... I don't know. The FBI, or minimally its leadership, is in open revolt against the Congress, and its putative head Jeff Sessionszzzz is nowhere to be found on this (mostly because since his recusal he's effectively ceded the DoJ to Rosensteinpenis. Check that; he was found - defending Rosen-Rosen. Not a good situation. I vote the FBI be abolished, except for the crime lab, and its agents absorbed elsewhere or retired.
On to Amnesty, where despite the hideous discharge petition falling two votes short before time ran out on it yesterday, now Paul Ryno is concocting some other insane deal to insure the GOP's already dead corpse rots down to the bone. The Democrats are immolating themselves almost on an hourly basis and could crash and burn in spectacular fashion come November. Except for the GOP-e. The administration is warning them about the perils of attempting to pass a clean DREAM act that goes against the Trump agenda. In more positive news, the new government bureau charged with combatting citizenship fraud has hit the ground running and is already aggressively targeting those who obtained citizenship under false or criminal pretenses.
In related news on the political front, there were some good signs coming out of yesterday's Super Tuesday Primary results, with several MAGA candidates ousting the cucks, flunkies, RINOs, DIABLOs and CoC whores. Most notably, Mark Sanford is out in South Carolina. I'd like to think the President's Tweet telling him to go to Argentina (a reference to his mistress) had an effect, but I think South Carolinians were sick of him. Other races are covered in the link at Breitbart. An initiative to split California into three states will be on the ballot in November, a clueless professor has fantasies about the aforementioned as well as DC and Puerto Rican statehood, Clare McAssKill is a fat hypocrite and despite everything, Hollywood will be out in force to grind any hope the Democrat-Left has of victory in November '18 and '20 into the ground.
In First Amendment and Media news, a judge has ruled that AT&T can go ahead with its plan to buy Time-Warner, Little Shitler Camera Hogg is bemoaning how the end of Net Neutering causes voter disenfranchisement or some such teenage drivel, and Juanita Broaddrick's book about her alleged and probable rape by Bill Clinton has suddenly vanished from Amazon. I guess it was hate speech, right?
Back over to the international scene where, despite the magnitude of the Trump-Kim Singapore Summit, an even bigger one with Chi-Com leader Xi, and several other regional nations in Shanghai is coming up, Venezuela is in the shitter, Trump forces Brezhnev-Brow Trudeau to do a 180 on Iran, and Caroline Glick on how Prince William's upcoming historic visit to Israel ain't all it's cracked up to be (mostly because of the House of Windsor's barely concealed Joo-hate).
On the domestic scene, with the ticking time bomb of the impending entitlement disaster comes the dueling links of a Social Security employee insuring his own security by securing over $600,000, and despite record personal income tax revenue last May, we still ran over a half trillion dollar deficit. The Democrats are suddenly bitching about Obamacare rate hikes when they were oddly silent about it a mere four years ago and the AMA is drinking the Kool Aid for assisted suicide. The great Walter Williams has a warning about social justice garbage infecting academia's math classrooms and more tales of Bill DeBolshevik's hatred of private charter schools.
From hither and yon, Rump-Roast Clyburn is joining Nazi Collaborator Soros' Open Societies Sores commie front group, a group of teens who were just turning their lives around beat up a NYC bus driver who -gasp! - insisted they pay their fare, a related link about Black America going off the cliff and finally, one of the last Navajo code talkers, Samuel Tom Holiday has passed away at 94. RIP, sir and thank you.
Anyway, links from around the world, across the nation and up your street. Have a better one and remain blessed.


TRUMP-KIM SUMMIT AFTERMATH, ANALYSIS


posted by J.J. Sefton at
07:22 AM
|
Access Comments