« Words Have Meanings
|
Main
|
Weekend Gun Thread »
June 17, 2018
Food Thread: The Sins Of The Flesh Are Just Delightful!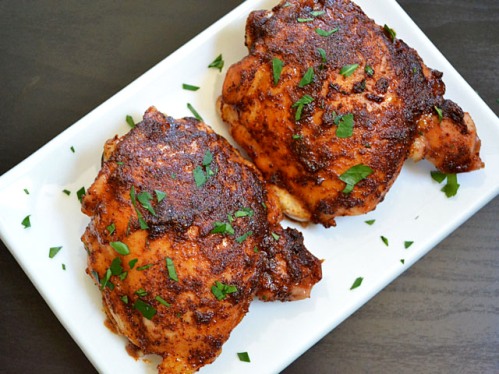 I am a thigh man. Breasts are the tabula rasa of the chicken world, and while I love a nice plump one, they are better when stuffed with interesting things like cheese and ham. But thighs can stand on their own (SWIDT?). In addition to having more myoglobin and fat, they have that wonderful bone with the connective tissue that seems to melt into lusciousness with careful cooking.
They also stand up to an awful lot of heat, so it is difficult to overcook them. And if you bone them, they have a lot of surface area, so whatever marinade or rub you feel like using will quickly add tons of flavor.
My current method is a cilantro-based marinade for a day, then a slow roast on indirect heat on the grill, then a quick sear to make them nice and brown and crispy. I burn my tongue eating the first one off the grill.
******
Don't Eat Before Reading This: A New York chef spills some trade secrets.
That NY chef was, of course, Anthony Bourdain. And this article was the beginning of his literary and television career and his entrance into popular culture.
Even more despised than the Brunch People are the vegetarians. Serious cooks regard these members of the dining public—and their Hezbollah-like splinter faction, the vegans—as enemies of everything that's good and decent in the human spirit. To live life without veal or chicken stock, fish cheeks, sausages, cheese, or organ meats is treasonous.
He was a New York leftist, but how can you hate a guy who writes that!
In reality he was a bit of a libertarian, no doubt driven by his love of food and his frustration at the rampant regulation and nanny-statism that governs the food industry. Here is a "Reason" article about him, with a video interview of Bourdain that they did awhile ago. It's great, and has flashes of a budding conservative. Anthony Bourdain, Lover of Food and Enemy to All Tyrants, Has Died Too bad he didn't have more time to explore the ideas he was flirting with, instead of remaining for the most part in the hipster/Leftist bubble. But that really isn't fair, as is discussed in this article in The American Conservative... A Tale Of Two Tonys
Bourdain had, at least in this circumstance, an open mind, and was willing to admit that he was quite simply....wrong. The full video of the "Parts Unknown" episode is here....Anthony Bourdain Parts Unknown: West Virginia
I'll tell you a not-so-secret about Bourdain. He was a much better pundit and observer and critic than he was a chef. I have eaten in one of his restaurants, and it was underwhelming. But he sure knew good food, and embraced the joys of eating and gastronomy, both haute-cuisine and the equally pleasing basse-cuisine.
I'm not fooling myself though. After all, he is the guy who quite publicly said, "Fvck Trump." But he did have an observant and reasonable side too.
******
This was sent to me by commenter "PJ," who tried to put it in the comments but was stymied by...ummm...stuff. Anyway, it sounds good, aside from the blueberries, which is deeply disturbing to me, simply because I have never had blueberries and pork before. Not "syrup on French Toast" disturbing, but still.
Actually, I am sure it will work, because blueberries aren't all that sweet, and the their natural tartness will go nicely with the pork.
Pork Tenderloin With Port Wine Sauce
Ingredients


1 1/2 to 1 3/4 lb. pork tenderloin

Kosher salt

freshly ground black pepper

1 1/2 ts olive oil

1 tsp unsalted butter

2 tbs finely chopped shallots

1/2 c tawny port wine
3/4 c beef broth

1 pkg. blueberries

1 tbs light brown sugar

1 tbs raw sugar

1/2 ts cornstarch or flour

1/2 tsp freshly chopped thyme; OR

1/8 ts dried thyme; crushed
Instructions
Trim all visible fat and sinew off pork tenderloin. Sprinkle with salt and freshly ground black pepper. Sear in pan, then finish in oven at 425 for about 25 minutes.
Heat olive oil in large, heavy, nonstick skillet until shimmering. Stir in
unsalted butter.

Stir shallots into pan juices and sauté about 1 minute. Stir in port and
cook over Medium-High heat until wine becomes syrupy and has reduced at
least by half or more.
Combine broth and cornstarch and add to pan.
Stir in thyme and
bring to a boil. Add blueberries and sugar.

Cook until sauce has thickened.

Serve immediately with medallions nested in blueberry sauce.
Makes 4 servings.

******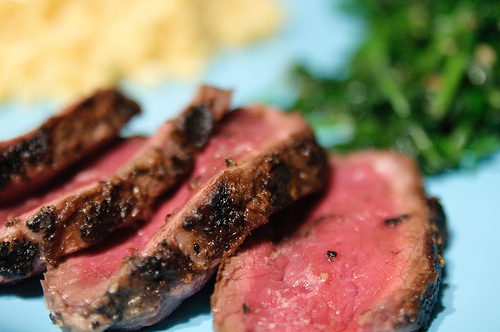 My local market had a sale on thick sirloins this past week, and coincidentally there was a discussion on one of the ONTs about steaks, and sirloin was mentioned a lot. It is a nicely flavored cut, but all too often I find it riddled with connective tissue and fascia (the tough covering around muscles). That is not really a complaint, because for the price it is still a very good value. I need to be able to recognize the better cuts of sirloin or, absent some miraculous butcher gene magically expressing itself in my brain, learn how to trim it and excise the tough stuff. That is exactly the kid of project that my obsessive-compulsive side relishes, so expect a missive on "The Care And Trimming Of The Bovine Sirloin."
In the meantime I will happily grill sirloin steak, and use it as a great test bed for my BBQ rub.

******
Food and cooking tips, tender meatballs, really good jelly beans that aren't just cloyingly sweet, gefilte fish replacements, thick and fluffy pita and Browning Hi Powers:
cbd dot aoshq at gmail dot com
. Any advocacy of French Toast with syrup will result in disciplinary action up to and including being nuked from orbit.
&topic=world_news">

posted by CBD at
04:00 PM
|
Access Comments