« It's Time For A National Conversation On Taking California Away From Californians
|
Main
|
Weekend Gun Thread »
June 10, 2018
Food Thread: "Send A Salami To Your Boy In The Army"
Katz's Deli is a fixture in the New York food scene, and while some deeply deluded people (J.J. Sefton...I'm looking at you) think that there is better deli in the hinterlands of Queens, Katz's is pretty much the best place in Manhattan, although I once got an excellent pastrami sandwich at a little place on Lexington and 77th.
It is in a now-gentrified neighborhood that used to be a bit tough, before the hipsters got ahold of lower Manhattan. But there are still old-style New York eateries to be found, including Yonah Schimmel's Knish Bakery, which really does make the best knishes in NYC and, probably, the world. Russ & Daughters for fantastic but outrageously priced smoked salmon and caviar and other fishy goodies is a few doors west, and there are little places here and there that have survived the onslaught of ironic facial hair and tattoos. Just a few blocks south is the Tenement Museum, which has preserved a couple of the last true tenements in NYC.
Anyway, That sandwich is huge and simple. Great Jewish rye bread, a dab of deli mustard and an obscenely large amount of fatty pastrami. If you go, don't ask for lean. It's unbecoming of a Moron.
******
******
Commenter "artisanal 'ette" sent me a link to a nice meatball recipe, but I was drawn to the sauce recipe instead. No knock on the meatballs -- it was a solid recipe -- but the sauce looks fantastic! And simple.
Tomato Sauce with Pork Shoulder
is about as different as it comes for me, because I rarely cook my tomato sauces for very long, and I will often not cook them at all! But this one sounds so good that I will have to try it.
Speaking of "artisanal 'ette," I think I will start calling her "Chef 'ette," because she is putting out some really good looking stuff from her kitchen.

******
I have no doubt that in a generation the labor costs of the typical restaurant will shift toward technology. It makes perfect sense! For instance, we all see those silly looking but embarrassingly convenient pre-peeled carrots in the supermarkets. I fully expect the big food companies to start shipping produce in standardized shapes such as those carrots to the big chains, so they can be prepared robotically and save prep time. And things like omelets can be automated quite easily, much like they already have with burgers.
Sony, Carnegie Mellon form partnership to research cooking robots
It is coming, and the insanity coming from the Left about a "living wage" is just going to accelerate it. What is sad is that they are too stupid or too evil to recognize that entry-level jobs are not intended to support a family of four. They are intended to make ends meet while you finish school or for spending money in high school or as a second job to gain experience or a first job to teach reliability and how to talk to customers.
******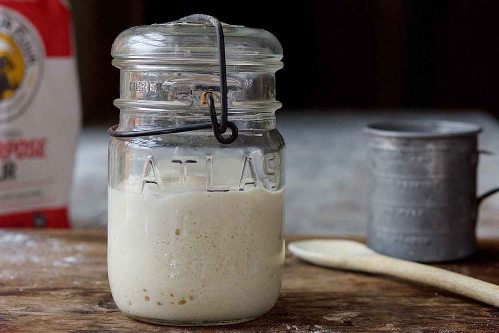 Commenter redc1c4 sent a link to King Arthur Flour Company's recipe site. It's always a good place to start for baking; they really know what they are doing over there in the wilds of Vermont!
This recipe caught my eye, because sourdough really is a wonder when done well, but so much sourdough is just crap: bland and flavorless. So why not try it on your own? Sourdough Starter It can't be worse than most of the commercial stuff, and you might catch lightning in a bottle and create some glorious and magical starter that is passed down, generation to generation, while people whisper about its mystical origins.
Or not. But still, baking bread is fun, so what the hell....

******
This is a slight variant of a classic drink called a "Pink Gin," but I think the name really speaks for itself.
I remember seeing my dad drink Pink Gins and thinking how unspeakably vile it must be, and that I would never allow my taste to devolve and decay to such an extent. needless to say, I was a young fool. It's a lovely drink!
The Pink Dildo


four ounces good gin

Three dashes Angostura Bitters

One dash Orange Bitters

One squirt of simple syrup
Stir with ice, then strain into a Martini glass
******
Food and cooking tips, tender meatballs, really good jelly beans that aren't just cloyingly sweet, gefilte fish replacements, thick and fluffy pita and Browning Hi Powers:
cbd dot aoshq at gmail dot com
. Any advocacy of French Toast with syrup will result in disciplinary action up to and including being nuked from orbit.
******
&topic=world_news">

posted by CBD at
04:00 PM
|
Access Comments