« Food Thread: "Send A Salami To Your Boy In The Army"
|
Main
|
Sunday Overnight Open Thread (6/10/18 ) »
June 10, 2018
Weekend Gun Thread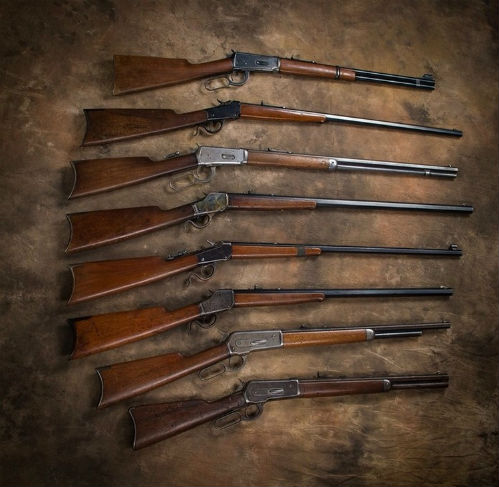 My first riffle? A used Sears & Roebuck .30-30 lever action rifle for my 16th birthday present. My deer hunting rifle until I reached "29". Training with the lever action rifle.

Some readers will remember seeing first-run episodes of such westerns on television as The Rifleman and Gunsmoke. A common firearm seen in most of them is the lever action gun. And back in the days depicted in these television shows and in western movies, the lever action was used for hunting, shooting fun, contests, and self-defense. It was versatile and effective, and it still is.

Like the modern rifles of today – the AR-15 being the most common example – the lever gun was chambered for a variety of cartridges. And even though technology has advanced and semi-automatic rifles and carbines are common, the lever gun is still a viable platform. And it is great fun to shoot.
*****
Government is too big to succeed. Let me prove my point.

For more than a year, the state of Florida failed to conduct national background checks on tens of thousands of applications for concealed weapons permits, potentially allowing drug addicts or people with a mental illness to carry firearms in public.

A previously unreported Office of Inspector General investigation found that in February 2016 the Florida Department of Agriculture and Consumer Services stopped using a FBI crime database called the National Instant Criminal Background Check System that ensures applicants who want to carry a gun do not have a disqualifying history in other states.
***
Recently in the Weekend Gun Thread I had asked, "How did you get into shooting?" Here is a response from "Born Free".

Hey, my nick on Ace is "Born Free"

I usually haunt the pet thread, but still haven't been able to bring myself to tell you about my angels who now live in Heaven. However for the gun thread you ask for stories, and mine follows.

My dad taught my younger brother and me to shoot a single shot bolt action .22 rifle when I was still 7. He taught us both at the same time, so my brother was 6. We lived on a farm while he installed ICBMs in Nebraska cornfields, but he was brought up in New Mexico, had been an Army sergeant, and was at that time hunting pheasant with our chocolate lab retriever. I once saw him use his Colt Woodsman pistol to put a single .22 round through the ear of a skunk at about fifty feet. Even after bathing, the dog wasn't allowed in the house for a day or two after that, which pained the whole family.

By age 14 or so we'd moved to Florida, and my dad was working on the Saturn V program at Cape Kennedy. My brother and I joined the Brevard County Sheriff's Junior Rifle Club, which no longer exists. Our club fielded competition shooting team and individual entrants across Florida, and placed in NRA national junior postal matches. We rocked.

But it all started with several weekends of nothing but safety training and quizzes. An adult NRA volunteer and club patriarch personally delivered our instruction. He worked for NASA at the Cape, and he was no-nonsense on the subject of safety in handling and firing our rifles. Every kid in the club carried that to heart in their behavior on the range. I saw wild birds land on target frames and on the sand burm behind them, and nary a poof of sand or bullet come near them for as long as they hopped around. We never fired at anything but the target, ever, and held fire in those cases without being told. Older shooters always set the example for younger, newer kids, so adults never had to intervene.

Later in college, I joined the university team and competed in the mid-Atlantic region, from NJ to Pennsylvania and Virginia. Our armory was equipped with military bolt action Remington open sight target .22s, among the best of their kind ever made. Our coach was the Special Forces noncom from our ROTC department. The universities gun range was the basement of the oldest building on campus, one that had hosted an address by President George Washington. I weep to think how those marksmanship programs have been gutted since then, but have hope in spite of it. There are some brilliant, responsible, mature young people standing up for their rights.
An interesting story. Sad that marksmanship programs have been discarded.
***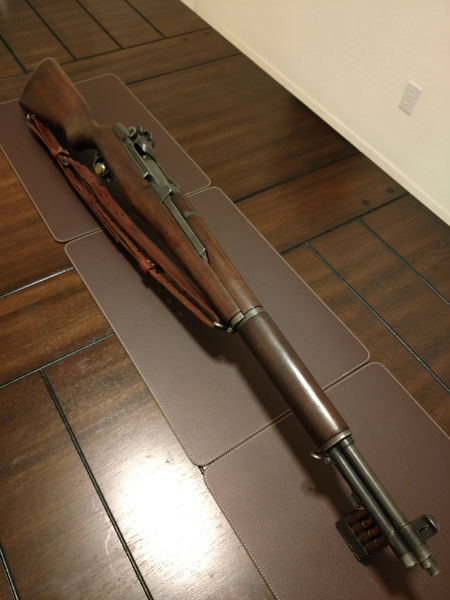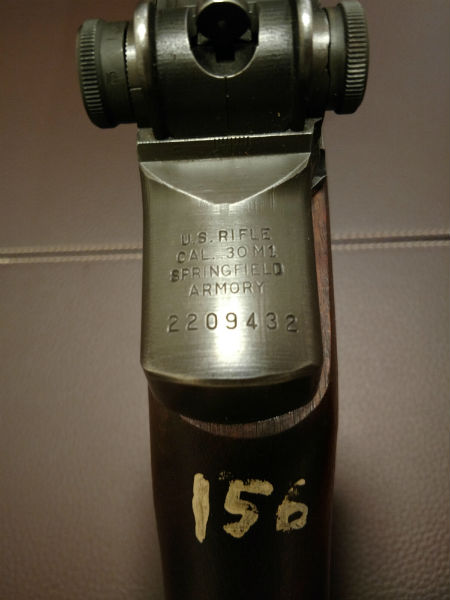 The photos and the following story from our friend DB Cooper.

Good evening,
Lots of CMP talk the last couple weeks in the thread which has been fun to read. Seems the prices are high and selection is less and less favorable for the money. I wanted to show you what an early 90's 'rack gun' looked like.
This Garand truly was a Rack Gun. Old wood. Springfield Armory manufactured in November, 1943. The bolt, trigger group and Op-rod are correct dash number to date of MFR. The only change to the rifle i see is a 1951 H&R barrel. This was i believe the 600 dollar rack model when i ordered it.
Can't find those anymore. Talk about lucky. Still holding out some hope on the remaining ones left for folks to buy. A dream to shoot and amazingly accurate. Thanks again for a great thread..
DB.
***
The next time some shit for brains liberal opens their pie hole about gun control. Safety. Yadda, yadda, yad...........
You can tell them how to reduce their risk of gun violence.

Do you want to reduce your risk of death by gun violence?

If so, consider these 10 common sense ways to do so. These are things one can implement fully and immediately with no permission or agreement from anyone else but are entirely in the control of any individual.

Marching to persuade politicians is a very indirect way of reducing anyone's risk from gun violence. And considering their track record on so many issues, politicians may end up putting us all at further risk when all is said and done.

1. Don't commit suicide. This is the most common gun-related death, being about 63% of all firearm deaths in the US.
A very good article submitted by red1c14
***

Tips? Stories? Photos? Guest membership at your local shooting range? Yeah, they can all be sent to petmorons at gmail dot com.

posted by Misanthropic Humanitarian at
07:10 PM
|
Access Comments