« Story Retelling....From The Perspective Of A Secondary Character
|
Main
|
The Morning Report 6/14/18 »
June 13, 2018
Wednesday Overnight Open Thread (6/13/18 ) Obligation Tour Edition
(Looking for The ONT)
*****
The Quotes of The Day
Quote I

Man only likes to count his troubles, but he does not count his joys. Fyodor Dostoevsky
Quote II

Well done is better than well said. Benjamin Franklin
Quote III

Everybody needs beauty as well as bread, places to play in and pray in, where nature may heal and give strength to body and soul. John Muir
Quote IV

"Freedom of religion and religion has [sic] been used to justify all kinds of discrimination throughout history, whether it be slavery, whether it be the Holocaust. I mean, we can list hundreds of situations where freedom of religion has been used to justify discrimination. And to me it is one of the most despicable pieces of rhetoric that people can use – to use their religion to hurt others." Diann Rice
Utterly ignorant.

Quote V

Sticking with foreign policy, in the aftermath of the G-7 summit the Democrat-Left-Media complex and the Eurabians are all butthurt that PDT has insulted them and not knuckled under, like previous administrations have (for the most part) since the end of World War II. With all due respect to Europe and the Left, which is to say none at all, GFY. The President is right; we spent our blood and treasure liberating you from ideologies of your own making twice in a generation and after rebuilding your continent and economies, we've spent nearly 75 years afterwards funding your dissolute, insane, cheese-eating, wine-guzzling, adulterous lifestyles while protecting you from Russia, all to see you committing cultural suicide at our expense and then blaming us, evil Jooz, capitalism, Christianity and the 40 hour work week for the ills you brought upon yourselves, as the illusion of the European union collapses around you. Enough. J.J. Sefton
*****
They don't make them like they use to do. That certainly is true when it comes to prosthetics.

In 2016, we wrote about Johnny Matheny, a man who lost a significant portion of his left arm to cancer, but through a Johns Hopkins University program, Matheny was given an advanced robotic arm that he can control with his mind through the aid of wireless arm sensors. Since that time Matheny has taken quite well to the prothetic arm, despite a few technical difficulties and long distance software updates. Matheny has even begun learning how to play the piano using both hands.
Playing the piano no small feat.
*****
Traveling in the near future? Be careful what you pack and where you are traveling to.

A holiday might seem like the ideal opportunity to spice things up in the bedroom, but is it worth risking jail time for?

Vibrator owners in the UK are being warned that they should check laws abroad before travelling as vibrators are banned in some countries.


Places such as Malaysia, Thailand and the Maldives have a ban on sex toys and anyone bringing one in to the country would be forced to face the authorities.

Sex toy specialists Carvaka have urged people to get all the facts before going away.
*****
Was Wile E. Coyote a former US Postmaster?

Today for the equivalent price of a decent cup of coffee you can get the United States Postal Service to pick up and deliver a letter to anywhere in the continental United States in just a day or two. But it hasn't always been that way and there's a reason they call it "snail mail". To get around the problem, for a brief time in the 1950s the USPS dared to dream big- like rocket ship big… Yes, on June 8, 1959, the then named U.S. Post Office Department, in conjunction with the US Navy, launched a rocket laden with what they officially dubbed MISSILE MAIL!
*****

Educator? If true, she is more like a lazy criminal.

A Wisconsin Democrat has been accused of faking multiple names on her nomination papers in her bid for a seat in the state assembly.

Watertown Police are investigating after more than a dozen people accused Charisse Daniels of forging their names on her documents, WITI-TV reported.
If you're too lazy to collect signatures, you're too damn lazy to be in a place of governance.
*****

Anthony Bourdain visited the Waffle House. Wonder if he ever visited George Webb's?
*****
The ONT Musical Interlude
June 13, 1978, The Rolling Stones released Some Girls, their first studio album recorded with Ronnie Wood as a full member. The album cover was designed by Peter Corriston and featured The Rolling Stones in garish drag alongside select female celebrities and lingerie ads. The cover immediately ran into trouble when Lucille Ball, Farrah Fawcett, Liza Minnelli (representing her mother Judy Garland), Raquel Welch, and the estate of Marilyn Monroe threatened legal action. via thisdayinmusic.com
***
June 13, 1915, Born on this day, guitarist Les Paul, inventor of the Gibson Les Paul guitar who also had a 1953 UK No.7 single with 'Vaya Con Dios' and the US No.7 single 'Hummingbird' with Mary Ford featuring his multi-layered recording techniques. He also pioneered 'close miking' and echo delay recording. He broke his right arm in a car accident and had it set at an angle so he could still play guitar. Paul died in hospital in White Plains, New York at the age of 94 suffering from severe pneumonia on 13th Aug 2009. via thisdayinmusic.com
*****
There are many of us who have said goodbye NFL and hello NCAA football. NCAA is facing litigation relating to brain injuries.

The National Collegiate Athletic Association (NCAA) dropped the ball when it came to protecting football players' brains, argues the widow of a deceased player in a lawsuit about the neurodegenerative disease chronic traumatic encephalopathy, or CTE.

Just a year after the National Football League (NFL) settled for $1 billion with the families of players who suffered brain damage, and after the college athletes' league reached a settlement to provide free biannual medical screening for athletes, the NCAA will tackle the matter again publicly in a Texas civil court. But this time, the NCAA officials will have to testify in front of a jury. The trial, which begins today (June 11), will be the first time NCAA representatives will have to answer questions in court about brain injury, revealing just what they knew about CTE and the risks of playing football, how long they knew it, and whether they hid information about those dangers from college athletes.
*****

NHL goalies have nothing on Dad reflexes.
*****

Science!!!h/t Fastfreefall
*****
Why run with the bulls when you can pet the bison? Genius Award Winner.
*****

It is a small world and Tonight's Feel Good Story of The Day. h/t ibguy

A New Jersey State Trooper got a dose of serendipity Friday when he met the retired police officer who delivered him 27 years ago—by pulling him over.

Trooper Michael Patterson stopped Matthew Bailly in Kingwood Township for driving with tinted windows, but never got around to giving the ticket, NJ.com reported.
*****
My Twitter Thingy. or petmorons at gmail dot com.
*****

Tonight's ONT has been brought to you by Effort.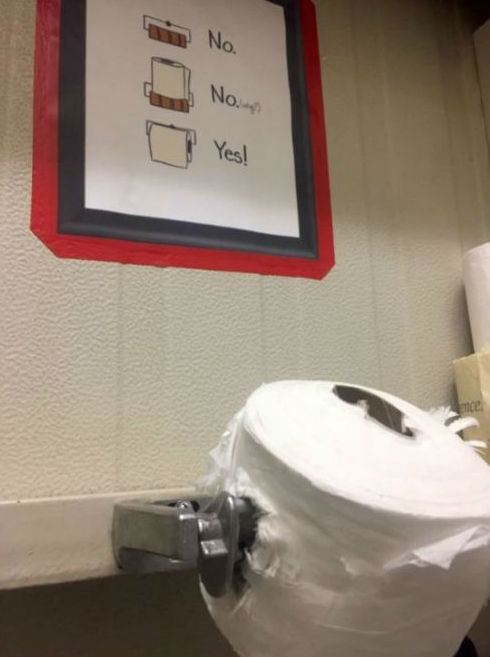 Notice: Posted with permission by AceCorp, LLC. Sitting on the copy machine is strictly prohibited.

posted by Misanthropic Humanitarian at
10:38 PM
|
Access Comments