« Monday Overnight Open Thread (6/10/18 ) Or Is It?
|
Main
|
Mid-Morning Open Thread »
June 12, 2018
The Morning Report 6/12/18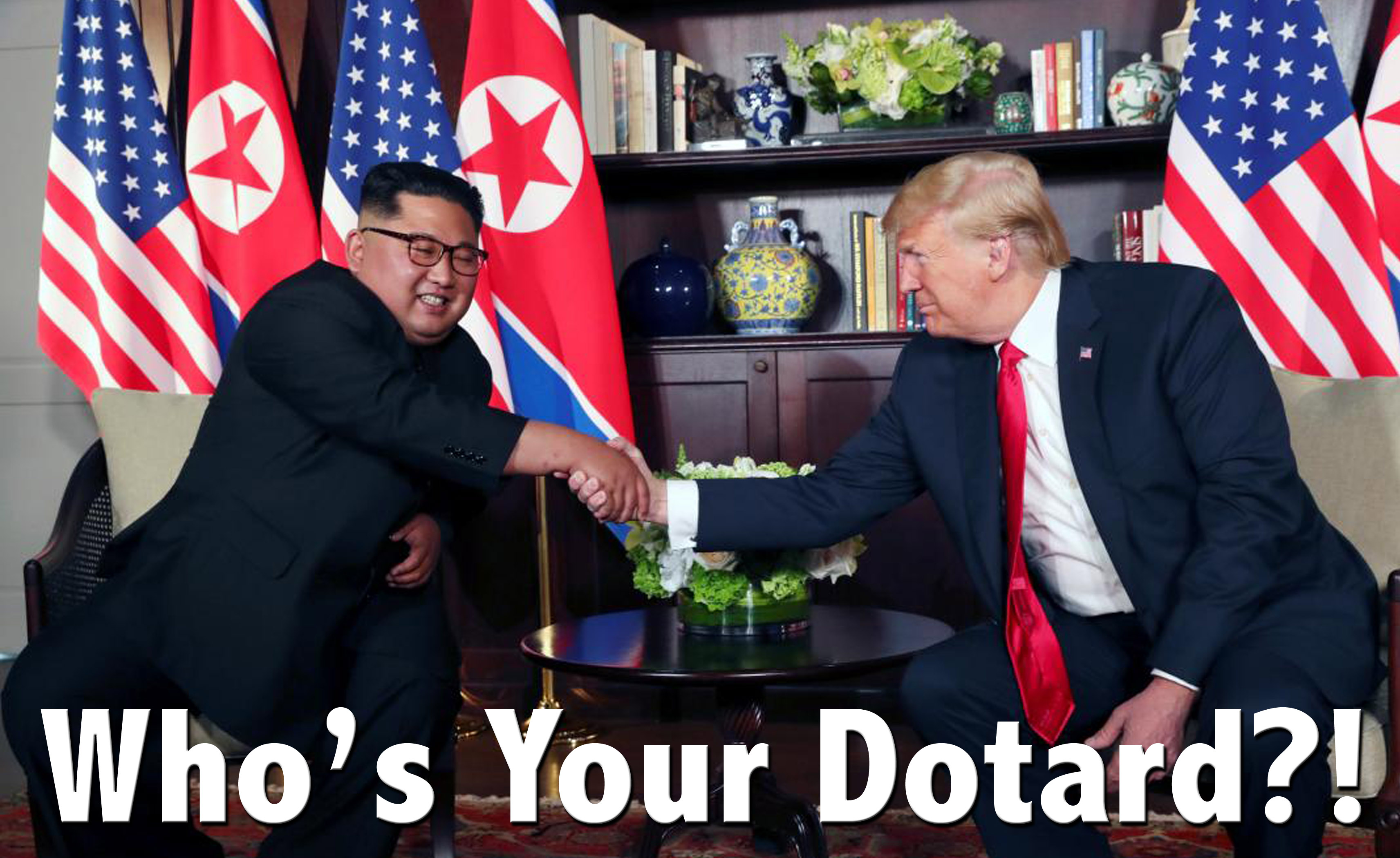 Good morning kids. The big news this morning is not only has the summit between President Trump and North Korean leader Kim Jong-Un taken place but as we were sleeping the two signed an historic agreement whereby the North has agreed to scrap its nuclear weapons program as part of an overall denuclearization of the entire Korean peninsula.
If you were merely to look at this only through the lens of how the Democrat-Left-Media complex judges success, via optics and feelings alone, then this is the biggest thing since Live Aid. But in reality, this truly has the potential to be one of the biggest foreign policy milestones since the fall of the Berlin Wall. Make no mistake; North Korea has been a belligerent, inscrutable and unpredictable enemy that has overtly and covertly stirred up trouble for nearly 70 years and so an extreme degree of caution and wariness is advised in any dealings with them; the foibles and follies of the past three administrations in particular bear this out as their policies have ranged from farcical to disastrous in terms of American interests and global security. I believe that PDT and his new team of Pompeo and Bolton know this going in. Beyond all the platitudes and proclamations, when you get down to the granular level, the make or break in all of this relies on verification. North Korea is going to have to open up and submit to an inspection process that is antithetical to its nature as the world's most closed, secretive nation. Can it do this? Will it do this? I suppose the fact that Kim's willingness to meet face to face with an American president for the first time, and outside of his own country is something of a tell. As I had mentioned yesterday, he is the X factor in all of this. There may be things going on in Pyongyang as well as in his mind that tell him a rapprochement with the US, and more importantly, a concomitant distancing to whatever extent that is possible with China is in his and his nation's best interests.
We have a bevy of links that delve into all of this but two that are of note is first, Dennis Rodman's heaping of praise on PDT (whilst sporting a MAGA hat, no less) and derision on Barack Obama. I truly do not understand Rodman and his bizarre links to North Korea. For whatever reason, he of all people has a friendship to the Kims that perhaps was or still is useful idiocy in their eyes. In light of events, he does get it right about where the credit for this belongs and where it doesn't. The other interesting link is to CNS' story citing SoS Mike Pompeo stating the US is prepared to ensure North Korea's security if they do denuclearize. In light of which nation now ensures the DPRK's security, that is a very interesting quote to say the least. One other huge thing to bear in mind is that aside from potentially cleaving North Korea away from China (if that is entirely possible given history and geography) is the Middle East, specifically Iran. No doubt, North Korea (along with Barack Obama [piss be upon him]) was/is a key player in helping them with their nuclear weapons program. I imagine that that will also be a big part of our negotiations with North Korea going forward.
Sticking with foreign policy, in the aftermath of the G-7 summit the Democrat-Left-Media complex and the Eurabians are all butthurt that PDT has insulted them and not knuckled under, like previous administrations have (for the most part) since the end of World War II. With all due respect to Europe and the Left, which is to say none at all, GFY. The President is right; we spent our blood and treasure liberating you from ideologies of your own making twice in a generation and after rebuilding your continent and economies, we've spent nearly 75 years afterwards funding your dissolute, insane, cheese-eating, wine-guzzling, adulterous lifestyles while protecting you from Russia, all to see you committing cultural suicide at our expense and then blaming us, evil Jooz, capitalism, Christianity and the 40 hour work week for the ills you brought upon yourselves, as the illusion of the European union collapses around you. Enough.
Back over here, as the RINO's continue to race pell-mell to ram some sort of Amnesty bill down our throats, AG Sessionszzz' enforcement/rejiggering of asylum rules has enraged all the right/wrong people. Good for him on that one. Also, a new office dedicated to finding and deporting those who have abused their oath of citizenship has been opened. High time too. Strip! Strip! Deport! Deport!
Politically, some good pieces on how Robert DeNiro has perhaps "F*** Trumped" his own Paul Wellstone memorial moment for 2018 and maybe 2020. Bill Maher as well, and just to clarify, when Rush Limbaugh commented about Obama that "I hope he fails," the full context of his statement was (paraphrasing) "knowing who and what Obama is, and given the destructive nature of his socialist agenda, I hope he fails." In short, in order for America to succeed, he wanted the Obama agenda to fail. Meanwhile, in 18 months, despite the economy experiencing a boom bigger than the Roaring 20s and the Reagan years combined, as well as renewed confidence at home and abroad, Bill Maher is openly praying (to Vol, the Golden Calf, or whatever) that America and Americans experience pain and suffering because he has a personal hate on for the President. Despite the President's policies being wildly successful and beneficial. This is insanity.
Speaking of the economy, I linked to a piece in the Examiner (yeah, I know) that is seemingly making a case for immigration to fill the incredible need for people to fill jobs thanks to PDT's economic miracle. Well, perhaps if we promoted procreation and restored the nuclear family model and abandoned feminazism and the promotion of homosexuality and other dissolute lifestyles, we'd have the Americans to fill those jobs. And the follow-on piece makes that case, albeit with a slightly different but no less interesting take.
From hither and yon, we have a couple of good links analyzing the SCOTUS Ohio voter roll case, especially Alito's smack down of Sotomayor, Bill Clinton reminisces about the good old days when rape was just rape and not rape-rape, a feminazi professor says it's okay to hate all men even for the acts of just Bill Clinton and other Democrats, Seattle is already waking up to the coming disaster of its commie inspired head tax and a very good piece about NYC's grade inflation scandal. Hey, at least I graduated from NYC schools the old fashioned way; by cheating off of the smart kids.
Anyway, links from around the world, across the nation and up your street. Have a better one and remain blessed.
TRUMP-KIM SUMMIT