ę EMT 06/10/18
|
Main
|
It's Time For A National Conversation On Taking California Away From Californians Ľ
June 10, 2018
Sunday Morning Book Thread 06-10-2018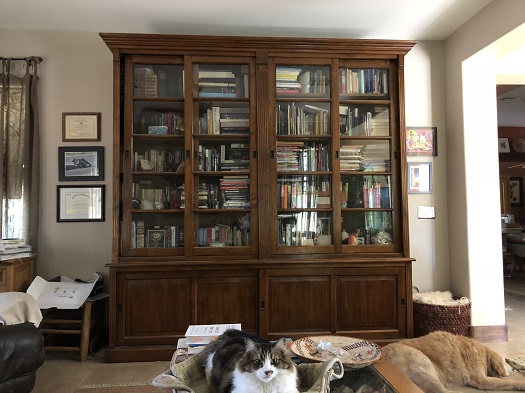 Library of Lurkette 'dragonknitter'

Good morning to all you 'rons, 'ettes, lurkers, and lurkettes. Oh, and we've got a new category of readers, escaped oafs and oafettes. Welcome once again to the stately, prestigious, internationally acclaimed and high-class Sunday Morning Book Thread, a weekly compendium of reviews, observations, and a continuing conversation on books, reading, and publishing by people who follow words with their fingers and whose lips move as they read. Unlike other AoSHQ comment threads, the Sunday Morning Book Thread is so hoity-toity, pants are required. Even if it's these pants, which you'd want to be deliberately ugly in order to wear.

Pic Note
Today's library pic comes from dragonknitter, a lurkette who writes:
This is about a third of our books, as oversized ones are in the cupboards under the shelves, and my craft books and books for my doctoral degree are in the office within reach. This picture has the added benefit of two pet morons, Tutti Frutti the cat and Noodle the labradoodle, and a stack of current reading on the coffee table behind the cat. Numerous other books are stuffed in various places around the house, too, as you canít have too many books.
Of course you can click on it to see an enlarged version.

It Pays To Increase Your Word Power®
To TIDDYTOIT is to idle or waste your time.
Usage: How much do you tiddytoit every day on AoSHQ?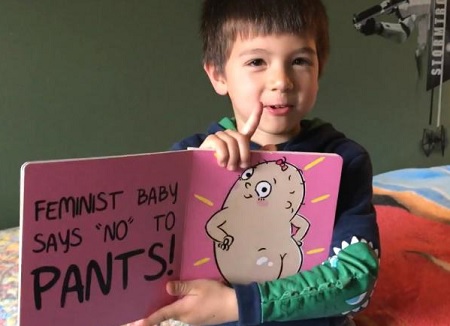 Not On the Book Thread You Don't!

The Politicization of Everything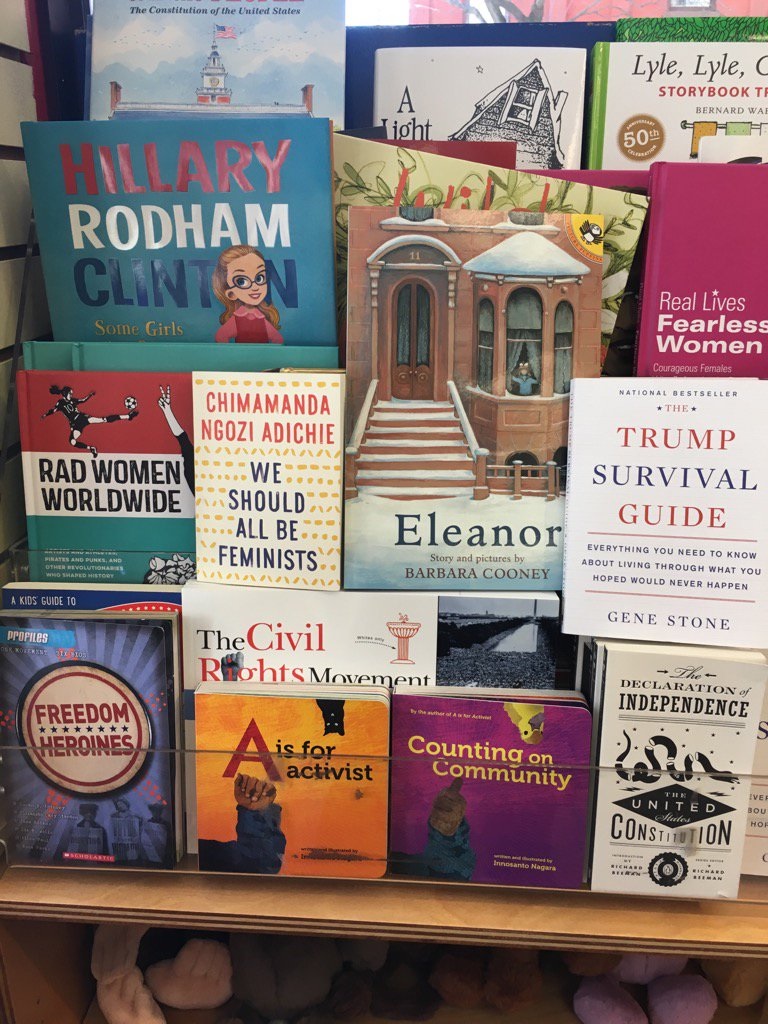 Children's Bookstore, Upper West Side, Manhattan
On Tuesday, Buzzfeed contributor Loryn Brantz published her new children's book titled Feminist Baby Finds Her Voice! Feminist media, from Teen Vogue's Lauren Duca to feminist author Roxane Gay, praised the book that teaches youngsters how to protest.
Because the only things babies can do are cry, whine, and poop. Come to think of it, those are the only things feminists can do, too.
I would much prefer something like this:
If you want a beautiful and entertaining family book that opens up a treasure trove of goodness from the long tradition of Judeo-Christian, Greco-Roman humanism, psychology, and art, then #M5 may be the book for you. Coming late summer!
The book he's referring to by #M5 is Mr. Mehan's Mildly Amusing Mythical Mammals, which isn't out yet, but is available for pre-order at the author's website. The book
...reintroduces readers to the beauty and knowledge of the liberal arts to cultivate their sharp minds and warm hearts. [It] endeavors to develop what the great poet Geoffrey Chaucer called our "good mother wit." Full of mysteries and delight, puzzles and beauty, the layers of messages run deep. As essentially an abecedarian (that means an alphabet book!), it is designed to help teach the liberal arts, namely how to read, not just words, but the book of life. And there will be new words—as Prince Hamlet put it: "Words, words, words!"
Which sounds more appealing than teaching a baby to shout political slogans through a bullhorn.

Books By Morons
Moron "Apostate"'s novel, The Mountain Throne, was first mentioned in a November book thread while I was on hiatus. He describes it as
...a fantasy novel at the point where the genre Venn diagrams of 'Dark,' 'Low,' and 'Epic' overlap. All three labels are partially accurate, but the industry types who have commented have put it into 'Epic.'
The plot, from the Amazon blurb:
Aged Emperor Thelden III Arrigar's last days are approaching and the Empire's leaders are taking sides in a struggle for power between rival heirs. Blood runs in the streets and the nights are thick with intrigue.

Drake Arrigar, bastard prince and half-blooded sorcerer. Darius of Lorradon, foreign-born Initiate of a holy order of warriors sworn to the Empire. Leasha, senior maiden and chief spy for the Emperor's daughter. These three unlikely friends must navigate the coming storms as plots, violence, and unholy barbarians tear their lives apart. Their trials, failures, and triumphs will have far-reaching consequences, for their people and for their own futures.
The Mountain Throne: Book I of the Sindathi Twilight Trilogy is available on Kindle for $2.99. Also paperback.
Votermom's review of it is here. Kirkus Reviews was impressed with it, too.

What I'm Reading
I got an Amazon gift card as a birthday present last week, so was able to make some book purchases with it. Among the books I purchased was this one:
Another book I highly recommend is Howard Blum's In the Enemy's House. Everyone knows about the Rosenbergs and other Commie atomic spies, but this is the first account I've read about how a determined FBI agent and a geeky cryptanalyst broke the Soviet code (the Venona project) and found the bad guys who sent our secrets to the Russians.

Posted by: Outside Adjitator at May 27, 2018 12:47 PM (pXthv)
The full title of the book Outside Adjitator is talking about is In the Enemy's House: The Secret Saga of the FBI Agent and the Code Breaker Who Caught the Russian Spies:
In 1946, genius linguist and codebreaker Meredith Gardner discovered that the KGB was running an extensive network of strategically placed spies inside the United States, whose goal was to infiltrate American intelligence and steal the nation's military and atomic secrets. Over the course of the next decade, he and young FBI supervisor Bob Lamphere worked together on Venona, a top-secret mission to uncover the Soviet agents and protect the Holy Grail of Cold War espionage—the atomic bomb.

Opposites in nearly every way, Lamphere and Gardner relentlessly followed a trail of clues that helped them identify and take down these Soviet agents one by one, including Julius and Ethel Rosenberg. But at the center of this spy ring, seemingly beyond the American agents' grasp, was the mysterious master spy who pulled the strings of the KGB's extensive campaign, dubbed Operation Enormoz by Russian Intelligence headquarters. Lamphere and Gardner began to suspect that a mole buried deep in the American intelligence community was feeding Moscow Center information on Venona. They raced to unmask the traitor and prevent the Soviets from fulfilling Soviet Premier Nikita Khrushchev's threat: "We shall bury you!"
I've always wondered how they decrypted the Venona intercepts and who did it, and this book explains it all. It is a *fascinating* read. Blum describes, in general terms, how the Soviets encrypted their cable traffic and the process reminds me not so much of a cipher (although it is definitely that), but rather as a multi-layered network protocol. So once the codebreakers thought they were done with their task, all they had were strings of characters that didn't mean anything, so they had to begin again. Blum likens the Soviet encryption procedure to putting something behind a door, locking the door, stepping outside and locking an outer door, and then throwing away the key. And if I understand Blum correctly, we were only able to figure out this encryption because some of the Soviet operators violated procedure and used "one use only" tools more than once. This caused patterns in the cable texts to appear that would have been absent otherwise -- and which American cryptographers noticed and were able to exploit.
Available in hardcover and also paperback.

Moron Recommendations
From last week:
308 Related to your recommendation of the Zito-Todd book, also do read Sharyl Attkisson's new book, *The Smear: How Shady Political Operatives and Fake News Control What You See, What You Think, and How You Vote.* You're wondering why Jim Acosta and Brian Stelter didn't do the work Zito and Todd did? Attkisson will tell you exactly why.

Posted by: Jim Vinoski at June 03, 2018 09:09 AM

I'll second that. Recently read it and it is very informative.

Posted by: Farmer at June 03, 2018 03:57 PM (lfXAE)
Here is the blurb for The Smear: How Shady Political Operatives and Fake News Control What You See, What You Think, and How You Vote:
Behind most major political stories in the modern era, there is an agenda; an effort by opposition researchers, spin doctors, and outside interests to destroy an idea or a person. The tactic they use is the Smear. Every day, Americans are influenced by the Smear without knowing it. Paid forces cleverly shape virtually every image you cross. Maybe you read that Donald Trump is a racist misogynist, or saw someone on the news mocking the Bernie Sanders campaign. The trick of the Smear is that it is often based on some shred of truth, but these media-driven "hit pieces" are designed to obscure the truth. Success hinges on the Smear artist's ability to remain invisible; to make it seem as if their work is neither calculated nor scripted. It must appear to be precisely what it is not.
I remember one time (this probably happened more than once) when CNN stages some sort of "town hall" meeting and all of the supposedly randomly selected participants all mouthed Democrat talking points. Then somebody did a little Googling and found out that all of them were Democrat activists, precinct captains, or members of some progressive PAC. But CNN gets huffy when this gets pointed out.
Attkisson's book is also available in paperback or hardcover.

___________
Moronette 'votermom' is putting together a list of moron authors over on the Goodreads site which is intended to be accessible to non-members. Here is the list she has compiled so far. Let her know if there's an author she's missing.
http://www.bookhorde.org/p/aoshq-authors.html
___________
Don't forget the AoSHQ reading group on Goodreads. It's meant to support horde writers and to talk about the great books that come up on the book thread. It's called AoSHQ Moron Horde and the link to it is here: https://www.goodreads.com/group/show/175335-aoshq-moron-horde.
___________
So that's all for this week. As always, book thread tips, suggestions, bribes, rumors, threats, and insults may be sent to OregonMuse, Proprietor, AoSHQ Book Thread, at the book thread e-mail address: aoshqbookthread, followed by the 'at' sign, and then 'G' mail, and then dot cee oh emm.
What have you all been reading this week? Hopefully something good, because, as you all know, life is too short to be reading lousy books.

posted by OregonMuse at
09:00 AM
|
Access Comments