« The Morning Rant
|
Main
|
Memorial Day Thoughts »
May 28, 2018
Memorial Day, You and Your Community [KT]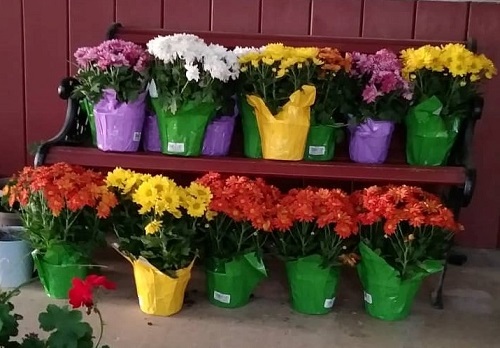 Memorial Day Chrysanthemums
Waiting on Mom's porch for the family trek to the cemeteries
I hadn't really intended to post anything today, but I got a surprise on Saturday: an original video about Memorial Day from a lurker at AoSHQ! It's below the fold. Brought a tear to my eye. Might bring a tear to your eye.
It includes evocative images and observations in song about how we commemorate Memorial Day as individuals, families and communities. Community commemorations may be fading away in some areas. How about yours?
The creator of our surprise video notes that part of the visuals were shot near where he grew up. They are from his father-in-law's old 8mm footage.
I remember the crowds 4 to 5 deep along the avenue. I returned a while back and they didn't even stop the traffic during the ceremony. No one was there.
I don't have real clear memories from childhood about going to Memorial Day community events like we did to Fourth of July events. But we did visit cemeteries to place flowers on graves and talk about some history, with an emphasis on the ordinary people who were affected by that history and helped shape that history. I remember a sense of gratitude and connection. Sometimes we shared flowers from the yard with friends or family so they could do the same thing. We talked about history with them, too. The talk was not just about those who gave their lives in war, but we still knew that Memorial Day was meant to honor them.
Not many store-bought mums went to the cemetery on Memorial Day back then. But there are more graves to visit now. I think it's important that my sister-in-law and others take pictures of the kids on this special day and write down some history for them to keep. And to share with others.
Now I live in the Central Valley of California. There are still Memorial Day commemorations and events in little towns and in the cities here. Many of them seem to be organized by veteran's associations. There are a lot of veterans in the Valley. I often find myself more involved in helping kids prepare for one of these events than in participating in the main event myself, lately. Maybe I should re-evaluate.
When it was announced that the National Anthem would not be played at a ballgame in Fresno on Friday, the crowd sang the Star Spangled Banner themselves. A heartening bit of self-organized community commemoration for the Memorial Day Weekend, I thought.
Do you celebrate Memorial Day differently now than when you were younger? Do you try to join in community celebrations? Do you think that is important? Do the young ones understand what the day means to you?
Hope you have a memorable day.

posted by Open Blogger at
01:05 PM
|
Access Comments