« Chess Thread 05-26-2018
|
Main
|
Saturday Overnight Open Thread (5/26/18 ) »
May 26, 2018
Saturday Evening Movie Thread 05-26-2018 [Hosted By: TheJamesMadison]
Memorial Day
So, it's Memorial Day weekend, so let's take some time to talk about some appropriate movies for the holiday.

The Patriot


Roland Emmerich is not a particularly gifted filmmaker, but he did manage to settle himself down and make a solid Revolutionary War movie. It sits at the top of the pack in terms of movies of that era from the last thirty years because it's one of the only Revolutionary War movies made in that time. I understand some reticence of Hollywood to make movies about it, mostly because the battles aren't really built for cinema (armies marching towards each other and firing is rather flat visually), but at the same time it feels like the era is so rich with character, personality, and events that it should be a gold mine of narrative potential. The AMC series TURN did a reasonable job of showing an alternative side to the conflict, but there's still so much room for more.
Anyway, that out of the way, The Patriot is the third movie staring Mel Gibson about how the English are evil bastards (Gallipoli and Braveheart being the first two). It takes a somewhat rose-colored glasses view of the South at the time (I don't think one black person is identified as an actual slave in the whole movie), but the world feels very lived in and real. Of course, it helps when they actually filmed in Charleston.
I live in Charleston, and I can recognize lots from the movie around town. I was walking up Meeting Street one day, showing my father around, when we ended up walking alongside a horse carriage tour. The guide pointed to a house on the other side of the street and said, "That's Aunt Charlotte's house in Charleston from the movie The Patriot." I looked up and immediately saw that the guy was telling the truth.
Gibson's character feels like he takes a very understandable and believable path from war skeptic to full-blown patriot by the end. At the start, he's haunted by the things he did during the French and Indian War. It's that he felt like he lost his sense of humanity in the face of brutality and went too far. He knows that's a part of him, and he doesn't want to let it out. As he gets involved, he does let it out, of course, and it's not anything to be proud of, but through the sacrifices of two of his sons, he begins to "hold the course" and find that he can fight for a just cause but also retain his humanity at the same time.
Black Hawk Down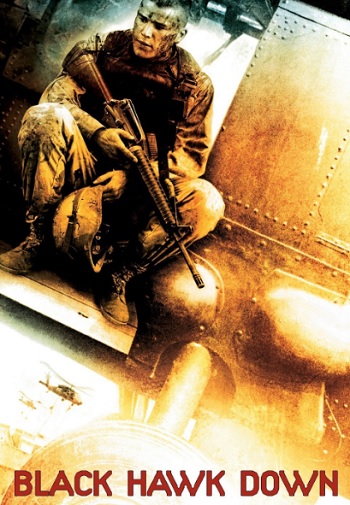 Customary Notice: I am a Ridley Scott fanboy.
This film is mostly about sharing in a harrowing experience that most viewers will never take part in themselves. That event, set in Mogadishu, Somalia, was one of the less proud moments in American foreign policy of the 90s, but that does nothing to diminish the heroism and tenacity of the young men who took part.
I've read people who call the movie jingoistic (which makes no sense) and racist (we don't get to know any of the brown people), but the arguments make little sense since the movie isn't about policy or even America and it is about the experiences of the men who lived the event.
So, with that said, it's hard to judge the film based on any typical narrative formulae. It's structure is built around how the battle actually played out. The characters do get the kind of attention they need to carry a film, but it can be hard to tell one from another. The themes are about the brotherhood forged through battle. I've always loved Eric Bana's final speech:
"When I get home people will ask me, "Hey Hoot, why do you do it man? Why? You some war junkie?" You know what I'll say? I won't say a god damn word. Why? They won't understand. They won't understand why we do it. They won't understand that it's about the men next to you, and that's it. That's all it is."
Also, because the movie was directed by Ridley Scott, that means that it's gorgeous to look at, is extremely well edited, and has solid performances all around. Seriously, the man has chops.

Saving Private Ryan
The first twenty minutes of this movie are some of the best filmmaking Steven Spielberg has ever done.
It's terrifying, completely convincing, and incredibly engrossing from beginning to end. The fact that Tom Hanks is our anchor into the scene as opposed to a more typical action movie star type really helps because he does look very much like an everyman. He looks like how most of the men who actually stormed those beaches actually looked. He looks like he could be a schoolteacher.
The rest of the movie is less impressive, but I still love it for the more conventional war movie it becomes. (I remember reading a post from someone who had read the scripts for both this and The Thin Red Line before their releases who thought that The Thin Red Line's script was more conventional.) The world of battle torn Europe is completely convincing in all of its destructiveness. The terror of the soldiers, the hoplessness of the civilians, and the moral confusion of certain choices makes the whole movie feel very real to me. It's not my favorite World War II movie (not even from that year), but, as a whole, it's still near the top of Spielberg's filmography.

Back to You
Do you have a traditional Memorial Day feature? Was it made by Michael Bay?

Movies of Today
Opening in Theaters:
Solo: A Star Wars Story
In Darkness
Next in my Netflix Queue:
La Promesse
Movies I Saw This Week:
A Royal Affair (Netflix Rating 4/5 | Quality Rating 3/4) Poster blurb: "The romance is great. The politics are okay. It really needed a director with a greater sense of irony at the proto-tyrant its main character was becoming by the end." [HBO]
The Great Wall (Netflix Rating 2/5 | Quality Rating 1/4) "Seriously, one of the single dumbest movies I've ever seen. Best of the Worst material, for sure." [HBO]
Danton (Netflix Rating 5/5 | Quality Rating 4/4) "Incredibly compelling portrait of the adaptability and corruptibility of power." [Netflix DVD]
Escape from Alcatraz (Netflix Rating 4/5 | Quality Rating 3/4) "Terse, spare, and involving. The escape itself is fantastic." [Netflix DVD]
Loving Vincent (Netflix Rating 3/5 | Quality Rating 2/4) "The movie looks gorgeous from beginning to end, but the actual story is stilted and a bit of a mess." [HULU]
The Bad News Bears (Netflix Rating 4/5 | Quality Rating 3/4) "Quite funny, but I might have watched it too late in life to ever truly love it." [Amazon Prime]
Solo: A Star Wars Story (Netflix Rating 2/5 | Quality Rating 1.5/4) "Just bad. No build up to anything." [Theater]

Contact
Email any suggestions or questions to thejamesmadison.aos at symbol gmail dot com.
I've also archived all the old posts here, by request. I'll add new posts a week after they originally post at the HQ.
And, please, visit my website.
My second collection of short stories goes on sale now June 1.


posted by OregonMuse at
07:17 PM
|
Access Comments