« Thursday's ONT is Chock Full of Stuff
|
Main
|
Mid-Morning Open Thread »
May 25, 2018
The Morning Report 5/25/18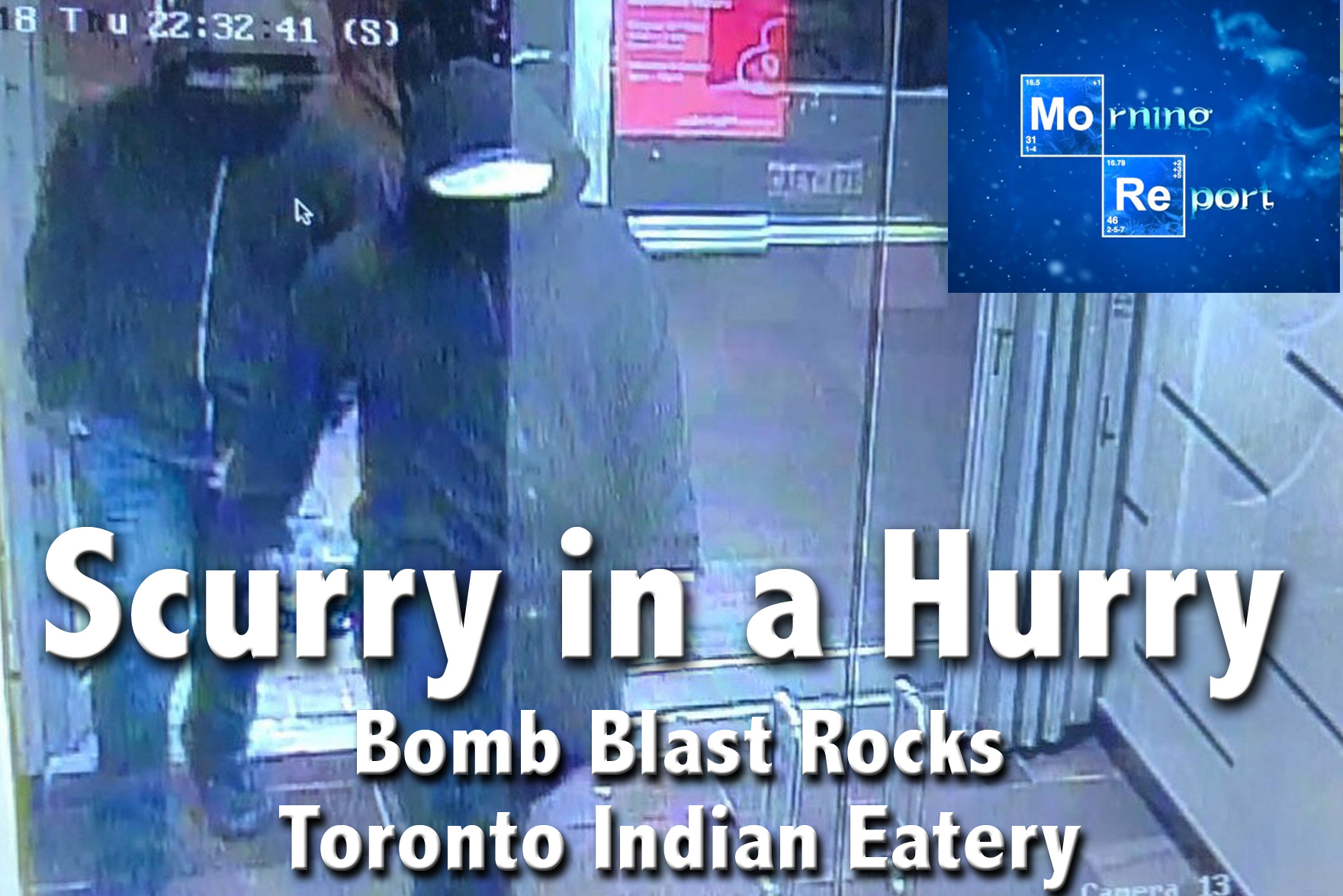 Good morning kids. The weekend is here and we have two stories in the lead the broke yesterday. First, there was an apparent terrorist attack at an Indian restaurant in Toronto when an IED exploded and injured 15 people. Two suspects are still on the loose. Second, a good guy with a gun shot and killed a would-be mass shooter at an Oklahoma City restaurant after opening fire on patrons. So far, two are reported to have been wounded but there were no fatalities. Lord knows the Media is going to bury these stories, especially the latter, so stay tuned here.
Moving right along, it is now becoming crystal clear to all that have eyes to see and a brain not clouded by knee-jerk Leftist indoctrination and propaganda that ex-President Obama and his acolytes utterly violated their oaths and used the instrumentalities of law enforcement and national security to engineer a plot to spy on the Trump campaign to derail his candidacy, then destroy his presidency in order to both preserve Obama's legacy and now, to save their collective asses from prosecution (if it ever comes to that). What is amazing to see, albeit not really surprising I guess, is that the entire Democrat-Media complex is contorting itself into such wild, twisted "Altered States"-esque contortions that the President is guilty of conspiring with Russia to steal the 2016 elections. Witness what Eric Swalwell spewed out on Anderson Poofter's broadcast (linked below), or the oleaginous bipedal turd Jerrold Nadler accusing PDT and Nunes of breaking federal law by outing the name of the "informant" already revealed by the Slimes and the Compost, or what that slug Al Green is ranting about. What was once infuriating is now risible and indeed I just laugh at it. This pull quote from the Soros piece characterizes it quite well:
...A year later, it is the Special Counsel, his dream team of special investigators, the FBI, Hillary Clinton, and the Obama Administration who are twisting in the wind. They have, in the process of finding no serious crimes in the Trump camp, revealed several serious crimes of their own. And unless I'm seriously mistaken, we have now gone through seven long rounds, the left has all but punched itself out in the heat, and Trump, a fan and friend of Muhammad Ali, is about to come off the ropes swinging.

Unless, of course, there's a great blue wave, or a tsunami, or a surging river, or a waterfall, or a leaky faucet getting ready to break and sweep away the whole country away with it.

Go ahead, believe it - with all your heart - and repeat it to anyone who will listen, and as often as you can. It is, after all, the secret of progressive success.
As we move along to the rest of the links, you will see that there are several stories, especially in the Politics category that underscore the Left's rage as the walls cave in on them. First though, it turns out the Capitol Police gave crucial evidence in the Democrat Hacking scandal to the lawyer for the Awan's instead of giving it to the prosecutors. Well done, boys. You have a promising future in the Broward County Sheriff's Dept.
Speaking of which, it turns out that years before the Parkland shooting, the Broward Coward covered up sexual assault allegations against Sheriff Israel's son. Ah yes, the glories of an untouchable public pension. And our friend, Little Shitller the Camera Hogg is threatening to launch a boycott of Publix unless they fork over $1 million and publicly renounce the NRA. If I were the chairman of Publix, I'd serve him with a $100 million lawsuit for tortious interference.
Moving back an amendment, Mark Levin reminds us of how Obama abused the press (not that he had to really since they were eager to rhetorically [or otherwise] fellate him), Daniel Greenfield on the real collusion between the Deep State and the Media and finally, Elon Musk, whose entrepreneurial savvy is in direct proportion to his access to the public trough, has the perfect name for his journalist rating site. And then there's news that Amazon is partnering with law enforcement to create AI facial recognition technology. Considering the likes of Mueller, Comey as well as Scott Israel, doesn't that just make you feel all warm and fuzzy.
On the international front, despite the President nixing the summit with Whoa, Fat!, the chunk has now announced that he is still open to meeting with PDT. No matter; the Dems, Media and Cuck-servatives are still blaming PDT. Meanwhile, Mike Pompeo teed off on Mark Udall (D)-Ickweed for asking about the President's tax returns during a Foreign Relations Committee meeting. What a f***ing jerk! But it is illustrative that the Democrats have absolutely nothing to run on and that Pompeo and hopefully others in the administration are following the President's lead in dealing with these clowns.
From hither and yon, Rachel Dolezal of stolen pallor fame is in hot water for running a welfare fraud scheme (don't even go there, people), the movie "Show Dogs" was, er, pulled from the theaters because of handlers handling K-9 junk on screen, and lastly the President issued an official pardon of legendary black heavyweight Jack Johnson. No news from the Congressional Black Caucasians or the NAACP. Obama must've been napping from that one.
Anyway, links from around the world, across the nation and up your street. Have a better one and remain blessed.
IN THE LEAD, DEVELOPING