« Thursday Night's ONT is High
|
Main
|
Mid-Morning Open Thread »
May 11, 2018
The Morning Report 5/11/18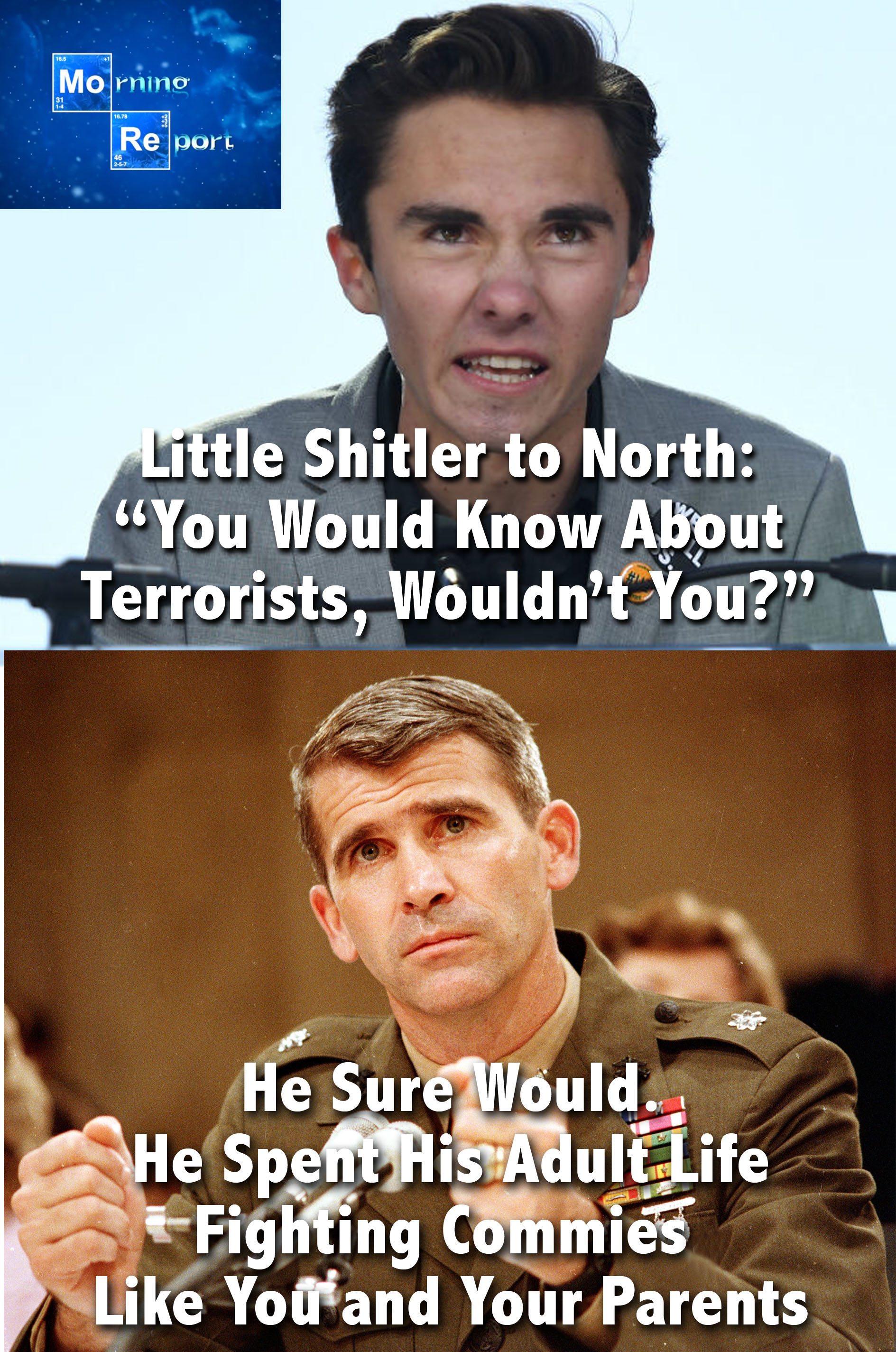 Good morning kids. The weekend is here (already?) and what a week it's been for the President and the American people (again?). Let's jump in, and the lead stories once again involve PDT's major foreign policy coups with the scrapping of the sham Iran sellout and the truly historic summit with North Korea's Whoa, Fat!. As to the latter, on the plus side it most certainly is historic, which considering the past 68 years is putting it mildly. After doing everything the political elites said should have never been done or would lead to a hot war with the NorKs and perhaps Chi-Coms, the result was an agreement to meet and at least a statement to committing to denuclearizing the peninsula and perhaps normalizing relations with the US and our regional allies. Plus, three Americans held prisoner were released and without having to pay billions in bribes or make a hostage video confessing our sins of being Yanqui imperialistas. All that said, the IBD/TIPP poll reflects my view as well: praise for team Trump while being very wary of the NorKs.
As to the Iranians, well no sooner than the President destroyed Obama's sheet of paper than the Farsis hurled missiles at Israel from their base camps in Syria, causing the Israelis to retaliate and wipe out their launch sites. The Left will shout and scream "y'see?! Look what Drumpf and the evil Israelis made them do?!" to which I would respond, if the Iranians were as peace-loving as everyone claims, they would not have fired any missiles in the first place, n'est ce pas? The situation, though, does seem to be escalating. Plus the Administration is ramping up its call for regime change in Iran. Taking US actions into account, as well as Israel and the seemingly new attitude and leadership in the KSA/GCC, if there is another outbreak of civil unrest in Iran, then things might get pretty interesting. Stay tuned. PS: for added pleasure, watch a camera-eye view as a laser-guided Mossad Joo-Shark takes out one of Bladder-mir's super weapons. Heh.
Over here, the Mueller flea circus is falling apart, both with Stormy's mouthpiece and now with the revelations that Mueller and Comey colluded last year before the latter testified to Congress so the former can advise him on how to get his story straight. Pardon my French but these two f***ing scumbags just completely disgust me. And yet we are to accord them with courtesy and respect. When our leading law enforcement officials are behaving in a manner on par with John Gotti and Bruce Cutler, well, let's just say that that is how you get revolutions.
In second amendment news, Mossberg has now joined other firearms manufacturers in pulling out of Dick's (phrasing!) while, get this, Camera Hogg, the Little Shitler is taunting Colonel Oliver North for accurately (and mildly IMHO) referring to him as a "civil terrorist." The twerp actually said "you would know about terrorism, wouldn't you," ham-handedly implying North is a terrorist. Well, Oliver North would know about terrorism. He spent his entire adult life fighting both the Leftist and Islamist variety here and abroad with bullets and sarcasm (and an almost fanatical devotion to the Constitution). So go sniff Shaved Guevara's jockstrap already, m'kay?
On the Hill, as the Dems smear campaign against Gina Haspel falls apart, General Tom McInerney went kind of low in an interview with Charles Payne on FBN. When the conversation turned to the subject of torture and Dyin' John McStains' opposition to Haspel, McInerney shot back that torture works; just ask "songbird" McCain. Once again, with my help I guess, we steer into the subject or McCain's stint as a POW and as a public (self-) servant. First, the difference between what we do with waterboarding/enhanced interrogation techniques versus what our enemies do and have done vis a vis actual torture is night and day. So I cringe at the General's comment in that regard. Second, the claim that McCain cracked and/or collaborated with the North Vietnamese has never been verified, so that too is kind of cringeworthy in calling him a songbird. Now, all that said, considering John McCain's disgusting behavior even as whatever life he has left in him drains out of his body, the final act being to oppose a fine, upstanding American who has served this country faithfully for many years just because President Trump nominated her would be enough to make me perhaps say a few things that I might maybe later regret. And as a final counterpoint to that, I am sick and tired of having to watch my speech and apologize when the Democrat-Left-Media-Academia complex can spew any blood libel they want - or even rape and beat up on women - with impunity. I'm sick to death of this narrative that Left good, Right evil. Sometimes, I get tired of taking the high road. And considering that the nation and the world are on a knife edge, I've got more important things to think about than accepting my pre-determined role as an unredeemable enemy that needs to be eliminated. War.
Mini-rant over. On the political front, the President and VP held a tag team rally in Indiana that by all accounts went over like gangbusters. Joe Donnelly was mocked as was the Obama record of failure vis a vis Korea and Iran to wild applause. More please as we head towards November. Mark Levin dropped the reality MOAB on the nature of the Democrat Party, Convicted felon/Nazi collaborator Soros is now funding efforts to target non-voters in swing states, Bernardo Sandersnista has a winning idea; a bill to reverse right-to-work laws while he and girl-groper Joey Bidet harp on about "inequality." Also, evidently, the Democrat candidate for Maryland governor dropped dead suddenly at age 60.
But while the Dems implode, the economy is going gangbusters and people are now more and more seeing the results with record low unemployment, new job creation and bonuses. On the downside Jeff "Gila monster" Flake is being a snake in opposing making PDT's tax cuts permanent, and another really irritating item was Patty Murray, the bespectacled, blonde shmoo with the Moe Howard bowl cut actually had the unmitigated chutzpah to ask the HHS Secretary, during a hearing about Title X funding to Planned Mengele-hood, should the government have the right to tell women which doctors they can and can't see? If I were the HHS secretary, aside from hurling a string of loud obscenities directed at her lineage, intelligence, ethics, character and physiognomy, I would have stated "Senator Murray, I can assure you, if you like your doctor you can keep your doctor." As an aside, thank you GOP and Senator McToomah for not killing off Obamacare completely. I'm starting to reconsider my views on General McInerney's statement.
Anyway, links from around the world, across the nation and up your street. Have a better one and remain blessed.
IN THE LEAD