« Chess Thread 05-05-2018
|
Main
|
Saturday Overnight Open Thread (5/5/18 ) »
May 05, 2018
Saturday Evening Movie Thread 05-05-2018 [Hosted By: TheJamesMadison]
Silent Comedy
So, for two weeks I've talked about summer movies. Let's go way back and talk about crowd pleasers from yesteryear: the work of three great silent comedians.
First, I have a weird relationship with silent comedy, because I largely do not like the origins. Not the earliest forms of silent comedy, but Vaudeville. Short, physically focused, comedic bits untied to any sort of narrative are, at best, pleasant distractions to me, and most of them tend to fall flat.
However, once you get into the shorts of the era, things really begin to connect. A fifteen-minute runtime means that you have to have more than just gags. You have to tie it to something like a character trying to overcome some obstacle, the beginnings of a story. The antics of silent comedy in service to a story is what gets me.
So, let's talk about three of the greatest silent comedians.
Charlie Chaplin
Never mind what kind of man he was in real life (I think he was an awful person in general, personally), but the man knew how to get a laugh and extract a tear.
He was also the biggest star of silent comedy. The vast majority of the time he played The Tramp, a perpetually down on his luck loser, trying to find his way in whatever situations he encountered. Chaplin grew up in a Vaudeville family, so he understood the mechanics of the type of comedy that translated to film so well. He also grew to understand a very important word in narrative: Pathos.
Pathos, as defined by the dictionary, is an appeal to emotions. Chaplin, on par with someone like Carl Dryer in The Passion of Joan of Arc, understood that film was, first and foremost, an emotional medium. He knew that he couldn't just be funny, he had to connect with his audience beyond cheap laughs. Sure, his films had great bits like this (my favorite gag from City Lights):
But also this, the ending to the same movie:
After almost 90 minutes of The Tramp losing, being beaten down, and never gaining anything, he has one small victory with the pretty and blind flower girl. It's small, but it makes The Tramp happier than anything he could ever be.

Buster Keaton
Buster Keaton is nearly an opposite to Chaplin. Keaton used narrative as purely an excuse to film him doing daring and exciting things. I'm not the biggest on comparing these three to each other, but I prefer Keaton. Keaton's narratives are more inconsequential, but everything in between in more exciting and funnier to me, and I think it has to do with his nickname: The Great Stone Face. Look at him during this, his most famous sequence, from the movie Steamboat Bill Jr.:
His face barely registers a reaction to that house falling around him. I find that lack of a reaction hilarious.
His best movie (probably), was also the movie that helped ruin him, The General. The movie was very expensive and just did not perform nearly well enough to justify the cost for the studio. It was the last time Keaton was given that level of latitude. Here's the movie in full:
And, just to highlight how great Buster Keaton was, let me clarify that he directed the film (much as Chaplin directed City Lights) and he produced shots like this: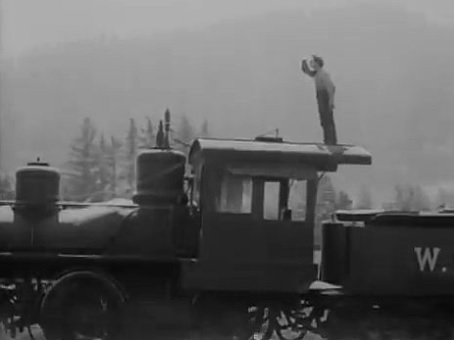 And this: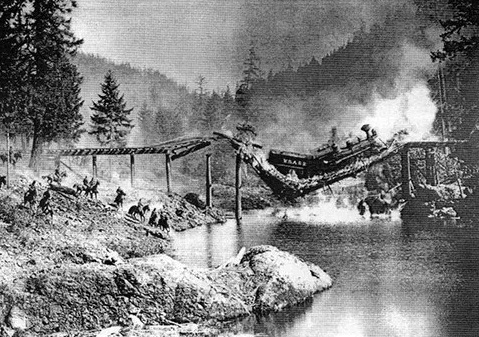 And if you've ever wanted a very condensed lesson about how silent comedy works despite not following some basic rules of real life, watch this sequence from the beginning of the same movie (the first 35 seconds or so, without any sound):
Would that gag work with the sound of the train blowing its whistle and chugging along? I don't think so. The fact that we don't hear it helps sell the idea that Keaton is so lost in thought that he can't hear anything.

Harold Lloyd
Harold Lloyd, I think, was closer in style to Buster Keaton than Charlie Chaplin. All three's movies were primarily made up a series of gags, but Lloyd was more interested in stunts and laughs (like Keaton) than narrative cohesion (like Chaplin).
Still, his comedy remains distinct. Where Keaton was The Great Stone Face, Lloyd was extremely expressive. He also had very boyish looks as opposed to Keaton who kind of looks like he could have just been a stuntman. Lloyd was also probably as daring as Keaton was. It's the combination of boyish innocence in his face along with the outlandishness of his stunts that makes Lloyd my personal favorite of these three.
Everyone should know the famous shot from his movie Safety Last!: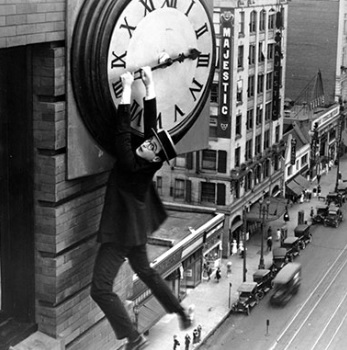 Hell, Robert Zemeckis referenced it with Doc Brown at the end of Back to the Future.
You know what's great about that? Do you think they used any trickery to get that shot of Lloyd hanging unaided from a clock a hundred feet above a street? You'd be right…they had a net beneath him. That was it. They climbed up there, he held on with his own hands unaided, and he could have fallen (a few feet into a net below frame, but still). The way that shot is framed sells the danger of it. The trickery to make that happen sort of existed (rear projection was already a thing), but if you've ever seen rear-projection, you know it almost always looks fake. That shot looks real because it is real.
Here's that movie in its entirety:

In Conclusion
Seriously, if you haven't discovered silent comedy yet, I'm envious. You have so much to explore.
And you know what? The vast majority is in the public domain and available on YouTube! Go! Check it out!
For those who have discovered the joys of silent comedy: Is your favorite silent comedian one of my three? Is there another? What silent comedy is your favorite (feature length or short film, doesn't matter)?

Movies of Today
Opening in Theaters:
Overboard
Tully
Bad Samaritan
Next in my Netflix Queue:
A Hard Day's Night
Movies I Saw This Week:
Darby O'Gill and the Little People (Netflix Rating 3/5 | Quality Rating 2/4) Poster blurb: "Cute and slightly charming." [Netflix DVD]
Zoolander 2 (Netflix Rating 3/5 | Quality Rating 2/4) "I thought it was on par with the first one. Aimless and pointlessly silly." [HBO]
Inferno (Netflix Rating 4/5 | Quality Rating 3/4) [Rewatch] "It made me want to watch more Dario Argento movies. That's gotta count for something, right?" [Amazon Prime]
Killer's Kiss (Netflix Rating 4/5 | Quality Rating 3/4) "Where Kubrick learned how to actually make a movie." [Personal Collection]
Spartacus [Rewatch] (Netflix Rating 5/5 | Quality Rating 3.5/4) "Kubrick's most traditional movie, which he does very well with considering he only started a week into production." [Personal Collection]
Martin (Netflix Rating 4/5 | Quality Rating 3/4) "A surprisingly good film that makes me wish that Romero was simply a more talented filmmaker." ["Library"]

Contact
Email any suggestions or questions to thejamesmadison.aos at symbol gmail dot com.
I've also archived all the old posts here, by request. I'll add new posts a week after they originally post at the HQ.
And, please, visit my website.

posted by OregonMuse at
07:22 PM
|
Access Comments