« Saturday Evening Movie Thread 05-05-2018 [Hosted By: TheJamesMadison]
|
Main
|
EMT 5/6/18 »
May 05, 2018
Saturday Overnight Open Thread (5/5/18 )
(OMG look at all of those deplorables!)
***
Saturday Night Joke

***
Who the hell thought this was a good idea? And in this culture, will heads roll?

Prosecutors are questioning an official after they gave a baby a job as a 'happiness executive' in a government office.

The Public Prosecution Office of the Abu Dhabi Judicial Department (ADJD) on Wednesday said it summoned the individual to "clarify the issue of appointing a less than eight-month old baby boy to a, 'Happiness Executive' role", state news agency Wam reported.

Video footage of the child came to light on social media on Tuesday, in which the child is pictured in a range of activities that were apparently aimed at boosting morale.

Boost morale? What are your ideas?
***
It appears that science fiction of the 50s may be coming true today. A power system designed for space travel and settlement is one step closer to becoming reality.

A new nuclear power system that could enable long-duration crewed missions to the Moon, Mars and destinations beyond recently passed an extensive operating test in the Nevada desert, performing well under a variety of challenging conditions.


"We threw everything we could at this reactor, in terms of nominal and off-normal[BA(1] operating scenarios and KRUSTY passed with flying colors," said David Poston of Los Alamos National Laboratory, the chief reactor designer.

The recent experiment in Nevada, conducted by NASA and the Department of Energy's National Nuclear Security Administration (NNSA), demonstrated the system can create electricity with fission power and showed the system is stable and safe no matter what environment it encounters.

The agency announced the results of the demonstration, called the Kilopower Reactor Using Stirling Technology (KRUSTY) experiment, during a news conference today at its Glenn Research Center in Cleveland. The Kilopower experiment was conducted at the NNSA's Nevada National Security Site from November 2017 through March.
***
The ONT Musical Interlude
***
***
Have you ever heard of Joyce, Washington? Me neither until this came across my desk. h/t Hank Curmudgeon
***

The first web cam was designed to keep an eye on the coffee pot. This and other interesting coffee facts.
***
The ONT has left the Kanye West thing alone. But now that Dr. Phil has weighed in. So has The ONT. Dr. Phil should just STFU. And The ONT has the perfect song.
Of course it is NSFW

***

So many Genius Award Winners and so little time.
Hmmm, wonder what gave it away drug use was involved with this Genius Award Winner.h/t Isophorone
***

If you don't succeed at first, try again. Genius Award Winner. h/t ibguy
***

Who wears short shorts? Not our Genius Award Winner.
***

Been there and not done that. Tonight's Feel Good Story of The Day. h/t ibguy

Many of us have encountered screaming children during a flight.

While most people might consider them annoying, and some might go so far as to demand their removal from the plane, one man displayed a rare act of kindness and generosity on a recent flight by helping a mom calm her kids down when they were throwing temper tantrums.

Jessica Rudeen, a 34-year-old mom from Bentonville, Arkansas, brought her two kids on an American Airlines flight to Wilmington, North Carolina, on April 10.
What a good guy.
Off duty cop thwarts Wile E. Coyote. Another Feel Good Story of The Day.

An off-duty police officer was hailed a hero Sunday after he jumped on a coyote and strangled it as the animal attacked a girl on a New York playground, leaving her with an arm bite.

Kasey King-Petrellese, the girl's mother, told NBC New York that the coyote appeared out of nowhere and sprinted "like a cheetah" toward 5-year-old Natalia and her 3-year-old brother in Thornwood.

No jokes about pork chops.
***

Tonight's ONT has been brought to you by Sports Fans of The UK.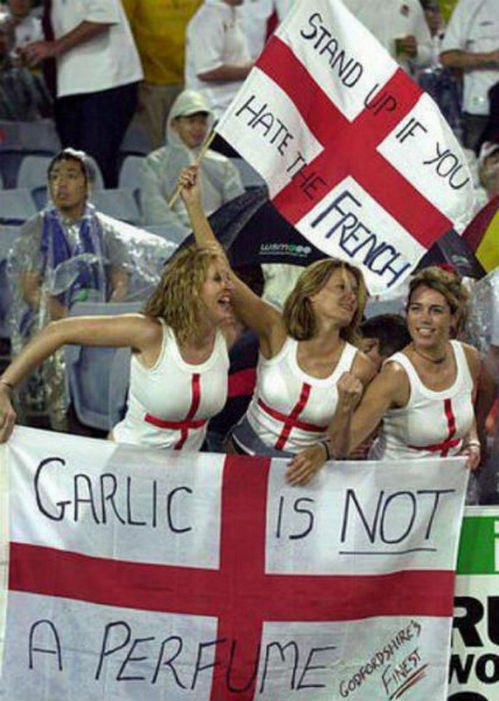 Notice: Posted with permission by AceCorp, LLC. Not responsible for British elbows Hooligans.

posted by Misanthropic Humanitarian at
09:33 PM
|
Access Comments