« Weird News Dump
|
Main
|
Saturday Gardening Thread: Garden Challenges [KT] »
May 05, 2018
Thread before the Gardening Thread: California: Leading the Way? Or not? [KT]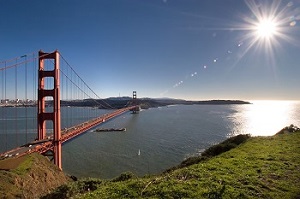 Serving your mid-day open thread needs
Since I am still here in this place, I thought that today I might concentrate on some news items that have some connection to California. Like for example:
The perennial comparison between the cost of prison and a Harvard education
The average annual cost of keeping an inmate in a California prison is now $75,560. More than enough for an average year at Harvard, they say. The cost per inmate has doubled since 2005. Don't know about the cost per Harvard student.
Since there are several prisons here in the Central Valley, I happen to have some insight into some of the reasons why these prisons are so expensive. You probably wouldn't be very surprised that unions, the feds and Sacramento all come to my mind when I think of irrational prison costs. But Stephen Hayward has a twist on this news item that would surprise the Los Angeles Times:
The trouble is, sending a young criminal offender to Harvard might be worse than sending him to prison. Seriously--I don't mean this as one of my usual sarcastic sideswipes. At least in prison you might learn something true and useful. Whereas at Harvard, the latest shiny thing is a "social justice certificate course." My favorite among the social justice offerings is the course on "Chocolate, Culture, and the Politics of Food."
Still, could Hayward really be serious about prison providing a superior education?
By contrast, check out some time Earl Shorris's 2013 book The Art of Freedom: Teaching Humanities to the Poor. Shorris tells the story of teaching old fashioned humanities to prison inmates and other disadvantaged and poor people in settings all over the world, and the liberating and enriching effect it has on their lives--the kind of effect once delivered by our best universities, but less and less with each passing day. . . .

In other words, Harvard and similar institutions may well represent a much more pernicious form of captivity these days.
So, what do you think about prison inmates and education? Or about perhaps freeing the minds of some of the inmates at Harvard?
More on Universities
Bird Dog at Maggie's Farm had a link this week on the descent of UC Berkeley into victimology, by Heather MacDonald. And one on a new requirements concerning a statement on "contribution to diversity" for faculty applicants at UCSD. Does this mean the stranger the faculty applicant, the better? Could "conservative" possibly be an example of "diversity", do you suppose? Conservatives are pretty rare in the liberal arts these days. Naaaaaa.
The icky professor at Fresno State who expressed such nasty sentiments at Barbara Bush's death will keep her job. As they say at Legal Insurrection, put her in campaign ads. This is academia today.
The Train, The Train
National Review has a piece up on the slow death of the train to nowhere.
The latest statewide poll on the high-speed railway was conducted in March by the Public Policy Institute. It found that only 46 percent of likely voters still support the rail project. I've little doubt that number will tumble as it becomes clear how key public services will be squeezed as the train gobbles up more cash.

Let's hope that California's sad experience informs residents of another mega state before they run off the rails building their own high-speed railway. Private investors in Texas have created a Texas Central Railway (TCR) project that they promise will deliver a $10 billion bullet train. They pledge that the train will speed passengers along the 240-mile corridor between Houston and Dallas in under 90 minutes. The project would use the same equipment made famous by Japan's Shinkansen bullet-train line. The train's boosters claim that it will have the economic impact equivalent to "hosting 180 Super Bowls."
Personally, I haven't seen much construction activity on the California train from nowhere to nowhere lately. There is a lot of disruption already, though.
VDH
Last week, we stopped for dinner at Victor Davis Hanson's favorite hometown restaurant in Selma. Kind of a noisy place. Mexican food. Always busy. VDH takes foreign guests there sometimes to teach them something about how American enterprise works.
He has written a piece titled, If Only Hillary Had Won . . . Worth reading.
There are lots of possible counterfactuals to think about had Hillary Clinton won the presidency as all the experts had predicted. The U.S. embassy would have stayed in Tel Aviv. "Strategic patience" would likely still govern the North Korea dilemma. Fracking would be curtailed. The -- rather than "our" -- miners really would be put out of work. Coal certainly would not have been "beautiful." The economy probably would be slogging along at below 2 percent GDP growth.

China would be delighted, as would Iran. But most important, there would be no collusion narrative -- neither one concerning a defeated Donald Trump nor another implicating a victorious Hillary Clinton. In triumph, progressives couldn't have cared less whether Russians supposedly had tried to help a now irrelevant Trump; and they certainly would have prevented any investigation of the winning Clinton 2016 campaign.

In sum, Hillary's supposedly sure victory, not fear of breaking the law, prompted most of the current 2016 scandals, and her embittering defeat means they are not being addressed as scandals.
DNA and the Golden State Killer
Tom Maguire has an interesting little post up on the use of commercial DNA to bust the Golden State killer. He started his crime spree not far from here. What a creepy dude.
The DNA used to narrow the search down to him came from distant relatives, not from the suspect. What does this mean in terms of privacy and government in the future?
Well, that's enough pondering for me today. Got anything interesting going on this weekend?

posted by Open Blogger at
11:19 AM
|
Access Comments