« Monday Overnight Open Thread (4/30/18 )
|
Main
|
Mid-Morning Open Thread »
May 01, 2018
The Morning Report 5/1/18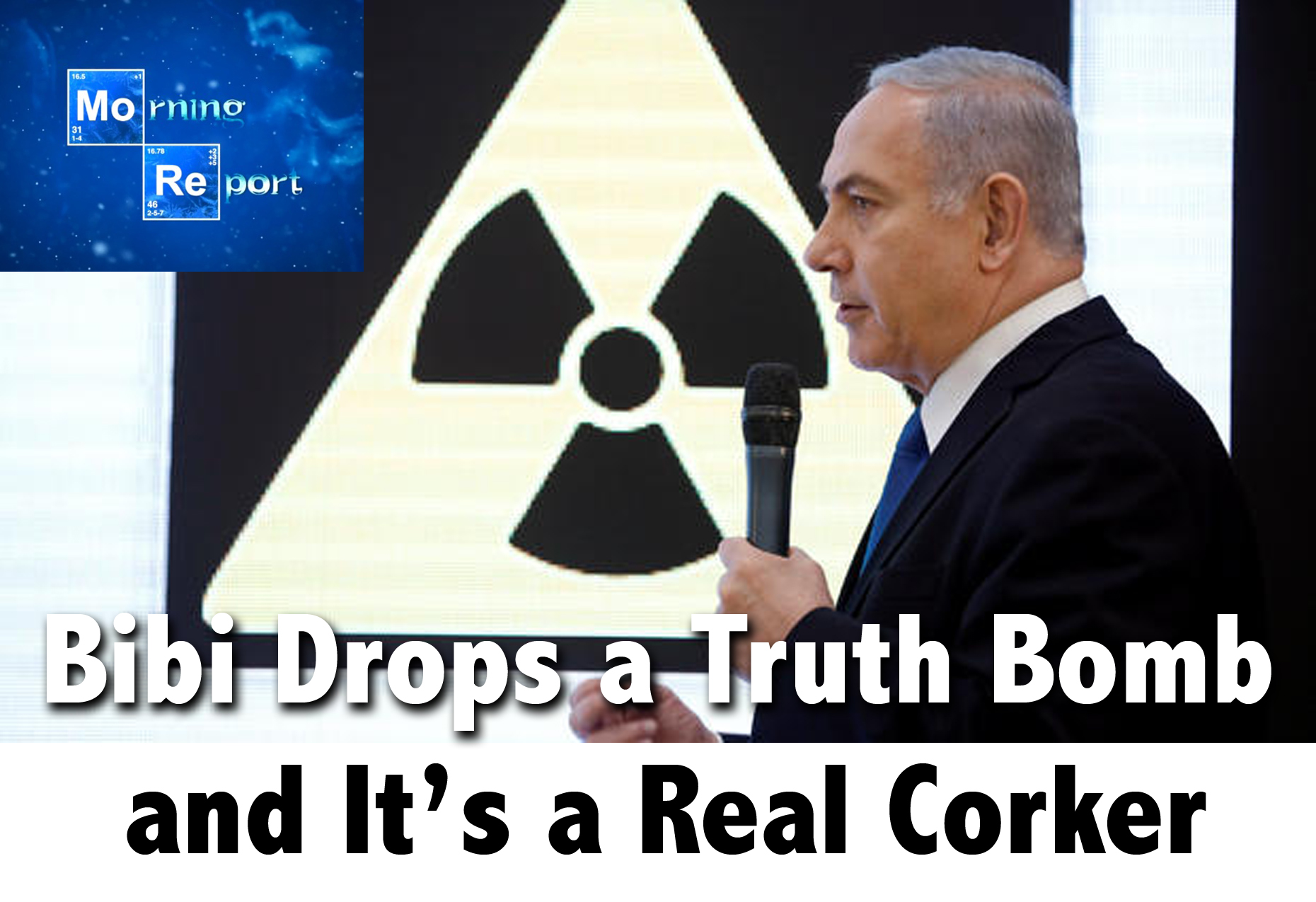 Good morning kids. It's a May-Day for the Iran Nuke Deal Sellout. Yesterday, Israeli PM Benjamin Netanyahu revealed an absolutely stunning treasure trove of intelligence to prove that not only are the Iranians's not following the terms of the deal (which anyone with two brain cells to rub together and is moderately self-aware knew instinctively) but that the deal itself is built upon nothing but lies in the first place. And lest we forget about team Obama, Mark Levin dropped this nugget during his three-hour nightly rage stroke:
"He provided them the money to get the nukes... and his people today are running around saying the fact that Iran lied about what it was doing is more reason we need the deal," Levin said of former President Obama. "Have you ever heard anything so stupid in your life?"
Aside from that, Netanyahu said something kind of staggering; that the Israelis obtained a half ton of actual documents. From the link about the key takeaways from his announcement:
By pulling off what appears to be the heist of the 21st century, Israel has proven that it still maintains a second-to-none intelligence agency in the Mossad... Israeli agents were somehow able to steal a truckload of documents from what was likely a high-security facility, located in the capital of Iran. The unbelievable operation will surely have the added bonus for Israel of inducing widespread paranoia from within the ranks of the regime.
This deal is on life-support as it is but based on the reactions coming from Secretary of State Pompeo and PDT himself, I cannot imagine the US not scrapping this dangerous sham. And given the fact that for almost 40 years, Iran has been the leading exporter of global terrorism and perhaps the single most destabilizing force in the Middle East aside from the eight years of the Obama mal-Administration, if you think of this in terms of Syria, the Palestinians, the North Koreans (oh yes, gentle reader; there is a relationship) and most of all the long-suffering Iranian people, a game-changer would be to bring down the regime itself. I think the time is ripe.
Moving along to the border, the phony caravan of asylum seekers are at the border and several have already been caught jumping the fences. The key takeaways here are a) if they truly were fleeing Honduras seeking political asylum, then they should remain in Mexico; actually they should have stayed in Guatemala since that is the first nation directly across the Honduran border and b) this is not about asylum; it's a political stunt orchestrated by a Soros-funded radical Marxist group headed by Americans.
In Mueller Witch Hunt news, the questions he wants to ask PDT have been released and Alan Dershowitz warns the obvious that the questions are about ensnaring Trump in a lie. Meanwhile, as Rush noted yesterday, the big story everyone missed at the White House Correspondents Dinner was that CNN got an award for basically taking dictation from James Clapper, and thereby touching off this whole charade.
On the political front, a big Reuters/Ipsos poll has been released and it's not good news for Democrats. Their vaunted lock on the youth vote is evaporating as the aforementioned have become more and more disenchanted with the Dems. That said, it doesn't mean they've all suddenly become pro-American free market capitalists, considering what we're witnessing on campus, in social(ist) media and the popularity of alte-kocker commie Bernardo Sandersnista. And considering that the GOP has no soul and that b) we do not control the media or academia, that dynamic is not necessarily likely to change. Although incidents like l'affaire Kanye notwithstanding. And that's the nub of Allen West's column linked below.
BUT... what it does indicate is that the Democrat Party is at war with itself. The inevitable outcome is that the forces of the old guard phony moderate poseurs such as Cuck Schemer and Nancy Palsi are going to be swept aside by the bust-out anti-American freak show of Sanders, Perez, Keith X et al. The challenge at some point in the near future - and I think that means 2024 if not 2020 - is going to be having some sort of political party ready, willing and able to take it on. And that means recognizing and calling the freaks out for what they are. That said, given everything from what we witnessed at the WHCD on Saturday night to the assassination attempt on Steve Scalise and everything in between, I can't imagine the majority of Americans allowing them to take power. And since the Democrat party has crossed so many Rubicons, for its leaders to suddenly backtrack and take a conciliatory tone, no matter how disingenuous it may be, risks completely pissing off the base.
Meanwhile, PDT is hammering away without any help from Congress. A major welfare reform effort is on deck and as the Democrat effort to destroy EPA-killer Scott Pruitt falters, the rhetorical (so far) guns are now being trained on Ryan Zinke.
Elsewhere, the AP and National Laughingstock WaPo lied about no guns allowed at Mike Pence's NRA speech, ISIS is warning us to expect knife attacks on airliners, a sobering piece on Alfie Evans and the dangers of government run healthcare and lastly, John Legend went after Kanye West with basically a cut-and-paste Tweet of the outright lies about the Democrat racists switching parties post 1964, to which Kanye responded with a short, pithy pearl of wisdom from Thomas Sowell. John Legend is no great brain. I don't think he even comprehends what he posted. I'm not saying Kanye West is a mensa candidate but it seems he is getting some great advice and learning things from Candace Owens and Charlie Kirk. I still see this as a harbinger of good things. And if it can be somehow coupled with the disenchantment of the millennial generation with the Dems, and perhaps a shift towards more of a conservative bent in subsequent generations (see the link about Generation "Z"), then that could be huge.
Anyway, links from around the world, across the nation and up your street. Have a better one and remain blessed.
IN THE LEAD