« Not Quite Overnight Open Thread
|
Main
|
The Morning Report 5/2/18 »
May 01, 2018
Tuesday Overnight Open Thread (5/1/18 )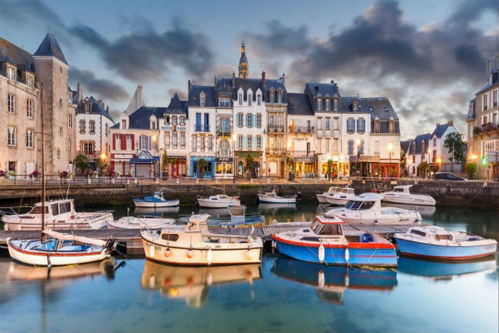 *****
The Quotes of The Day

Quote I

There is nothing harmful about masculinity or femininity in their respective natural states. Nothing. There are, however, broken women and men. Broken men tend to lash out in violent ways -- hence, the concept of "toxic masculinity" -- but it isn't their DNA that's hurting them. It's their lack of purpose. And that lack of purpose stems from the lack of a father or father figure. As Dr. Warren Farrell explains here (as well as in his new book, The Boy Crisis): "Boys who hurt, hurt us." Suzanne Venker

Quote II

"You only have power over people so long as you don't take everything away from them. But when you've robbed a man of everything, he's no longer in your power – he's free again."Aleksandr Solzhenitsyn

Quote III

"The louder he talked of his honor, the faster we counted our spoons." Ralph Waldo Emerson h/t Hrothgar
Reminds us of Saint James Comey, eh?
*****
Is Al Gore even relevant? He thinks he is with his concern for black and poor people.

Al Gore, the former US vice-president turned climate change advocate, has warned that the deepening crisis of global temperature and sea level rise – and the consequent spate of natural disasters in America – will increasingly affect black and poor people more than others.

Speaking at the opening of a new national memorial and museum chronicling America's history of lynching and racial violence in Montgomery, Alabama, Gore said that the US could expect to see many more major disasters of the ilk of Hurricanes Harvey, Irma and Maria last summer.
Shocking that people who live in a coastal area which is at or below sea level would be subjected to natural disasters.
*****

I don't live in GA. But, if I did I would vote early and often for this candidate. h/t ALH
*****
Indirectly your friendly Cob is involved in the building industry. It is always interesting to see what is happening on the other side of the world. New Zealand has leaky homes. It appears they are a bit too stingy.

ANALYSIS: Many Kiwis probably buy a house assuming they have bought a house for life. Not necessarily so.

New Zealand homes actually have surprisingly short lifespans. Maynard Marks Limited director Stuart Wilson said many Kiwis became "quite upset when they found out" houses have minimum lifespan requirements of just 50 years for the building's structure and 15 years for the durability of the exterior cladding.

Wilson, a chartered and registered building surveyor, said when cladding started to deteriorate after 15 years it still satisfied its legal requirements under the Building Act, "which often surprises people - when you consider that you build a house and you expect it to last essentially forever".

There was a "disposable" attitude towards building stock in New Zealand, he said.

"We seem to have a disposable attitude, or culture, towards buildings. Part of that comes down to the fact that we're often building with different kinds of materials to those commonly used overseas," he said.
*****

Not just for baking anymore. Could baking soda be used to fight autoimmune diseases?

Although researchers are still in the early stages of testing, a new study holds promise for people with autoimmune disorders. There's the potential that something as simple as a daily dose of baking soda in water could reduce the inflammation of diseases like rheumatoid arthritis. But there's still a whole lot of research to be done.

Researchers at the Medical College of Georgia at Augusta University found that when rats or healthy people digest an antacid solution of baking soda (sodium bicarbonate) and water, it triggers the stomach to make more acid to get ready to digest a meal.
*****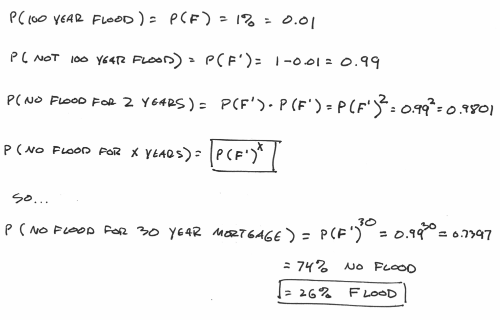 Yes class. There will be math tonight. The Surprisingly Solid Mathematical Case of the Tin Foil Hat Gun Prepper. Or, "Who Needs an AR-15 Anyway?"h/t Hank Curmudgeon

As gun policy discussions unfold in the wake of mass shooter incidents, they routinely end in three buckets. There's the "tyranny can never happen here" bucket, which the left has mostly abdicated in the wake of Trump winning after they called (and still call) him a tyrant. There's the "you can't fight the army with small arms" bucket, which is increasingly unsound given our ongoing decade-and-a-half war with Afghani tribal goat herders. And there's the "what the hell do you need an AR-15 for anyway?" bucket, which, by its very language, eschews a fundamental lack of understanding of what those people are thinking. I am not a prepper. But I know a few. Some of the ones I do know are smart. They may not be doing as deep an analysis as I present here, on a mathematical level, but the smart ones are definitely doing it at a subconscious level. If you want to understand the perspectives of others, as everyone in my opinion should strive to do, then you would do well to read to the end of this article. To get where we're going, we will need to discuss the general framework of disaster mathematics.
*****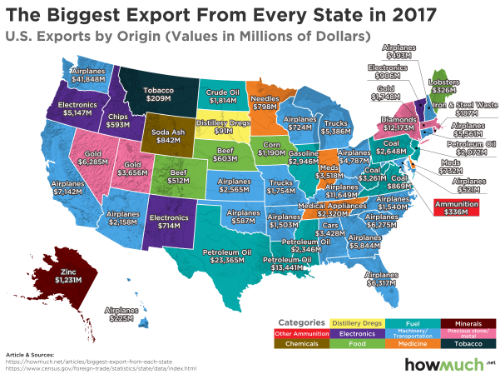 Horde, is this accurate or do you call BS? Biggest exports from every US state.
*****
The ONT Musical Interlude
May 1, 1968, Born on this day, D'arcy Wretsky-Brown, bassist with American alternative rock band, Smashing Pumpkins who had the 1995 US No.1 album Mellon Collie and the Infinite Sadness. via thisdayinmusic.com
***
Because.........
***

Diversity. Glass ceiling. Yadda, yadda, yad. Why not follow the golden rule and just treat everybody how you would like to be treated?

When talking about the role of women at your firm, maybe we don't put a spotlight on the men. Paul Hastings seems to think men at the firm need a pat on the back for "including [women] in client work" and other basic stuff they should be doing anyway. Pro tip: If you're trying to promote diversity, giving (mostly) white men center stage is doing the very, very least you can do.
Do your job and do it right.
*****
You will probably ask, "How in the hell did you think this was going to work?" The ONT's response: Genius Award Winner.

HALIFAX — An alleged robber found out the hard way that Halifax's harbour ferry is not an effective getaway vehicle.

Halifax Regional Police responded to a robbery at a Tim Horton's on Wyse Road in Dartmouth just before 7 p.m. Friday where they say a male suspect claimed he had a firearm and demanded money from staff.

After the alleged heist, police say the suspect boarded a Halifax Transit Ferry and allegedly attempted to make a getaway across the harbour.
*****
A good boy is on his way to being a good man. No "toxicity" here. Tonight's Feel Good Story of The Day.

Jaron Johnson may only be 8 years old, but he is already well on his way to being an upstanding citizen after his compassionate display of integrity last week.

The youngster was out running errands with his mom when he found a $100 bill in the parking lot of a Walmart in Pineville, Louisiana.

"He was a few steps behind me and said, 'Mom, look what I have in my pocket,' and he said, 'Can we turn it in to Walmart and give it to the rightful owner?'" Jaron's mom Jodie told Inside Edition.
Flyover country. Wal-mart. F*cking deplorables.
*****
Tonight's ONT has been brought to you by The Look Of Satisfaction.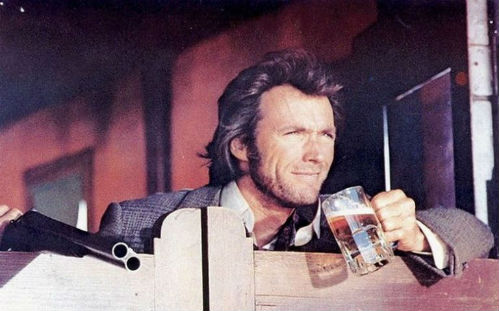 Notice: Posted with permission by AceCorp, LLC. Three drink minimum required. Or more if you so choose.

posted by Misanthropic Humanitarian at
10:22 PM
|
Access Comments