« Food Thread: Is There Such A Thing As Too Much Meat In A Dish?
|
Main
|
Sunday Overnight Open Thread (4/22/18 ) »
April 22, 2018
Weekend Gun Thread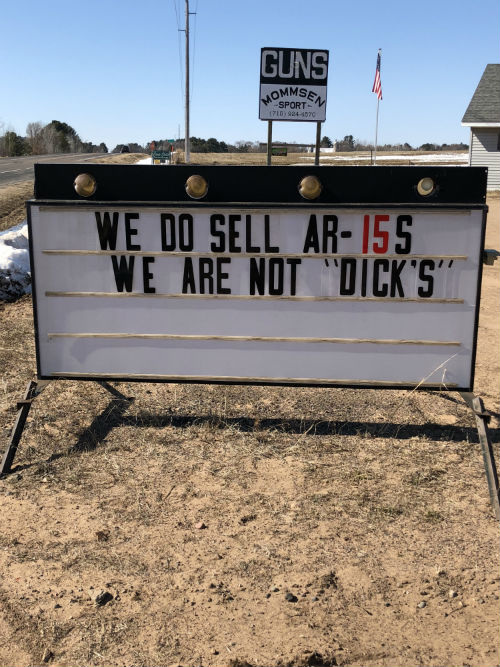 ***
I came across this sign the other day in my travels. Nice little "Mom & Pop" gun store. Where do you do your shopping? Online? Small biz owners? Big box stores?
I'll be honest with you, I haven't purchased a firearm from a private party in years. Hopefully the paperwork of buying new from a FFL will not come back to bite me in the ass sometime down the road.
So Horde, tell us about your shopping habits.
*****
Former NFL player Jay Feely has my support and shows that the left doesn't have a sense of humor. Get a life off of your computer.
***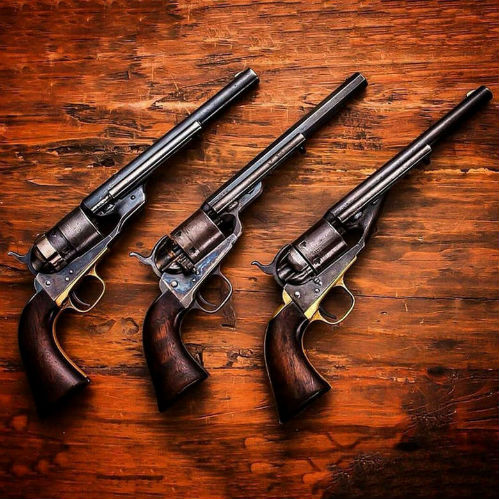 (*Good, Gooder, Goodest)
***

In my travels I visit places where there are armed people. They are both in uniform and plain-clothing. I often am waned or walk through a metal detector. Other than my damn knee everything is good. I don't feel insecure, it is just a way of life.

Do you want to make schools safer? Spend more money on security and allow teachers and staff to carry. The debate: Is arming school staff a good idea?

In the wake of the horrific mass murder at Marjory Stoneman Douglas High School, in which a lone gunman killed seventeen people, the debate over gun control has erupted with renewed fury not experienced since the tragic Sandy Hook school massacre in 2012. When a mass murder is committed with a firearm, the political debate over guns predictably takes center stage, as the factions that seek further civilian disarmament renew their calls for change in policy while Second Amendment defenders dig in to resist. In this argument over legislation governing inanimate objects, the opportunity is lost to take measures that may truly work towards thwarting the next mass killer. One such notion that garners particular controversy is the proposal to arm teachers and other school staff.

Just a couple of thoughts. Why does the left think that good guys can't hit their target yet bad guys can?
If people are safe in "gun free zones" why are there so many shootings there?
***
What does Chicago and the JEF have in common with the murders at Marjory Stoneman Douglas High School shooting in Parkland, FL?

While the media continues to focus on gun control in the wake of the Marjory Stoneman Douglas High School shooting in Parkland, Florida, one area student has dug into his school's policies and found them wanting.

Kenneth Preston, a 19-year-old student journalist who attends high school in Broward County, Florida, has done an in-depth investigation of the superintendent and school board.

Preston's thorough report, released on Tuesday, says that Broward Superintendent Robert Runcie and the school district failed to spend over $100 million of federal money intended for school safety upgrades.

Runcie once worked under former Obama Secretary of Education Arne Duncan in the Chicago Public Schools system.

By my math at least 4 governmental agencies failed those 17 dead at the high school in question. Yet politicians and some zit faced puke want to take my AR away from me. As Charlton Heston once said...............
***
Many of us are NRA members and supporters are you prepared for this shit? The NRA's Chris Cox and his wife find their home and business under protest and attack.

HEY'RE NOT GOING TO LIKE THE NEW RULES: Far Left Protesters Target NRA Lobbyists' Home. "Mr. and Mrs. Cox have been targeted over the past few months by repeated acts of criminal and unlawful conduct, including having their home vandalized on two occasions and Mrs. Cox's business on another occasion."

Plus:

"I don't think the Cox family is getting enough social pressure," said [Amanda] Gailey, a professor at the University of Nebraska-Lincoln. "Nobody from their kids' school or their yoga class sees [a protest] happening" at the NRA headquarters…

"If I made him uncomfortable at his house, too bad, he deserves it," [Catherine] Koebel said in an interview. "I felt unsafe in my home because of his product."…

"It is aggressive," Gailey acknowledged. "I wouldn't do that unless we were protesting someone who I believe is a truly indefensible human being."

Yeah, I've got a little list of that kind of people myself. And you're on it. And if this is the standard, a lot of lefties better watch out. They have an awful lot of indefensible human beings in their ranks.
***

The NRA is having a membership drive.
***

Hopefully, Rolling Stone Magazine knows how to roll a joint better than they know how to destroy an AR-15 rifle.

As gun owners, we can always count on the editors at Rolling Stone magazine to keep us in compliance with the myriad laws pertaining to firearms. So with the news that Dick's Sporting Goods will be destroying their inventory of AR-pattern rifles that they're now too responsible and virtuous to sell, the Rolling Stoners did a little research to find out how to do it legally.

It's no small question. As you may remember, a few days after the Parkland shooting, one know-nothing educator who's running for Congress in Virginia displayed her lack of knowledge for all the world to see when she converted her husband's AR into an illegal short-barrel rifle.
***

The Feel Good Story of The Week.
How about them 30 round magazines?
*****

How to sight in a rifle the correct way.

Sighting in a rifle is an important thing to do if you want your rifle to be dead on when taking a shot.
Which brings us to the Carlos Hathcock way of sighting in a rifle.
For those that don't know who Carlos Hathcock is, he was a United States Marine Corps (USMC) sniper with a service record of 93 confirmed kills.
Hathcock's record and the extraordinary details of the missions he undertook made him a legend in the U.S. Marine Corps.
He was a serious threat to the NVA (North Vietnamese Army), which they placed a bounty of U.S. $30,000 on Hathcock's head.
The following is a story by Gus Fisher a retired MGySgt USMC who talks of the time he met Carlos.
What was unique was the way Carlos had taught Gus to sight in a rifle. Here's the excerpt from M14Forum:
As mentioned before, I was a very young Marine Sergeant when I came up to THE Marine Corps Rifle Team the first time as the junior Armorer.
***
You can send your firearm related tips, stories, photos and unused ammo to petmorons at gmail. We do not publish canoe trip advertising.
***

*Enjoy the goof*
H/T Hank Curmudgeon for the Daily Signal link.


posted by Misanthropic Humanitarian at
07:30 PM
|
Access Comments