« Gender Neutral Bathrooms > #MeToo Movement Concerns
|
Main
|
Weekend Gun Thread »
April 22, 2018
Food Thread: Is There Such A Thing As Too Much Meat In A Dish?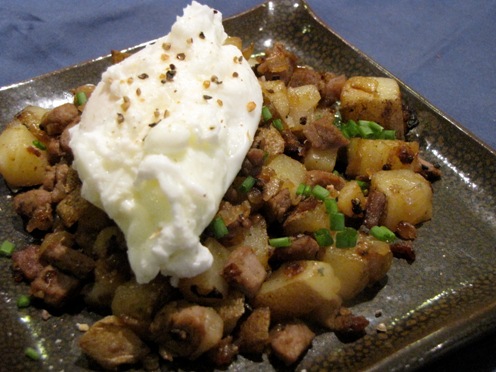 I had some leftover tenderloin from the Seder, and decided to make a sort of hash out of it. Nothing fancy, just diced potatoes, onions, a bit of carrot and celery, and some fresh thyme to add something different.
it was great! So, as usual, I made it again, and screwed it up. I figured that if a little beef was good, then a lot was better! I found some prime shell steak that had been marked down for some odd reason. It looked great, so I guess the "sell by" date had been reached and some wonk slapped a discount tag on it.
Instead of using the beef as a counterpoint to the potatoes and other stuff, I used so much of it that I overwhelmed the other ingredients. Now, cubed shell steak sauteed in butter is not a bad thing, but it wasn't quite what I wanted, and it reminded me yet again that much of cooking is simply a sense of balance and proportion between ingredients.
Yeah....I'm slow.
******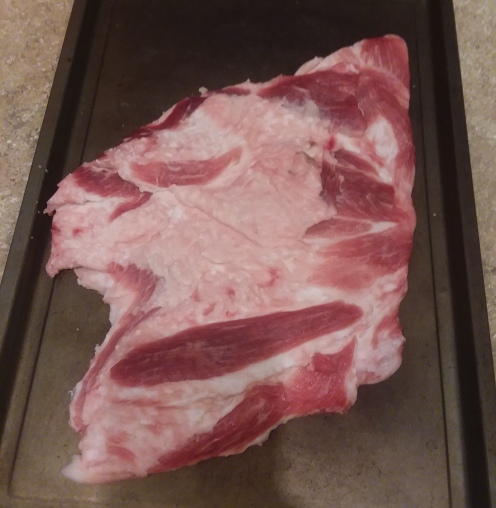 Lurker "Josh" has graciously shared his technique for making bacon from the fat cap of the pork shoulder. What a great idea! That part of the pig is fantastic, and I even prefer rib chops from high up near the shoulder...the ones that include some of the different muscles and tons of fat that make the shoulder so damned good.
I would like to share my technique for making homemade bacon. I make it out of the top fat slab from a picnic should, the square cut that contains the scapula bone. I make it out of that because the cost of the shoulder is a fraction of the cost of pork belly, saving more money for Val-U-Rite!

I remove the top fat, with all of the meat slivers still contained, rub it with Kosher salt on both sides and allow it to sit uncovered in the fridge overnight. The flat slab thickness varies but is generally between 1/2 to 1 1/4 inches thick. Next day, I set up my smoker to smoke at around 180 degrees, and rinse all the salt off the fat/meat then pat dry with paper towels. I place the fat slab into the smoker and smoke for around 3-4 hours. I place it directly on a rack to allow smoke to reach the entire piece easier, and I flip once or twice to keep the amount of smoke even (as shown by coloration). I prefer using more mellow woods such as cherry or apple, I do NOT recommend mesquite as it is very strong for this application.

When the 'bacon' reaches the appropriate color I remove and cool before slicing. It keeps a good long time in the fridge but I have yet to have any in the fridge longer than 3 weeks as my wife and kids eat it up fast. It can of course be frozen for later consumption.

I know it is not 'Bacon' since that is belly fat/meat. But- it cooks the same, smells the same, tastes the same, and has beautiful fat left in the pan for other uses. Best part is that I buy the full shoulders for $1.35lb, and the defatted portion roasts nicely for main meals while giving me bacon for1/3 the cost of buying it pre-made, and the homemade freshness cannot be eat.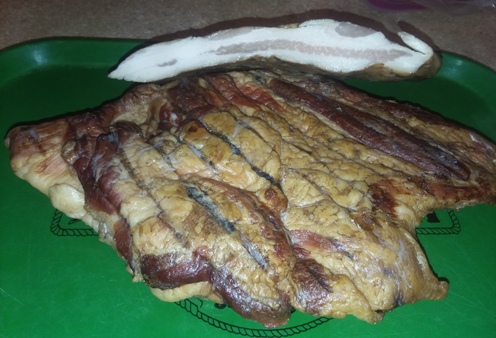 ******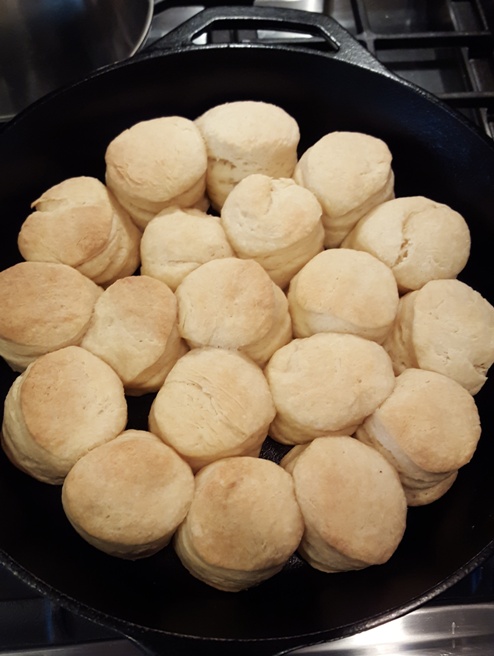 Remember those yeast biscuits from a few weeks ago? I made them, and while it was not worth the wait for the overnight rise, they were quite good. Tender and flaky and just a bit yeasty. But biscuits seem to be a quick, last-minute food. I am not sure that having to plan 12 hours in advance is in the spirit of biscuit making.

******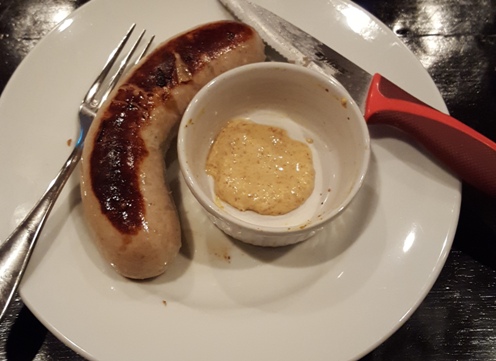 That is a pan-seared bratwurst from my favorite deli, and 1/4 of dinner that night. I was alone, with just baseball and lots of food. Unfortunately that mustard was crappy. It is a German brand called "Löwensenf," and it was bitter and bland without a hint of that great mustard punch that is required with a good sausage. Luckily I had other mustards, otherwise my night, and possibly my week would have been ruined.
And speaking of sausages...it is damned difficult to find good rolls for any shape and size other than the classic American hot dog. Which I absolutely love, but those rolls are just silly with a big thick bratwurst.

******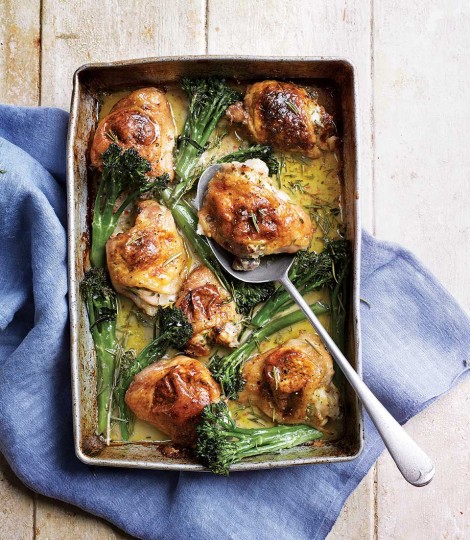 I love stuffed chicken dishes, but usually they specify the breast, which while it is easy to stuff, doesn't stand up to interesting stuffing ingredients. So when i find a recipe that uses thighs, I am happy!
Roast chicken thighs stuffed with gorgonzola piccante, chilli and herbs
I haven't made this dish yet, but come on...it has a great shot at being good. I would cheerfully swap out the broccoli for potatoes or simply leave them out and serve the dish with a green salad.

******
Food and cooking tips, good mustard, Oakland style BBQ sauce, gefilte fish replacements, thick and fluffy pita and other goodies with impressive girth:
cbd dot aoshq at gmail dot com
. Recipes for low-carb Pop-Tarts will be deleted with extreme prejudice.

posted by CBD at
04:00 PM
|
Access Comments