« Yes, It's My Fault
|
Main
|
Weekend Gun Thread »
April 01, 2018
Food Thread: A Traditional Meal? Maybe Not, But It Was Good!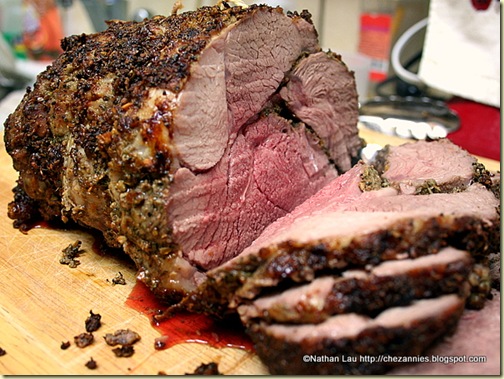 Looks great, doesn't it? Well, I didn't make lamb for Pesach, and there was a part of me that felt just a bit guilty, until I asked my mom about it, and she said pretty much, "make what you damned well want!"
So I did. Matzo Ball soup with tons of chicken fat in the matzo balls, Smoked salmon tartare with avocado and tortilla chips instead of the execrable gefilte fish, Tenderloin roast with ridiculously buttery, rich mashed potatoes, some roasted green beans with shallots, and that awesome flourless chocolate cake that commenter "Bluebell" recommended a few months ago.
I improved the cake by using high-quality chocolate instead of Nestles chocolate chips. I have made the cake twice before, and this time the good chocolate really made a difference.
Here's the recipe for the beef: Roasted Filet of Beef with Whole-Grain Mustard & Herb Crust. It worked perfectly, and I did not use prime beef. Hell, it wasn't even choice. It was the mass-market cryovac stuff that is actually pretty damned good. But...My supermarket has a big butcher shop, and one of the guys working there is a real pro. He trimmed the roasts and tied them perfectly. They were both of even thickness and consistent from end to end. That helped a lot!
******
This New, Affordable Chef's Knife Has a Cool Feature We've Never Seen Before
For certain definitions of affordable! That's an expensive knife, and without trying it I would not buy into the Kickstart campaign. For truly affordable and well designed knives, take a look at the Victorinox "Fibrox" line. The blades are nicely designed, and the handles are great! I have one of their boning knives which works wonderfully. And since I just snapped the tip off one of my smaller cheapo knives, I will be ordering another one soon.

******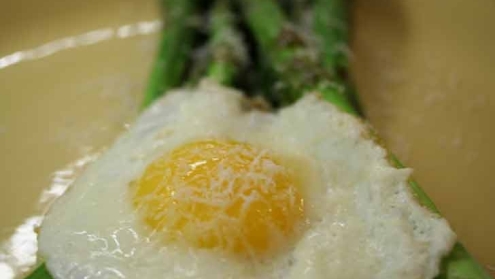 It's hard not to like something with a fried egg on top, but I particularly like the idea of plopping one down on something that people perceive as healthy. And the sprinkle of Parmesan on top is a nice touch.
Asparagus with Fried Egg Recipe

******
Did I mention that I was going to make a Detroit pizza? Because it was great! Easy and fun and just a bit different than the Sicilian pizza that I grew up on. Give it a shot some night. The dough is forgiving and easy to make, and the toppings are simple. I used the King Arthur Flour recipe I linked a few weeks ago, but I didn't bother to cook the sauce or use their herb mix. I just dumped a whole lot of garlic and onion powder and oregano and basil and salt and pepper into some good quality canned tomatoes. And as I mentioned, their other add-in -- for the dough -- is stupid too.

******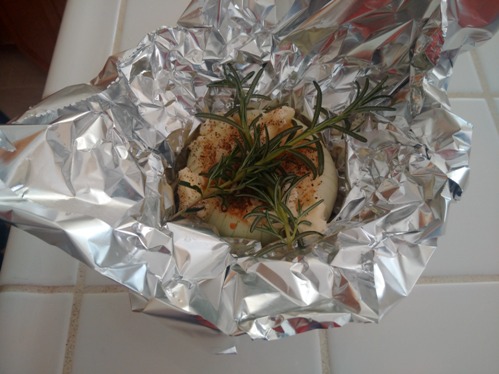 From commenter "Blake" comes a nice idea for roasted/grilled/smoked onions. I say "idea," rather than recipe, because it's infinitely malleable. The basic plan is good...just tailor it to your personal preference.
Pictured is one onion ready for the grill Ingredients: 1 large yellow onion garlic clove(s) fresh rosemary fresh ground pepper butter soy sauce

Peel the onion, cutting off the bottom and top. Quarter onion from the top, slicing about 2/3 of the way through. Partially wrap in foil, leaving top open. Two or three teaspoons of soy sauce over the top. Either slice or use garlic ricer. If slicing garlic, place pieces inside the onion where sliced. If ricing, just rice the garlic over the top of the onion. Add ground pepper then put fresh rosemary in the sliced portion of the onion. Or, toss the rosemary on top of the onion. Close foil over top of onion, toss onion on grill for an hour, maybe a bit more. (basically, this is cooked about the same amount of time and at the same temperature as a potato)

Personally, I smoke the onion for 30 minutes or so before turning my pellet grill up.

Depending on how long this is cooked you will either have a very well cooked onion or maybe partially caramelized on the bottom.
I suggested using balsamic vinegar instead of soy sauce. And...I love the idea of smoking the onion a bit before finishing it
By the way, I call that tool a "garlic press," but of course Blake is correct; it is a ricer, not a press!

******
Food and cooking tips, flourless chocolate cake, Oakland style BBQ sauce, gefilte fish replacements and other goodies with impressive girth:
cbd dot aoshq at gmail dot com
. Recipes for low-carb Pop-Tarts will be deleted with extreme prejudice.
&topic=world_news">

posted by CBD at
04:00 PM
|
Access Comments