Intermarkets' Privacy Policy
Support
Donate to Ace of Spades HQ!
Sponsored Content:
Recent Entries
Absent Friends

westminsterdogshow 2023
Ann Wilson(Empire1) 2022
Dave In Texas 2022
Jesse in D.C. 2022
OregonMuse 2022
redc1c4 2021
Tami 2021
Chavez the Hugo 2020
Ibguy 2020
Rickl 2019
Joffen 2014
Cutting The Cord And Email Security

NoVaMoMe 2023: 06/10/2023
Details to follow
« Saturday Gardening Thread: Happy Easter [KT]
|
Main
|
Chess Thread 03-31-2018 »
March 31, 2018
Ace of Spades Pet Thread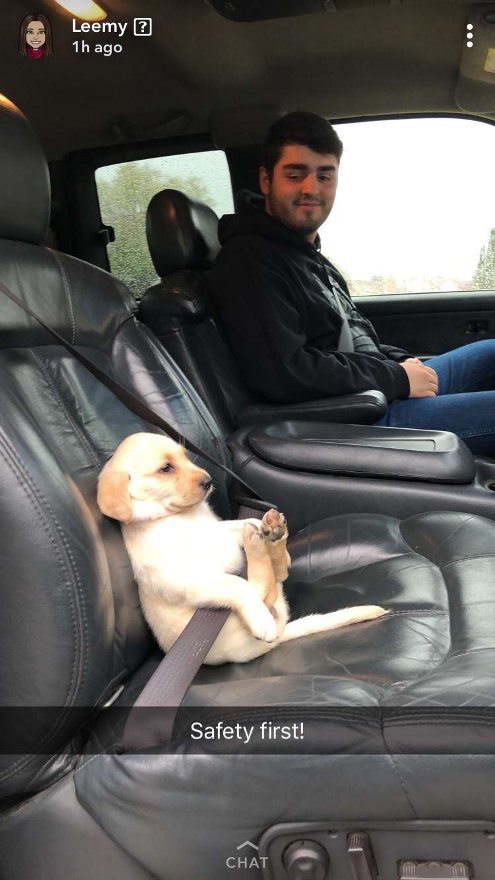 ***

Good afternoon and welcome to the almost world famous Ace of Spades Pet Thread. Take a break from whatever you were up to and enjoy the world of pets.
***
A Little of This. A Little of That.
Every child should have a pet. Some are more special than others.
Do you want an adventurous dog? A subjective list of the the Top 10 adventure dogs. I would highly disagree with the Brittany Spaniel selection. Top 10 PIA dog for sure.
From our buddy Hank Curmudgeon, A shoplifting dog.
Talk about a rescued cat. Feline rescued.
***
Meet The PetMorons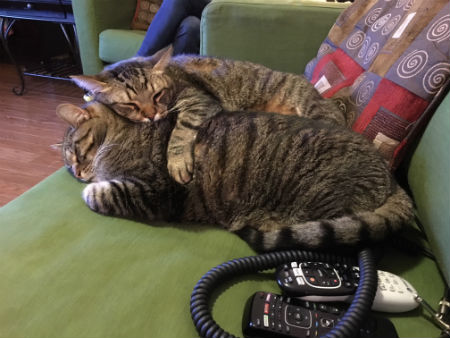 Love your site. You are just the nicest folks!. Here are my 2 little animals Fat Boy aka Harley and Little Boy aka Honda. Surprisingly Little Boy (giving the hug) is now the heavy weight. My politically correct veterinarian calls Fat Boy ..... Big Boy. Either way these 2 are brothers who remain the best of friends. Both 12 years old so every day is a special day to treasure!!!

Thanks
Dave

Awwww what a cute photo Dave. What a pair! Thank you for submitting the photos. Here's hoping the brothers have a long time yet together.
***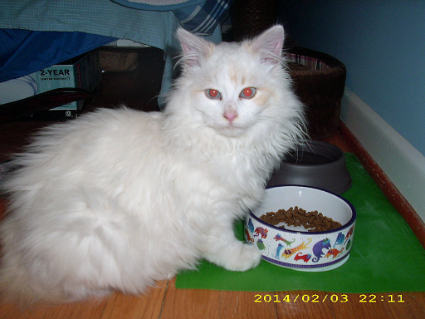 At the top is Maxine, who came into our life seven years ago as a stray. A cuddly lap cat who spends a good part
of each day in my lap with her head resting on the bottom of my keyboard. Only cat we've ever had whose eye color
matches her fur.

At the bottom is Joey, also a stray, and we are told by our Vet, is a Flame-point Ragdoll. Joey started out as Chloe,
until we took her to be spayed, and the vet explained that you can't do that to male cats. (Joey has extremely thick,
full hair, which made that determination very difficult.)

2Am4Sure (lurker)

Appreciate you coming out of the shadows and sending in these 2 photos of your gorgeous cats. They appear to have a rough life.
***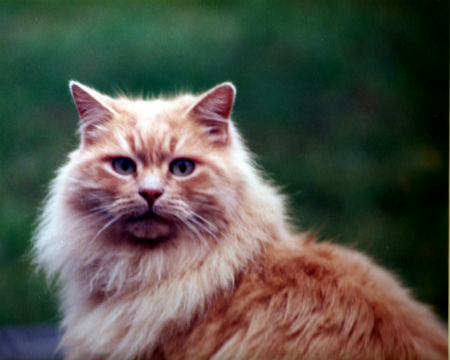 Hi MH,

Regular lurker / rare poster (Lawrence Larson) here. Thought I'd share this story with the Morons.

Here is a picture of the family's first pet: Bubba. Bubba and several siblings started their lives underneath our back deck on a spring day in the late 1980's. By the time I figured out what was going on, my wife had probably been feeding them for a week: I honestly don't remember what happened to the mother—if I ever knew. Bubba emerged as the family favorite and the rest found homes in a giveaway.

Back in those days, we had some dear friends and neighbors who had a cat named Egypt and I guess my wife liked the idea of exotic foreign places as cat names. You're thinking, Bubba? An exotic foreign place? Let me explain.

This little blond cat's first moniker was Paris. I didn't really like the name. As "Paris" passed beyond the kitten stage, we learned that she was a he and that he had one heck of an appetite. He ended up weighing in at 20 lbs and over time the name Paris morphed into "Bubba Paris" (after the 49'ers huge offensive tackle). Eventually he became just plain Bubba.

Bubba was with us for just over ten years. I built him a big cat house patterned after a classic dog house design and danged if he didn't make it home—at least when it rained. We kept his house under the kitchen window ledge that was right outside the sink. He also liked to spend nights on the roof. His favorite trick was to surprise you as you started fumbling around to make coffee in the dark before dawn. When the stove light switched on, big boy became Pavlov's cat and jumped off the roof onto the ledge with a great, startling WHUMP!! The look on his face said, "Wut? Good morning!" Even though I should have been ready for it, he still scared the padookie out of me regularly.

After a decade of being a daily dominant presence in our back yard, one morning the poor old guy left a trail of blood around his food bowl on the ledge. When I went out to see him, he looked up at me with such a sad face—as if to say, "Sorry for making a mess, but I'm not feeling so hot." The kids and I bundled him into his carrier and took him to the vet only to learn he had a cancerous tumor in his mouth that had burst. He was in pain and there was no treatment. We hugged him, kissed him, and held hands around him as he went to sleep.

A new city ordinance forbade our vet from letting us take him home to bury him. Instead, we hung this picture of Bubba at the end of our hallway soon after he died. It has been there through two remodels and twenty years.

He was a majestic lion of a cat, the big guy who was always gentle with his humans. He was tough enough to survive lots of cat fights and savvy enough to avoid the packs of coyotes that came down from the nearby hills to take many a neighborhood cat. But in the end he couldn't beat the Big C. Until Bubba, I had always been a dog guy, but he clawed his way into my heart where he is still fondly remembered twenty years after his death. Thanks, MH, for the Pet Thread and for letting me tell my story. And RIP, Bubba. We still reminisce about you.

-"Lawrence"

The Pet Thread is happy to present Bubba and his story. No one can ever accuse the Horde of not loving their animals. Thanks for unlurking.
***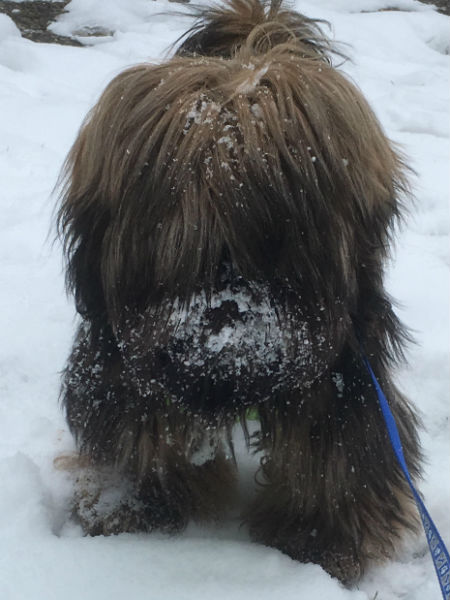 Namchu, our 7 month old Lhasa. I was looking for a Briard, but the spouse said no dogs. So I compromised and brought home a yeti. (And yes, that's his face) -Lurker
Wow, looks like you'll spending the next 14-15 years grooming the dog. :)
***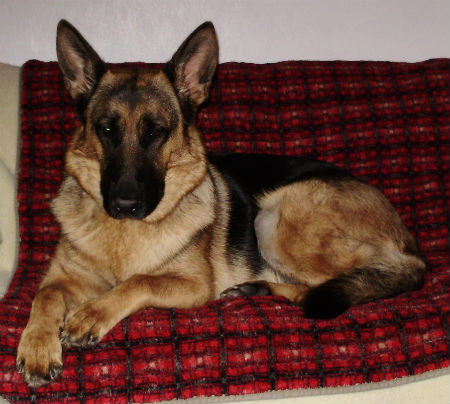 Hello, I have lurked since the beginning of time, yet never wrote, as I am not well versed in this computer stuff. And, am too old to suddenly enact an affinity to social media. But, today is different. Over the last 40 years, I`ve had the benefit of sharing my life with many canine companions, and grieved at their departures. All German Shepherds, 2 males brought up from 7 week old puppies, Fritzie and Panz, lived 14 years each. They were perfect, smart, excellently tempered, majestic in appearance, I trained each, and in their lives were responsible for directly saving human lives. Another male, Otto, was donated to a children`s hospital for autistic patients, as a therapy canine. I adopted a 7 year old female, Ava, formerly known as a queen couch potato. She accepted a training and exercise regimen, and lived until 11, when she died from a reaction to vet given medicine. 10 years ago, there was Kozmo, a handsome 7 week old male puppy, that tested positive for Parvo, and died 1 week later in hospital, despite every attempt to save his life. And lastly, there is Erika, a 2 year old female, adopted from unpleasant conditions. She had lived her life in a cage, no human contact, poor food, no contact with other dogs, or any other socialization. Untrained, underweight and dirty from living in her own waste, afraid of everything and everyone, I brought her home. After a few months of daily attention, she was obediently trained, gained 20 pounds to look more like she should, and began to enjoy her new life. She went with me everywhere, from laying along the tub when I showered, to sleeping in my bed. She went for 5 mile hikes in forests and parks, and I walked her thru city streets to acclimate her to people. She accompanied me shopping, and her only exclusion was when I saw my doctor---she waited in the Jeep for me. Everyone who saw her just loved her. Yesterday, after 9 loving years, at 2pm, she peacefully passed away in my arms, from the fastest liver cancer my vet had ever seen. From a happy active dog running in a snowstorm 10 days ago like a puppy, 2 days later, she stopped eating any food. Otherwise, still normal and alert. The next day, the same, so since this girl never missed a chance to eat, I brought her to the vet. Vital signs were normal, clear lungs, strong heartbeat. Still, we did a blood test, even though her last routine blood test was just 6 months ago and normal. Her kidneys were perfect, but her liver was completely shut down from cancer, and despite 3 days of medicine, it was too late. The vet gave her just hours, and as a defiant gesture to her cancer, and a message to me, she wolfed down 6 dog treats, and minutes later, departed from me. I will be forever saddened at her loss, and her absence makes the world a darker place. Thank you for allowing me to share my grief. Below is Erika, after gaining her weight and no longer afraid of her life. --Regards, Manny.
F*ck cancer. Sorry to hear of your loss Manny. Our lives are always enriched by a pet. The damn problem is they don't live long enough. Hope the PetThread can be of some comfort.
***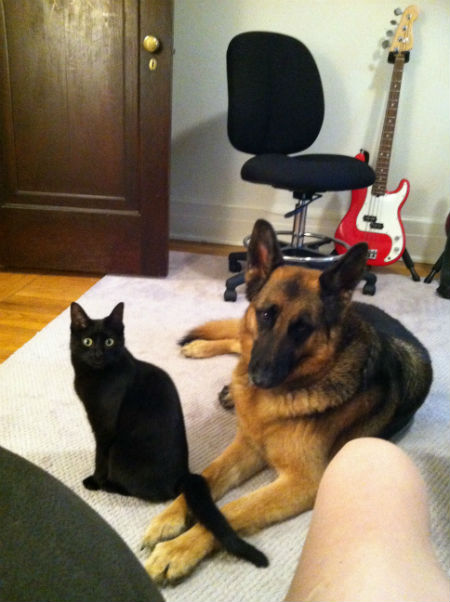 I lurk and love the Almost World Famous Pet Thread! Here's Lili, 10 year old GSD, but still a girl at heart and sweet as pie, and Kato, The Ninja Cat, food thief extraordinaire . These quiet moments are far from typical, but I wouldn't change a thing about either of my girls. Thanks so much for all the fun of the pet thread. --soontopontoon
***
Well another Pet Thread is in the can. Thank you folks for all the great photos and stories. Do you want to see your pet in the Pet Thread? Do you have a neat pet/animal story you would like to share?
You can reach us at petmorons at gmail dot com.

Have a Happy Easter and a great week!!!!

posted by Misanthropic Humanitarian at
03:01 PM
|
Access Comments
Recent Comments
Recent Entries
Search
Polls! Polls! Polls!
Frequently Asked Questions
The (Almost) Complete Paul Anka Integrity Kick
Top Top Tens
Greatest Hitjobs