« Religious Literacy: What a week! [KT]
|
Main
|
Ace of Spades Pet Thread »
March 31, 2018
Saturday Gardening Thread: Happy Easter [KT]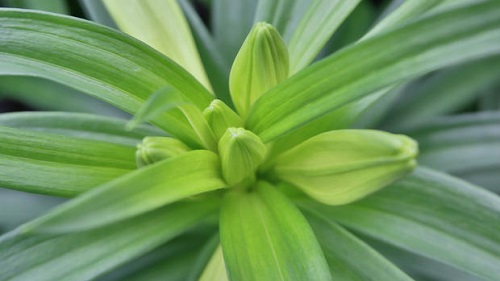 Easter lily plant, ready to bloom in Michigan
Happy Easter Saturday! Have you got an Easter lily in the house, or in the yard? The article at the link under the photo provides some information on how growers time the plants to bloom at Easter. Timing is Everything when you are growing potted Easter lilies.
Easter lilies are quite hardy, and many people can plant them out in the garden, though they probably won't bloom at Easter for most gardeners. No guarantees that florist plants will be virus-free. Remember that they are very toxic to cats and are also toxic to enthusiastic plant-eating dogs.
The bulbs that growers time so carefully to bloom at Easter have to come from somewhere. Check out this American Profile feature on The Easter Lily Capital of the World. Most of the world's Easter Lilies now come from a small area on the California/Oregon border.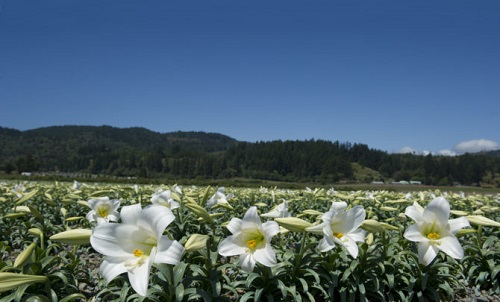 Easter lilies are native to the southern islands of Japan, and their bulbs first were shipped to the United States during the 1880s after being cultivated in Bermuda. In the early 1900s, Japan dominated America's lily market. Bulb production in the United States began after World War I when American soldier Louie Houghton brought a suitcase full of lily bulbs from Japan and distributed them to friends and neighbors along the southern Oregon coast.

After Japan attacked Pearl Harbor in 1941, trade between the two nations ended, opening the door for West Coast bulb growers to expand their cottage industry as the value of lily bulbs rose. By 1945, about 1,200 growers were cultivating the flower bulbs along the coast from Long Beach, Calif., to Vancouver, Canada.

"For awhile there, a shoebox full of bulbs was worth more than its weight in gold," says Lee Riddle, 60, director of the Easter Lily Research Foundation in Brookings, Ore. (pop. 2,391). "People started calling them white gold."
I know people who lived in that area, and they never mentioned lily fields.
"That dip in the coastline known as Pelican Bay, from Point St. George, Calif., to Brookings-Harbor, Ore., gives our growers almost perfect climate," Riddle says. "Our soil drains unlike any I ever studied in school. It's mostly clay and gravel broken up by eons of organic matter washed off the coastal hills. You won't find anywhere else in the world better suited for cultivating lily bulbs."

Growers say it's fitting that the bulbs that bloom into graceful Easter lilies flourish between two epic landscapes. To the east of the fields are hills forested with giant redwood trees. To the west, growers can see the Pacific Ocean sparkling in the sunlight.
I've heard tell of some wicked winds off the ocean in that area. Interesting that the redwoods are inland there. Jedediah Smith Redwoods State Park is famous as a habitat of the California State Mollusk, the Banana Slug. Sports mascot of UC Santa Cruz.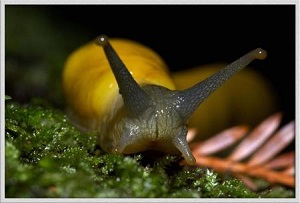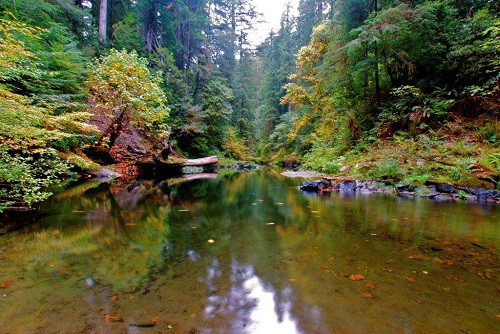 Our Heritage
Sounds like the labor-intensive nature of growing lily bulbs is one factor in limiting their culture to the small region above. I think a lot more farming activities were labor-intensive in the past. I can imagine some of the labor that went into the landscape and buildings here, from Illiniwek:
wash house, glider swing, horses, outhouse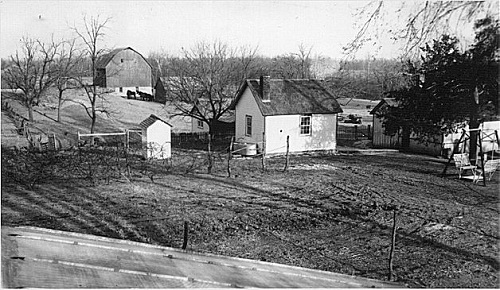 We have some special photos and commentary for next week. If you have an interesting heritage photo or two, send it in!
An Indoor Delight
I guess Easter lilies are not the only potentially fragrant indoor plant. Earlier in the month, Sherpa_K2 sent in the following:
Thought you might like to see this surprise which bloomed this past Sunday and continues to bloom. This corn plant was given to me back in 2003 while I was living in Flagstaff Arizona. This is the first time it has ever bloomed and it only blooms at night ! Their fragrance is extremely strong, but very sweet and beautiful and reminds me of the Gardenia. Dracaena Fragrans (Corn Plant) . Corn Plant is a flowering plant species in the family Ruscaceae, that resembles a corn stalk. It is native to West Africa. Corn plant has glossy, green leaves, broadly striped and banded with light green and yellow down the center. Hugely beneficial to the home environment as they remove toxins from the air, but toxic to dogs and cats.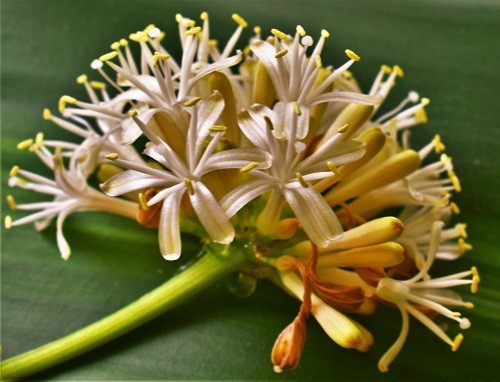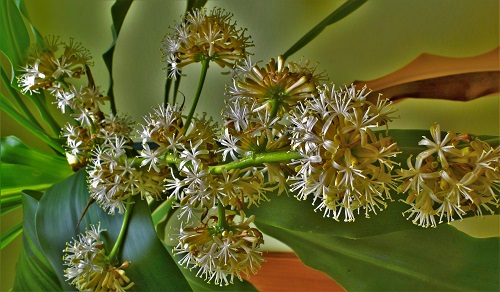 I have never seen one of these bloom! The next week, he had an update on the blooms:
Overwhelming! It won't stop blooming at night. I had moved into a new home in Flagstaff Az. back in 2003 and friend who did plant care for business owners around town brought it by as a house warming gift along with a philodendron. The philodendron and the corn plant have been side by side for the past 15 years. I think the corn plant is making a pass at the philodendron.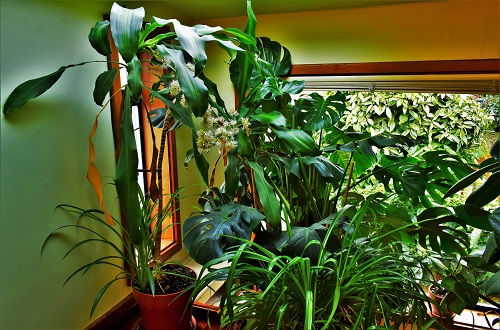 What's on the Market?
Dr No likes to take photos of plants. We appreciate it when he sends them in.
This time it's Snapdragon & Foxtail Fern in the image. These were displayed at a pricey garden center here in Memphis, and they always have some great things on display whenever y' visit and view. I've always connected the Foxtail Fern with the kind of brush used to clean out a baby's bottle, but hey, that's just me.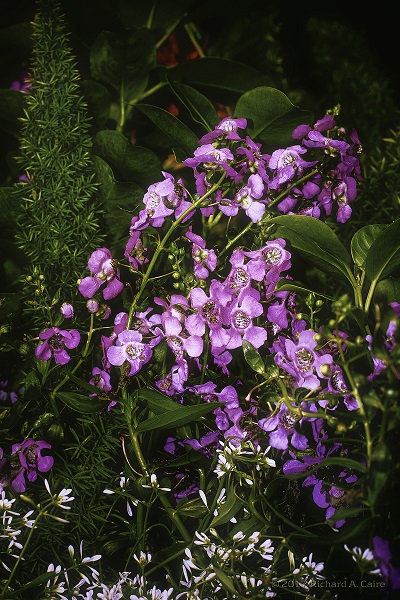 It's possible to grow the Foxtail Fern indoors, where it could be handy for cleaning out a baby's bottle. For people in mild-winter climates, here are 10 reasons to plant it. Plus growing and propagation tips, and comparisons to other asparagus ferns. And photos. Happy Easter.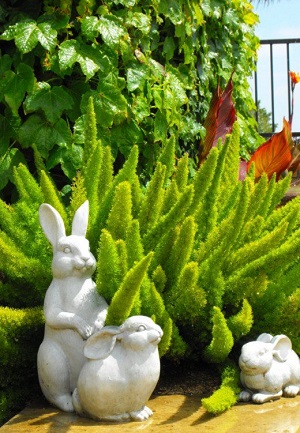 I don't think the pink-purple flowers in Dr No's photo above are true snapdragons. Anybody want to identify them? Hint: though snow still covers parts of the country, this Memphis nursery is already preparing for a long, hot summer.
Dr No has also send in a photo of a plant he could not get anyone at the garden center to identify. Anybody want to try?
I have no idea what this bloom is and there were none of the little plastic ID sticks in the planter to provide hints. Worse, none of the staff at Country Gardens were around to ask. That means I have been left to my own marginally reliable devices when it comes to attaching a name to this bloom. I suspect it may be a gardenia, although I realize it may also not be one. . . For now, the only things I know about this one are that (1) it's pretty and (2) those pointy-sticky things on the leaves are way cool. Enjoy.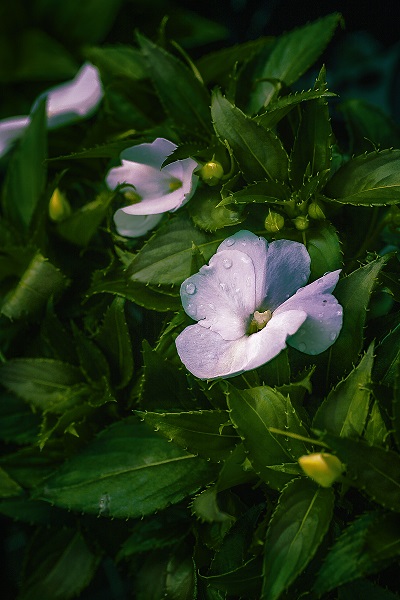 The photo is way cool, too. Anyone want to comment on the flower or perhaps the reason for the pointy-sticky things on the leaves?
Here's one of the flowers of Walmart to add to today's plant identity fest. For sale in gallon containers. Gardeners in mild areas can plant this one in fall from dry, tuberous roots or from nursery starts. I love 'em. It would be rare to find little starts at Walmart, because the flowers wouldn't show. Anybody from colder climes plant starts or roots in spring?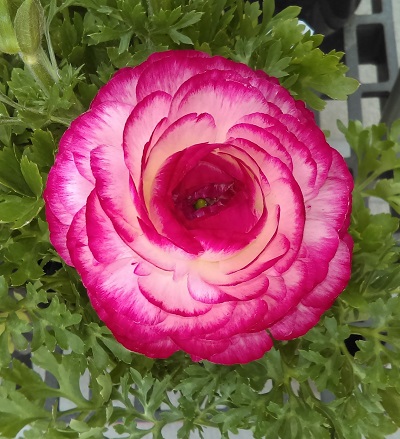 Gardens of The Horde
The famous Pat* in Idaho needs some help, believe it or not:
I've done the best I can at getting photos of this weed; I'm hoping you can squeeze this into the Garden Thread so someone can try to ID it for me. 5 yellow petals, sage-green finely divided leaves, largest plant has a footprint about the size of a silver dollar. It's already forming burrs!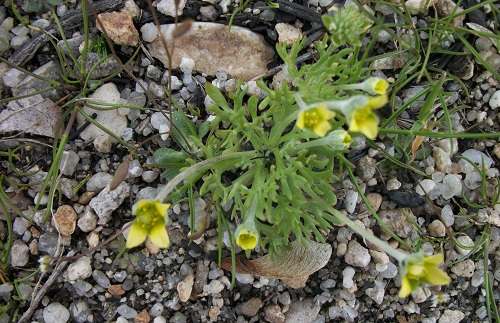 To make up for the proliferation of weeds, I also photo'd my bulbs behind the kitchen, and some of my faithful Johnny-Jump-Ups by the shed.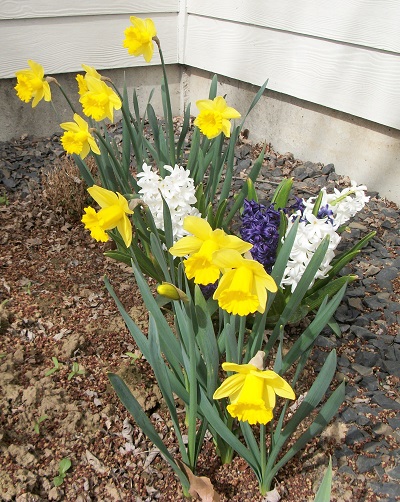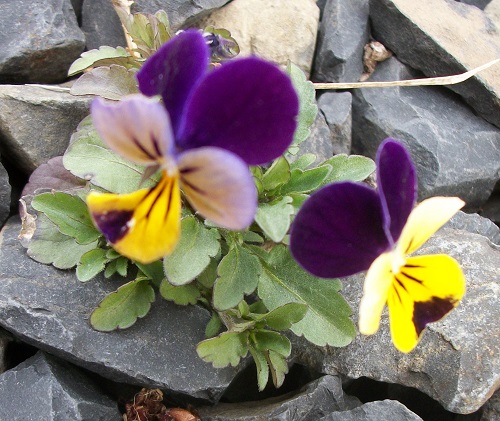 Thanks, Pat* Cheerful!
We should be able to get back to WeaselAcres next week. So many possibilities!
If you would like to send information and/or photos for the Saturday Gardening Thread, the address is:
ktinthegarden
at g mail dot com
Include your nic unless you want to be a lurker.


posted by Open Blogger at
12:36 PM
|
Access Comments