« The Opposition Party-Commies
|
Main
|
Weekend Gun Thread »
March 25, 2018
Food Thread: Appetizers, Finger Food....Whatever You want To Call It, That's Good Stuff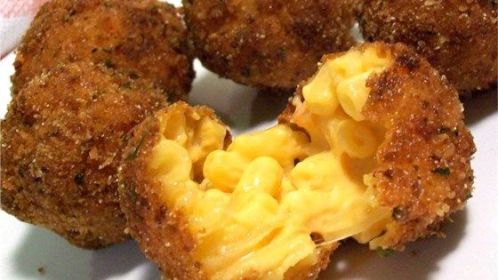 Our stalwart staff at Deplorables Global Initiative, the publishing/charitable arm and, dare we hope, future swag purveyor for AoSHQ Morons everywhere has sent along the acknowledgement letters from Toys For Tots and Fisher House for your generous donations. That's a nice chunk of cash for two worthy causes, and we aren't finished yet! keep buying the book, and we will keep sending them money!

******
Yeah...those are fried Mac&Cheese balls. There is absolutely nothing bad about them, other than they aren't sitting in front of me as I type.
I love that kind of stuff. Fried pickles. Mozzarella sticks (but they are rarely executed well, and I am almost always disappointed), arancini, and all of the wonderful finger foods that are pretty much the best thing about going to weddings and other big parties. I can happily make a meal from the appetizers, especially if they have grilled lamb rib chops. That's my idea of nirvana. Well....oysters too, but I'm not greedy.
What's your favorite appetizer? Extra points if it has its own handle like the lamb.
******
Only communists put ketchup on hot dogs.

Posted by: JackStraw at March 21, 2018 09:16 PM (/tuJf)
******
Well-done meat may be bad for your blood pressure
. I know it's bad for mine, because I get pissed off that it is horribly overcooked.
Seriously, I am getting a little tired of these nonstop food "studies" that purport to show some tremendous benefit or horrible damage caused by eating some specific food. In this case it's even sillier than usual, because some of the original research on the health effects of combustion products of meat was done a long long time ago (the 1970s) by Bruce Ames at UC Berkeley. So it's not even news.

******
Jonathon Waxman is one of the few names that gets me interested. He knows how to cook, and he knows how to run a restaurant. Barbuto, his NY flagship restaurant is simply great. Comfortable, casual, great food, good service; everything most people want in a restaurant experience. It's NYC, so it isn't cheap, but for the city it is a good value.
This dish looks fantastic. Roast Chicken with Salsa Verde and Roasted Lemons is obviously a summer dish; all of those herbs need to be fresh. So I am going to wait impatiently for the first crop of halfway decent herbs from my ridiculously small herb garden pot.

******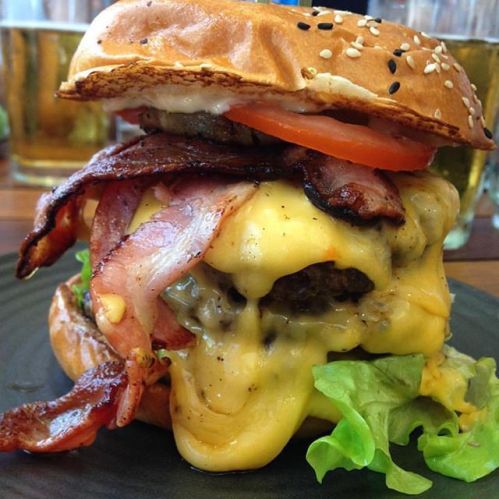 A little bit of food porn. And an excuse for a rant about hamburgers.
Folks, they are supposed to be juicy. Ridiculously lean ground meat may be useful for some dishes, but a burger should be dripping with fat and juices and you should leave the table being faintly embarrassed by the amount of crap on the front of your shirt.

******
Here is a link, courtesy of commenter artisanal'ette, for
vegetable tempura
, which I absolutely love. The writer is clearly not a native English speaker, but it's sort of endearing. However in a few of the photos it looks like she fried a bat, so I am a little suspicious.
******
I think this is from Marcella Hazan, but I am not sure. I made a few times and it's pretty good!
Chicken Bites with Potato, Sausages and Vinegar
(Bocconcini Di Pollo Con Patate E Salsicce )

Ingredients:
2 frying chickens* (about 3 pounds each and preferably free-range)
¼ cup extra virgin olive oil
¾ pound sweet Italian sausage cut into ¾ inch pieces
Salt
Freshly ground pepper
1 ½ pound small red bliss potatoes, washed and cut in half
6 garlic cloves, peeled
3 sprigs fresh rosemary
¼ cup red wine vinegar
3 tablespoons chopped fresh Italian parsley leaves
Cut each chicken into 12 pieces. Wash and pat the chicken pieces dry, then season them generously with salt and pepper.
Preheat the oven to 450° F. Heat 2 tablespoons of the oil in a wide, heavy skillet over medium heat. Add the sausage and cook, stirring often, until lightly browned on all sides, about 3 minutes for thinner sausages or 5 minutes for wider sausages. Remove the sausage pieces with a slotted spoon and transfer them to a roasting pan or baking dish large enough to hold all the sausage, chicken and potatoes comfortably while allowing room for stirring. (An 18 x 15-inch roasting pan is ideal.)
Season the chicken generously with salt and pepper. Increase the heat to medium-high and add as many pieces, skin side down, to the skillet as will fit in a single layer. Cook, turning once, until well browned on both sides, about 8 minutes. As the pieces are done, remove them to the roasting pan and add the remaining chicken pieces as room becomes available.
When all the chicken has been browned and removed from the pan, add the potatoes, cut side down and cook until browned, about 6 minutes. Transfer those to the roasting pan as well.
Whack the garlic cloves with the flat side of the knife and scatter them and the rosemary over the contents of the roasting pan. Drizzle with the remaining 2 tablespoons olive oil and roast 15 minutes, stirring gently occasionally. Sprinkle the chicken, sausage and potatoes with the vinegar and continue roasting, stirring gently occasionally, until the chicken is cooked through and the potatoes are very tender, about 15 minutes until golden brown.
Prop up one end of the roasting pan so the fat settles on one end and let rest 5 minutes. Spoon off the excess fat from the roasting pan, sprinkle the parsley over everything and transfer to a warm serving platter. Serve immediately.
*When I cook whole chicken, or any chicken on the bone, I always salt it three times: in its raw state, when I first begin to cook it and as it finishes cooking. It seems that the first two saltings are absorbed and somewhat dissipated, especially if you add additional ingredients as the chicken cooks. The last salting should be to balance the whole act. Each time you salt, it should be done judiciously to avoid oversalting and ruining the dish.
******
Food and cooking tips, flourless chocolate cake, Oakland style BBQ sauce, crispy roasted potatoes and other goodies with impressive girth:
cbd dot aoshq at gmail dot com
. Recipes for low-carb Pop-Tarts will be deleted with extreme prejudice.

posted by CBD at
04:00 PM
|
Access Comments