« Thread before the Gardening Thread: First week of Daylight Savings Time [KT]
|
Main
|
Ace of Spades Pet Thread »
March 17, 2018
Saturday Gardening Thread: St. Patrick's Day Already? [KT]
Hello, Horde! You eating Irish food today? Don't know if Savoy Cabbage is the most "Irish" kind, but I like it. Above, Wild Thing appears to be checking for a Leprechaun. Don't know what he would have done if he had found one. The family legend of a friend of mine is that Leprechauns followed her grandparents over from County Cork.
Potatoes are, of course, a traditional Irish food. They are often planted in cold soil, but St. Patrick's Day may be too soon to plant potatoes in Missouri. Interesting comparison of the history of the potato in Ireland and the USA at the link. Fourteen pounds is a lot of potatoes for one person to eat in a day.

Our Heritage
Of course, the Irish Potato Famine changed US history. There was another migration that changed history here in the San Joaquin Valley, the "Okie" migration. We received this recently:
Attached is a photo of some cotton pickers in Oklahoma in 1935. Includes some from my family. Might fit in a gardening thread sometime.

Javems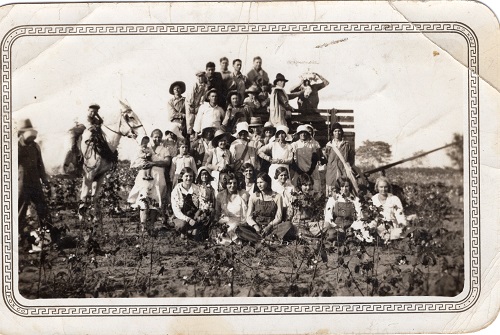 I had never heard that Oklahoma was a cotton state. But he checked. And his Mom's inscription on the photo checked out.
The good old days, right?
We have some interesting heritage photos waiting to be shared. We will take more.
Great Horned Owl Update
When we posted last week, there was live egg-hostaing activity noted in the comments. Now two babies have hostaed! CaliGirl has sent in a video of Luna with captured prey and some glimpses of one of her babies. Thanks to CBD for reformatting the video for AoSHQ. Luna is not only raising babies, she is earning her keep at the ranch.
Vines
Cumberland Astro sent the following impressive photo:
The beautiful photo today of Flame Vine reminded me of the arbor I installed back in Texas to create some privacy between our backyard pool and the house next door. I planted Crossvine at the base of the arbor and weaved it through the lattice as it grew. Every spring we got to enjoy a wall of red flowers. The rest of the summer we still had a pretty green wall to give us privacy.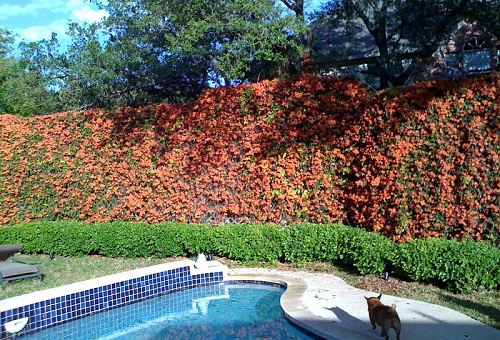 Cross vine (Bignonia capreolata) can grow to 60 to 80 feet if the soil is ideal and holds to surfaces with little holdfast disks. There are cultivars in various colors from yellow to red, including 'Dragon Lady', Jekyll', and 'Tangerine Beauty'. In nature, brownish tones are also found in some flowers.
Cross vine and common trumpet creeper are both native to the USA. They are both attractive to hummingbirds. The Trumpet Creeper is hardier to cold than the Cross Vine. Growing tips, photo credit and more photos at the link.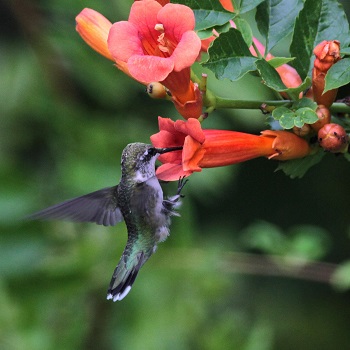 Trumpet Creeper
A lot of other vines used to be classified as "Bignonia", and the invasive Trumpet Creepers, which send out root runners far and wide, are sometimes still sold as 'Bignonia'. These include the native Campsis radicans (Common Trumpet Creeper), Campsis grandiflora (Chinese Trumpet Creeper) and hybrids between the two species. You can buy cultivars in various colors. They can be spectacular in bloom. Best where their roots can be confined. Watch that they don't climb utility wires. I guess a Cross Vine could do that, too.
Since Cumberland Astro brought up last week's Flame Vine, here is a totally unrelated Mexican Flame Vine in Austin, with a Swallowtail Butterfly. Nice plant and butterfly close-ups at the link.
This plant (Senecio confusus) is less hardy than the Cross Vine and blooms in winter or early spring in the mildest parts of the coastal South, coastal California, the low desert and Hawaii. A light frost will kill it, but it will grow back quickly from the roots and bloom the same year.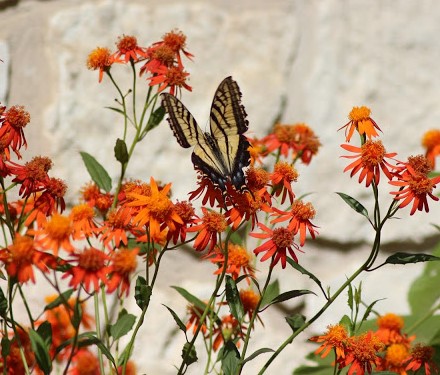 Here's one in Baja California with a Queen Butterfly. Kind of a nice little story, with plant photos. Queen butterflies are related to Monarchs and lay eggs on milkweed relatives. They don't migrate nearly to the extent that Monarchs do, and are pretty much found in the South, like the Mexican Flame Vine. I have never seen one of these vines in the San Joaquin Valley. Too cold in winter here.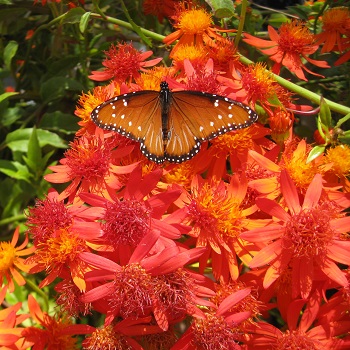 From the Marketplace
Here is a relative of the flower above that prefers cooler climes, say, San Francisco. It's the Florist's Cineraria. Usually grown as an annual even there. This one is a local Flower of Walmart. When flowers like these show up, it's time to look for smaller plants to bed out. Plants that haven't flowered yet. Check out the local nursery.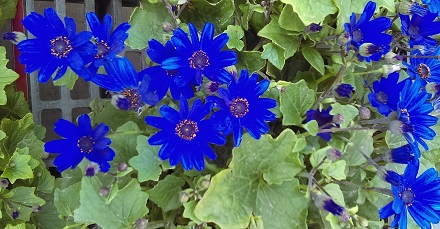 Senecio is an interesting genus. It also includes some Dusty Millers and some succulents.
Gardens of The Horde
I got caught a little short on time preparing for a weekend event, and didn't get everything posted that I wanted to post. And I won't be around until later today.
But I haven't given up on Mumbe's camellia. I'm thinking maybe air layering or tip cuttings. Anybody out there ever started a camellia plant?
Haven't forgotten about the edible orchid question. Haven't found much.
Weasel's latest adventures will have to wait another week.
No one identified Island Girl's flower last week. It was a single Gardenia. There is a dwarf single called Kleim's Hardy. Looks quite a bit like that one. Not that she needs a hardy Gardenia in Hawaii. There is also a Tahitian Gardenia that grows to tree size. The flowers are used in leis.
If you would like to send information and/or photos for the Saturday Gardening Thread, the address is:
ktinthegarden
at g mail dot com
Include your nic unless you want to be a lurker.

posted by Open Blogger at
12:30 PM
|
Access Comments