« Saturday Gardening Thread: St. Patrick's Day Already? [KT]
|
Main
|
Mini Chess Thread 03-17-2018 »
March 17, 2018
Ace of Spades Pet Thread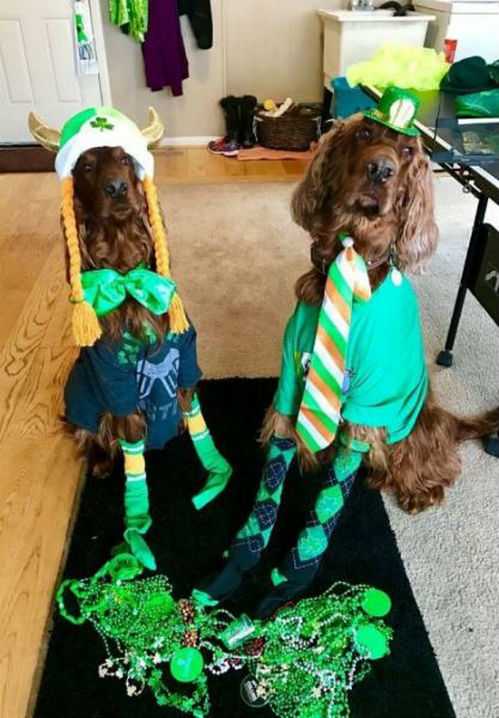 (Happy St. Patrick's Day from some Irish Setters)
***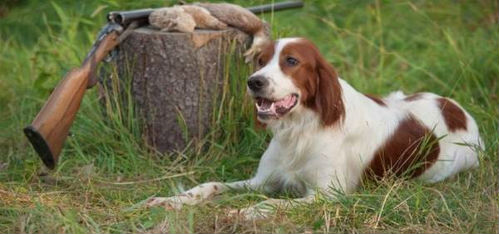 (Happy St. Patrick's Day from an Irish Red & White Setter)
***

Welcome to the almost world famous Ace of Spades Pet Thread. Kick your pets out of the corned beef and cabbage and enjoy the world of animals.
*****
A Little of This. A Little of That.

Quite the bond. A dog waits for owner outside of hospital.
*****

So, does this dog have a future as an arborist?
*****
*****
Ouch. Cat uses one of its nine lives.
*****
Dogs prefer when you talk to them like babies. Although the people around you don't.
*****
Meet The PetMorons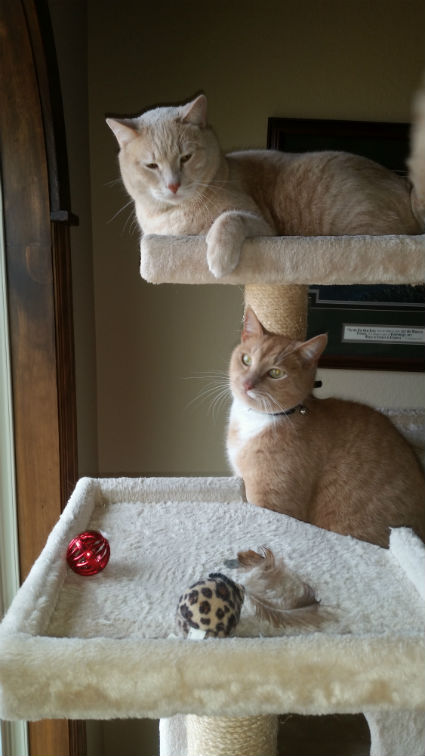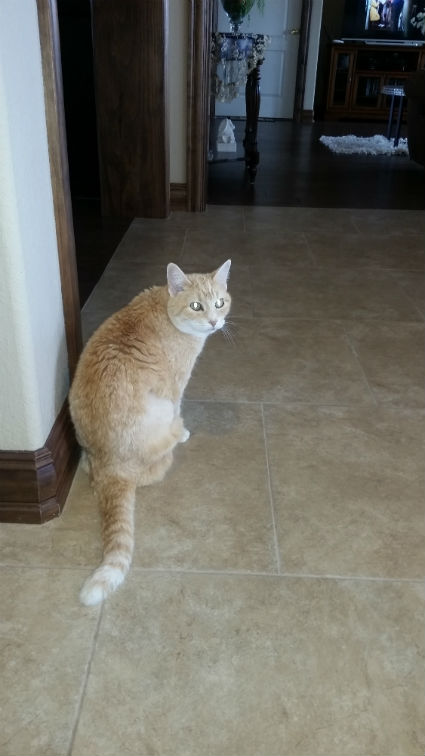 ​
The Pet Thread is indeed special! So many different pets play an important part in folks lives.

The 3 cats are my sweetie's pride and joy (to quote Texas' own SRV!) Lady Roosta is the solo pic with a shaved belly. She will be 17 in August and is dealing with thyroid issues and GI tract cancer which is in remission. We live about 10 miles from Texas A&M University vet clinic, which is doing a splendid job caring for her. Sweetie got her as a kitten and named "him" Rooster. Vet said, "hold on...it's a female!" Hence, Lady Roosta.

The other two fellas are males (definitely!) . R.D. (top) was found and brought into our home and is the "bad boy" of the group! Our squirt bottle is used primarily on him! Gimpy (bottom) was a rescue cat who was abused by a former owner and has a useless right front paw...nerve damage. He is a really sweet cat and is the youngest at about 1.5 years old.


Bro. Bill
Bro Bill and Sherry thanks for the submission. It appears those cats have a life of leisure!
*****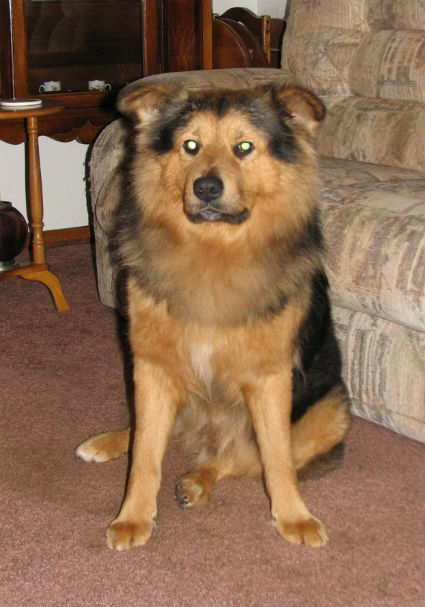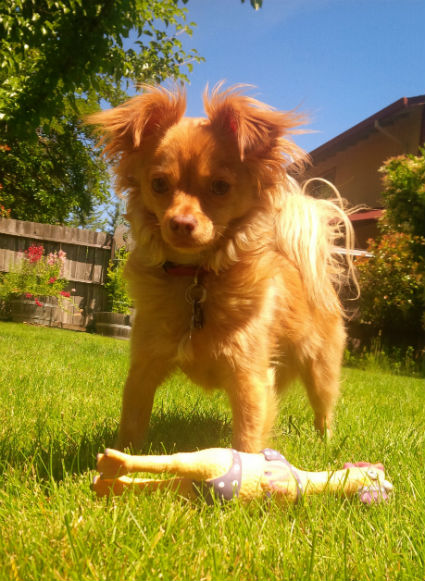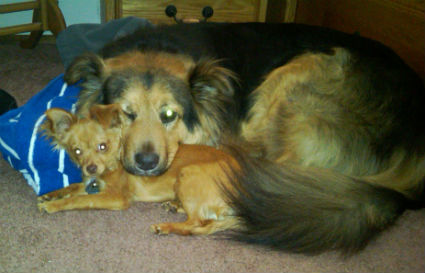 Greetings,

Long-time lurker, rare commenter Darth Chipmunk, here. I thought I'd share a couple photos (or four) of our furry morons from Nor Cal. I hope the Horde approves.

Bear is a German Shepherd / Chow mix who adopted us. He'd been abandoned in a local park and was a very fearful stray who would run away if anyone tried to even get near him. People had been feeding him (everything from puppy chow to McDonalds Hamburgers) and trying to catch him to foster and/or adopt him. Animal Control Officers were after him for taking hens from a local chicken coop. But none of them had any luck catching him. And this was going on for two or three months. One week we had some particularly wet, cold storms roll through and when we got to the park he was closer to the entrance than we'd ever seen him. It was pouring. He was drenched, shivering and obviously miserable, trying to shelter himself under the kids slide. The wife decided to just sit near him on the swing and try to gain his trust. I went on into the park. He let her get close enough to pet him. But after an hour and a half, he wasn't ready to follow her, much less come to the vehicle. So we headed home. Of course, that wasn't enough for the wife. She took the truck back to the park to try again. And sure enough, more than an hour later she called me announcing that the dog had followed her, jumped into the truck, and was now on his way home with her. He was so tangled and matted, it took us three days to determine that he was a him. The photo is from his third day, after all the brushing was done. That was January 2010 and he's been with us ever since. He is the nicest, friendliest dog I have ever known.

So, Bear seemed a bit sedentary and we realized that we needed to get him a buddy. We rescued Rocket the long-haired Chihuahua from the pound in 2012. He was a puppy. And let's face it, he's a poor fit for Bear. My wife was not a fan. But he was cute as hell and I was powerless to resist as soon as they set him on the floor and he started running around me in circles. Thankfully, he is not a yappy Chihuahua and is a serious cuddler, which my wife loves. His favorite activity is to run… as fast as he can. If you chase him, that's even better. He loves grass. But something about the sand at the beach makes him go bonkers. Even though there's a big size difference, he and Bear have managed to become good buddies.

And finally there's our cat Tripp. He's mostly black, except for a dozen or so white hairs on his chest. He's a very recent addition, having adopted us during a storm in December. We'd been out for dinner with friends and were back home and inside by the fire when we heard a kitten meowing on the back porch. Our nearest neighbors are a few hundred yards away, so we assume he was dumped. He was a bit skinny and had a severe flea problem. But both were easily remedied. We put flyers around the neighborhood and talked to the closest neighbors. But we didn't hear from anyone claiming him. We were kind of glad about that, as *of course*we'd bonded with him after a couple weeks. We call him Tripp because he is constantly underfoot. We're still getting to know him. But he loves to play fetch, to knock items off any elevated surface, and … he's discovered that he can chase Rocket… and Rocket likes it. SMH

Thanks so much for the weekly pet thread!
You're welcome Darth Chipmunk. What a wonderful story about your pets.
*****
Saw the attached image on somebody's computer desktop background ... and now it is on mine.

- ShainS
Hope the Statute of Limitations has expired ShainS.
:)
*****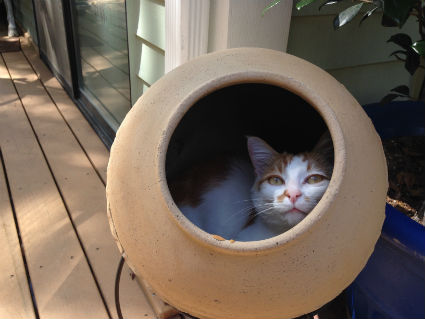 Hi petmorons. I'm a long-time reader/lurker and occasional commenter. This is Dexter, also known as The Creamsicle. We work from home, and when our Labrador died, the house was very very empty, so I went to the cat rescue and this guy was just it. He was only 6 months old and had been homed once and it didn't work out. Well, he's been with us for 5 years. During the summer months, he loves to sleep in this pot on the front deck. To be fair, I've sent you a Dex picture before, which you published. I just love this one though. --Exliberal
Hey, no problem running his photo again. It's a cute photo. Thank you for sharing his photo with us.
*****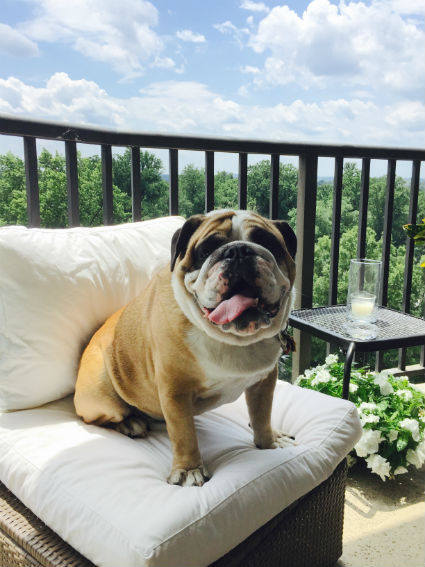 Wanted to submit this in memory of my father who passed on February 10th. This is his 5 year old English bulldog Murphy, whom I cared for every winter for the last five years when he and my mother would live in Florida from January to mid-April. As my father's deteriorating health prevented him from taking this deceptively strong (and very stubborn) dog out for walks, I would take him to a nearby field where most folks let their dogs off-leash to play every weekend. Murphy is a first class wrestler as you can see from the video I made of him for his first birthday (it starts off slow but picks up). He's a great pooch and makes good company for my mother, now alone in that home. Rest in peace, dad.

https://www.youtube.com/watch?v=Pp_WNdUFdYs

Moron Chris From Maryland
We are sorry to hear of your loss Chris. Not quite sure what to say other than that we hope your Mom and Murphy are coping well.
*****

I comment under George LeS. I'm finally getting around to sending you this, our favorite picture of our late and much missed Sally. When we got her, though not technically a rescue, she was 15 pounds underweight, and was so filthy it took 3 baths to clean off the smell of dogsh**. She'd been tied up outdoors and neglected so long she didn't really know what people were like. So she simply needed to be spoiled rotten.It took several years for her to get over a fear of snow, but when she did, realizing that she could come back indoors anytime, she played in it constantly.

Her goal in life was to rid Virginia of every last rabbit. Squirrels and bird she chased for fun, but rabbits were business. She actually got one once, pulling me to the ground as I held the leash. And perhaps her all time highlight was the Christmas she got one end of a tenderloin off the counter. How she managed, I don't know. But she did. Another of her tricks was, when we had people to dinner, jumping up and down next to the dining room table. If you were next to her, it was amazing how high she could get of those little legs. From the other side, you'd see the head come up, and as it went down, the last thing was the ears, now standing up.

Something about raw beef and dogs. Dogs are relentless. Thanks for the photo George.
*****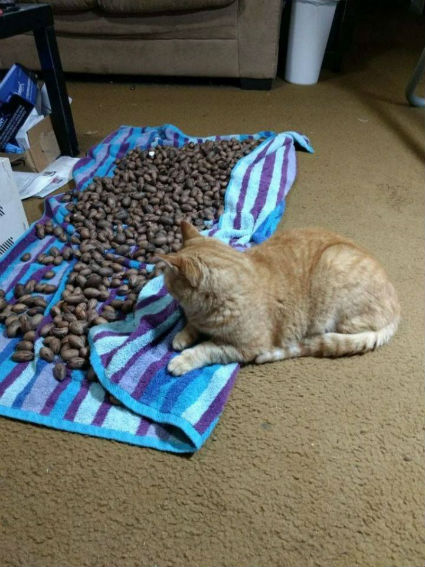 These are pecans we picked and washed, spread out to dry. Our ginger cat was batting them from underneath, over and over, for the longest time, absolutely
thrilled with the rattling sound they made as they banged together. In other
words. Tigre is nuts about nuts. They seem to make great cat toys!- Safewrite

Thanks Safewrite for the submission. Quite the entertainer!
*****

Thank you folks for the pet photos this week. What a fine bunch of animals!!!

Do you have a pet who wants to be a PetMoron? Do you have a pet story you would like to share? Is there an animal story or video you wish to share? Well you can submit those to us at: petmorons at gmail dot com.
Hope to hear from you soon. Have a great week!!!!

posted by Misanthropic Humanitarian at
02:55 PM
|
Access Comments