« Mini Chess Thread 03-10-2018
|
Main
|
Saturday Overnight Open Thread (3/10/18 ) The Spring Forward Edition »
March 10, 2018
Saturday Evening Movie Thread 03-10-2018 [Hosted By: TheJamesMadison]
Who was that?
Director cameos are a small bit of fun. Some of the best examples of how playful the cameos can be come from Alfred Hitchcock. He became so well-known for them and knew that people were looking for the cameos so intently that he ended up consciously putting them near the beginnings of the movies in some pretty obvious ways. Watch his cameo from Psycho:
Pretty much the back of his head in the background. If you want to see Hitchcock and you missed that, you might have it in the back of your mind through the rest of the movie that Hitchcock should appear at some point. So, he ended up doing things like this, my favorite example of his cameo from North by Northwest:
Others have done similar things. You can see Steven Spielberg in the reflection on a television at the end of The Lost World, for example, or Francis Ford Coppola essentially playing himself in a couple of shots of Apocalypse Now. Sometimes this sort of thing can extend a bit beyond a cameo like some of Mel Brooks' smaller roles in his own files such as Rabbi Tuckman in Robin Hood: Men in Tights, which, in my opinion, extends a bit more into a small role than a cameo.

Meaning
But where I find director cameos to be most interesting is when directors try to use it to say something. The most famous example of this is Mel Gibson's cameo in The Passion of the Christ. Here's a clip:
Did you miss it? He's driving the nail into Christ's hand there. According to Gibson, he did that because, "It was me that put him on the cross. It was my sins" that put Jesus on the cross. To me, that's more interesting than Hitchcock mugging for the camera.
And then there's the reason I wanted to write this post in the first place. A director who took a role in his own film (extends beyond a cameo for sure), but the choice is so curious as to make me wonder what on earth he was thinking.

Napoleon vu par Abel Gance



I'm going to find excuses to talk about this movie for a while. The epic 6-hour silent French film from the very end of the silent era about the first section of Napoleon's life is quite a thing to behold. The original plan was for the direct, Abel Gance, to make six of these for a total filmic experience around 35 hours total. It's big, messy, and wonderful all at once.
One small thing that the film does as it introduces new characters was a reasonably common thing to do in silent films which was to provide a title card of the character's name along with the name of the actor playing the role. As the movie got into the French Revolution, we saw the faces of three of the major players of the Revolution on the Committee for Public Safety including Louis St. Just. Under St. Just's name was Abel Gance. I did a double take. Was that the same Abel Gance who was directing the film? (Spoiler: It was.)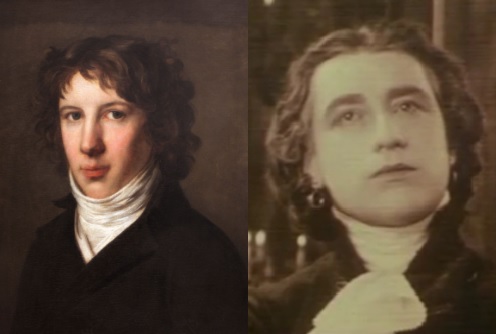 The director of this massive film was playing the man called the Angel of Death by historians. He was playing the man who helped orchestrate many of the worst atrocities of the Terror. He plays the man the movie itself describes as "The most awe-inspiring figure of the Terror". It helps that he bears a somewhat reasonable resemblance to the original Louis St. Just, but there had to have been more than just a passing likeness to one of the monsters of the French Revolution, and a man who is portrayed as an enemy of the heroic Napoleon (as the film tells it).
I cannot find an explanation for why Gance would take on the role. Did he feel a similar sense of responsibility for the French Revolution like Gibson did for the crucifixion? Was Gance trying to say that he actually hates Napoleon no matter how heroic the film makes him out to be? Was he trying to say something about himself? That he was as much a monster as St. Just? Did he figure that he was just the right guy for the job? Did he think it was funny?
Maybe the answer is hidden away in some impossible to find interview with the director (he lived into his 90s), but I somehow doubt I'll find it. But it's that sort of creative decision that ignites my imagination.

Back to you
So, cameos, directors or not. What are your favorites? Do you find them distracting or a joy?
Movies of Today
Opening in Theaters:
A Wrinkle in Time
The Strangers: Prey at Night
The Hurricane Heist
Gringo
Next in my Netflix Queue:
Demetrius and the Gladiators
Movies I Saw This Week:
The Robe (Netflix Rating 4/5 | Quality Rating 3/4) Poster blurb: "A perfectly competent biblical epic…in CINEMASCOPE!!!!!" [Netflix DVD]
Fright Night (Netflix Rating 4/5 | Quality Rating 3/4) "Fun little horror movie." [Netflix DVD]
Leon Morin, Priest (Netflix Rating 5/5 | Quality Rating 3.5/4) "Smart and low-key exploration of desire, faith, and the relationship between men and women." [Netflix DVD]
Valerian and the City of a Thousand Planets (Netflix Rating 2/5 | Quality Rating 1/4) "Pretty, but unfocused and fairly stupid." [Amazon Prime]
Terminator 2: Judgment Day (Netflix Rating 5/5 | Quality Rating 3.5/4) [Rewatch] "Great action, but I don't think the quieter moments work as well as Cameron thins they do." [Personal Collection]
The Hunger Games (Netflix Rating 4/5 | Quality Rating 3/4) [Rewatch] "Well told first act in a dystopian tale." [Personal Collection]
The Hunger Games: Catching Fire (Netflix Rating 5/5 | Quality Rating 3.5/4) [Rewatch] "Possibly the best re-use of a concept in a franchise sequel ever." [Personal Collection]
The Way Back (Netflix Rating 5/5 | Quality Rating 3.5/4) "Emotional and harrowing sort of true tale with some very good performances." [Netflix Instant]

Contact
Email any suggestions or questions to thejamesmadison.aos at symbol gmail dot com.
I've also archived all the old posts here, by request. I'll add new posts a week after they originally post at the HQ.

posted by OregonMuse at
07:20 PM
|
Access Comments