« Tuesday Overnight Open Thread (3/6/18 )
|
Main
|
Mid-Morning Open Thread »
March 07, 2018
The Morning Report 3/7/18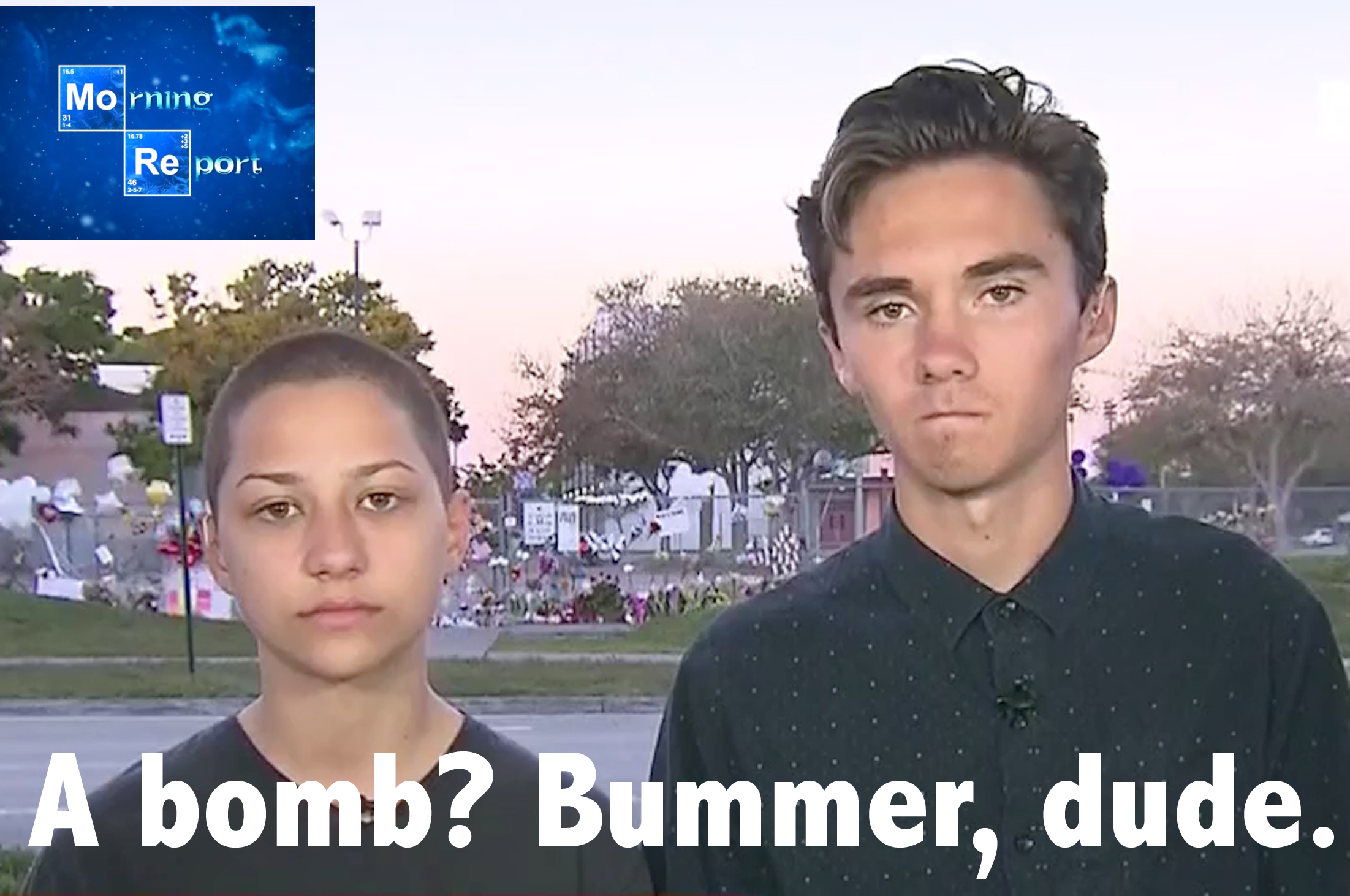 Good morning kids. Middle of the week and there are a number of things popping on all fronts. First up, though, a Utah teen has been taken into custody for attempting to detonate a homemade bomb at school. Cops have stated that had the device exploded, it would have caused a significant loss of life. The suspect is alleged to have had an ISIS flag, had been surfing pro-ISIS sites on his home computer and had spray painted "Isis Is Comi" on the school's wall, not being able to add the "ng" before running off. Cops have yet to release his identity or background. Sadly, we won't get another glimpse of dreamy David Hogg calling us murderers because Dem-Media Complex rule #1 is if the meme don't fit, you must omit.
On the Amnesty front, Super Secret Sleeper Agent Lemmon 714 has evidently pried his head off of his My-Pillow long enough to actually file a lawsuit against the state of California over its "sanctuary" policies. The reaction from the usual gaggle of miscreants, momzers and tyrants is typical. I have mixed feelings about this; yes, I suppose protocol would dictate a lawsuit, but given that the Judicial branch is now a rouge entity and not a co-equal branch, and that the actions of California's political leaders are border on open revolt, short of revoking their statehood, dissolving their state legislature and calling in the National Guard to take over, I would freeze all Federal monies that feed the beast as well as double if not triple my immigration enforcement activities. And yes, Libby Schaaf should be clapped in irons and prosecuted for interfering with law enforcement.
On the other Insurrection front, the House is now calling for a special prosecutor to investigate the Obama-era DoJ. It's about time, but since these things move at a snail's pace, and that much as I would love to see Holder and Lynch sent to Leavenworth, I'd wager nothing much will come of this. And as the myth of Russian collusion has all but been exploded, here comes execrable Lefty propagandist Jane Mayer to airbrush the reputation of Christopher Steele for future use as a martyr and a patriot. She can get bent.
As expected, Ted Cruz and his Dem opponent easily won their respective primaries in Texas and convicted felon and Nazi-collaborator George Soros bought himself a DA's seat in Bexar County. Since all politics is local, it's these races for DA, secretary of state etc. that, if they go Democrat, could have a real cumulative impact on the direction of the country. And while Rush Limbaugh had been sounding the alarm about this in recent weeks, on yesterday's show he went on an extended riff about how not believe the hype about a so-called "blue wave" this November. Sound advice, though Trump hatred will be the decisive factor that drives the Lefty droogs to the polls. Is there enough Trump love on our side that is motivated to preserve November 2016 in November 2018? The world wonders...
The big story domestically is that Gary Cohn has decided to ankle the administration. From what I gather, he was pretty much always at odds with PDT over economic policy and the latest talk of steel and aluminum tariffs was probably the last straw. Frankly, Cohn is another Goldman Sachs alumnus who likes the big government-Wall Street crony connection. Not sad to see him leave.
On the international front, John Bolton and his mustache had a confab with PDT yesterday amidst rumors that H.R. McMustard might be next on the chopping block. Not sure if that would be the right slot for Bolton, but his worldview and attitude about the dangers we face in the world, the real ones and not "climate change," would make him an asset in any foreign policy or nat-sec slot IMHO.
From hither and yon and the culture wars, from the campus to the local neighborhood, several links illustrate the well know tolerance of the Left when it comes to opposing views. That is, the tolerance for increased levels of censorship and outright violence to anyone who dares challenge them. And despite all the evidence that the issue is settled, the Left continues to deny that Louis Farrakhan is an evil, unreconstructed bigot in a bowtie.
Anyway, links from around the world, across the nation and up your street. Have a better one and remain blessed.


posted by at
07:01 AM
|
Access Comments