« Mini Chess Thread 03-03-2018
|
Main
|
Saturday Overnight Open Thread (3/3/18 ) Comments? What Comments Edition »
March 03, 2018
Saturday Evening Movie Thread 03-03-2018 [Hosted By: TheJamesMadison]
Broken Promises
When watching a movie, sometimes you must make a distinction between the movie that's actually delivered and the movie you wanted.
Let me start with a television example. Star Trek Voyager is the most mishandled series of the franchise. It begins with a Federation ship finding itself on the far side of the galaxy from home as well as from any Federation support also needing to supplement its diminished crew with members of the Maquis, a group of Federation citizens who have broken off from the Federation in order to fight an illegal war with a Federation partner. It's the dynamite basis for a show that would challenge Starfleet ideals in more extreme ways than Deep Space Nine ever did with the Dominion War.
And yet, all potential interesting character dynamics from that setup were almost completely forgotten by episode 3. By that third episode, Voyager had become a Next Generation clone. And yet, knowing that the show had thrown out what could have been some of its best assets, I consider the fifth season to be the best season of Star Trek.
Can I hold these two views at the same time? That Voyager was the most mishandled concept of Star Trek and that is has the best season of television from the franchise? I can, I think.
The Problem with Sequels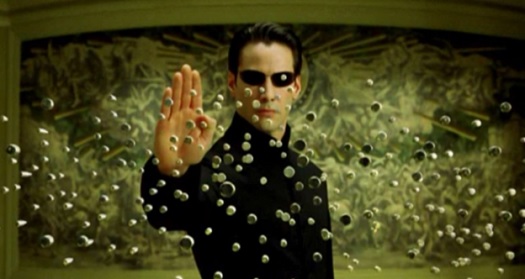 Taking this back to the topic of the thread (movies), I want to go from an example that probably doesn't involve quite that much emotion and go to another example that seems to elicit more:
The Matrix
sequels.
I enjoy Reloaded and Revolutions as big, dumb, event movies with a cyber-punk aesthetic. They're not smart, sport some loopy dialogue, and have one character who's entire presence is a waste (the Merovingian), and yet, I love those action sequences. They're inventive, fun, fast, and set to a wonderfully pulse pounding score.
And yet, they completely abandon the promise of the last scene in the original movie. Here's that scene:
The promise that Neo makes the machines in that scene is that he's changing the very rules of the conflict between man and machine. The very final shot is of Neo flying towards camera. From the DVD release of the film to Reloaded's release, The Matrix dominated pop culture. The promise of that scene, for more than two years, blew up people's imaginations, firing them to marvel at what could come next. At the end of the original, our hero could fight Agents with one hand, stop bullets in midair, bend walls with his mind, and fly.
What could he do in the sequels? Fight Agents with one hand, stop bullets in midair, and fly (apparently he forgot how to bend walls with his mind). It's quite literally more of the same. The promise was completely forgotten.
Instead of following logically that Neo would change everything about the conflict, the sequels just follow that Neo will change almost nothing while he shows off the same things we already know he can do.
It's a failure of imagination.

Copycats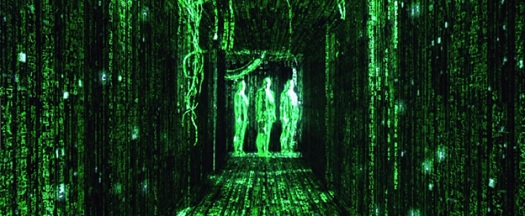 The funny thing is that the world thought so much of the Wachowskis at the time of the original movie's release. They seemed so fresh and original to most of the mainstream public, but the dirty little secret was that The Matrix wasn't really that original. It was actually a bunch of hoary anime tropes thrown together into a live action film. The Wachowskis didn't understand how to expand on the ideas in their original film through sequels, and knowing that, it's suddenly not that surprising. Of course they had no idea what to do other than to re-introduce Agent Smith. Agent Smith was probably the only remotely original idea they had (which they ended up completely misusing anyway).
And yet, sitting here at my computer a decade after the sequels' releases, it doesn't seem that hard to imagine how it could have gone right.
You start the next movie with every single member of the Resistance able to do what Neo can do at the end of the first movie. Everyone can easily dispatch Agents, stop bullets, and fly. What makes Neo special is that he taught everyone else how to do that, but he also has power over the code of the Matrix itself. He doesn't fight anymore, he just deconstructs Agents' codes as they approach him. He has so much control over the Matrix that he's extending his reach into other areas of the Machine world, and the Machines are panicking.
There was one idea in the sequels that I genuinely loved, and that's that Neo is the sixth "One" and that the prophecy that Morpheus ran around quoting solemnly in the first movie is bullshit. I'd keep that idea, but the Machines tried to circumvent and delay the appearance of the One this time, only to exacerbate the situation and produce a much more powerful version in Neo, one that they have no hope of controlling.
It could become a race against time where Neo is destroying the Machines from within while they desperately tunnel towards Zion outside the Matrix. Just imagine the visual fun of Neo manifesting himself in different ways to reach some MacGuffin in the Machine World.
You would need to make sure that there was little to no loopy dialogue and direct actors so they actually emote, but the basic large motions of the plot would at least seem to fulfill the promise of the original's ending.

But that would be different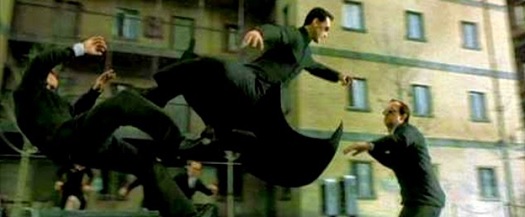 And therein lies the problem. What I envisioned would involve little to no wire-fu, which everyone knew The Matrix for. How can you do a sequel to The Matrix without wire-fu?
It's that need to keep to certain pre-established elements of an original story in its sequels that really hold them back. It could be visual elements like wire-fu or a giant planet killing space station (called…oh, I don't know, a Death Star), or it could be actors like Hugo Weaving as Agent Smith, but executives and creatives walk into sequels knowing that the movie going population know their original film for certain elements and they're terrified of producing a sequel to that without at least some of those still in place.
One of the reasons that The Empire Strikes Back works so well is because it ends up feeling so different from Star Wars while also very much being part of the same universe (among other wonderful qualities that first sequel bears). The Matrix could have followed through on the same kind of promise, but ultimately fell into routine. Bigger, louder, and (considering the limitations) more fun routine, but routine nonetheless.
Or…
You could talk about the Oscars. Whatever. I can't control you people.

A Note
This marks the 52nd week since the first movie post. One whole year.
Special thanks goes to OregonMuse who has tolerated my late deliveries so consistently and patiently, as well as to Ace who keeps the lights on. And to you all, without whom I would just be shouting into the ether about how great Prometheus is.

Movies of Today
Opening in Theaters:
Red Sparrow
Death Wish
Next in my Netflix Queue:
Fright Night
Movies I Saw This Week:
Mute (Netflix Rating 3/5 | Quality Rating 2/4) Poster blurb: "Is there a difference between something that's not successful and a failure? I think this is the former." [Netflix Instant]
A Ghost Story (Netflix Rating 5/5 | Quality Rating 4/4) "Surprisingly engrossing movie that looks silly but ends up feeling very genuine." [Amazon Prime]
Southpaw (Netflix Rating 3/5 | Quality Rating 2.5/4) "Exceptionally manipulative, meaning that whether you enjoy it depends on how easily you are manipulated and how much you like that about yourself." [Netflix Instant]
The Terminator (Netflix Rating 5/5 | Quality Rating 4/4) [Rewatch] "Cameron's purest movie, and a great action flick." [Personal Collection]
Contact
Email any suggestions or questions to thejamesmadison.aos at symbol gmail dot com.
I've also archived all the old posts here, by request. I'll add new posts a week after they originally post at the HQ.

posted by OregonMuse at
06:58 PM
|
Access Comments