« EMT 3/04/18
|
Main
|
How Do You Like Them Apples? The New "Rules For Radicals," Conservative Style »
March 04, 2018
Sunday Morning Book Thread 03-04-2018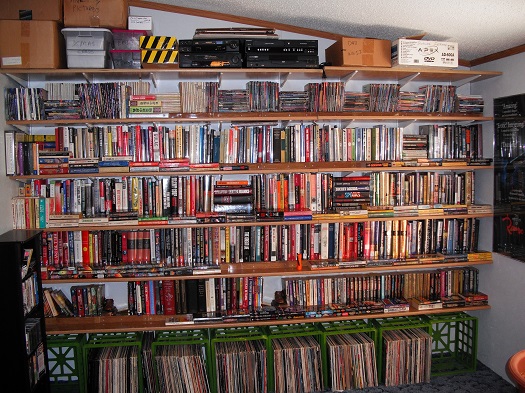 Library of geoffb (Click to expand it bigly).

Pic Note
From geoffb:
Top shelf is 30 years of Analog from mid 70s to 2007-8 when I stopped getting them because they went all SJW.

Bottom is the remains of what in the 80s was a 4000 album collection but it became a drag moving them so I sold/gave them away to friends.

This is the shelf for normal sized books. I have another for large size books, magazines, and Laser Discs.
Yeah, vinyl weighs a ton. Even a modest-sized collection is back-breakingly heavy to lift or move. I can personally attest to this.
Geoffb also sent me a pic of himself relaxing and enjoying a book in his first library.
And thanks to all of you 'rons and 'ettes for sending your library photos. I've got quite a lot of them now, but keep 'em coming. I'll give you a heads-up by return e-mail during the week before that Sunday should I decide to use yours.
It Pays To Increase Your Word Power®
A GARTLE-HEAD is a thoughtless, empty-headed person.
Usage: Our gartle-headed coverage of the news will continue after these messages. This. Is CNN.


Reading Is Good For You:
It's things like this that makes me wonder whether those who are now spending countless hours playing video games will start exhibiting cognitive weaknesses when they hit old age. I don't know this for a fact, I'm just speculating.

Feminist Snuff Pr0n
Anna Puma sent me a link to this review in the NYRB of The Power, a novel by feminist author Naomi Alderman. I thought the review was interesting because it gave an historical overview of feminist utopian/dystopian literature dating back to the late 19th/early 20th century. So I think it's worth reading just for that.
In placing this novel in the historical timeline, the review cuts loose with this howler:
So why this fantasy now? Alderman is reflecting and channeling the anger of a young generation of feminists who will not forgive, excuse, cover up, and accept male abuse.
Except if it's a Democrat/liberal politician, donor, or power player. Such men can fondle the help against their will for years and nothing will happen. And all the while mouthing the proper pieties on women's issues, don't forget. Feminists shouldn't get overly enthusiastic about the recent spate of take-downs, welcome that they are. There's little indication that any casting couches have been removed or any rape rooms closed down. Powerful men remain powerful men and they're not going to stop doing what they do because feminists, who used to look the other way, are now furiously virtue signaling about it.
So, in Alderman's novel,
...adolescent girls discover they have a devastating electrostatic force in their hands that they can use to shock, torture, and kill. It comes from a striated muscle near their collarbones that alarmed scientists call a skein, and that they can observe through MRI scans of newborn baby girls. The teenagers can help older women activate their Power, too.

Beginning in Saudi Arabia, and moving to other countries, women seize political control, and take violent revenge on the men who have enslaved and abused them. They use the Power to defend and liberate themselves, and it changes their view of themselves. "If you were able to live your life as if you were able to cause hurt when you needed to," Alderman told NPR, "your life would be so different, even if you never ever had to do it. That makes you less afraid all the time."
In other words, in order to be equal, Alderman says that women have to have something that nobody else has ever had. See, this is what I don't get about modern feminists. They're either braying loudly about how strong powerful they are, but then the next minute, they're whining about how they're helpless, defenseless victims of an oppressive patriarchy that has somwhow managed to corral them (strong, tough, and mighty though they are), and turn them into breeding stock. So which is it? Are they heroes or victims? It can't be both. Point this out to them, though, and they get mad.
More:
Alderman wanted to show readers how women's lives would be different if they were not afraid. As she told a Literary Hub interviewer, she hoped they would ask themselves:



What would this be like in my life? How would this change things for me? How would it change things for my daughter? How would my work be different? How would my trip back home from the office late at night be different? How would my schooling have been different? How would that encounter I had this morning have been different?
I suspect much of this posturing. But, let's assume the opposite: that Ms. Alderman does indeed live in an environment wherein she is surrounded 24/7 by hostile, brutal, violence-prone men, all of whom want to rape and kill her on sight, and there is no escape. Is there anything that can be done? She fantasizes about having a personal weapon she can use to protect herself, but it has somehow escaped her notice that such weapons actually exist and they are, quite literally, At Her Fingertips.
Are you ready for this?
Hey, Naomi!
( *drum roll* )
Buy a handgun.
Yes, that's right. A handgun. Do some research. They come in all shapes and sizes, and you certainly will be able to find one to meet your needs and your budget. Then, learn how to use it. Find a local gun club. Ms. Alderman, I assure you, they will be HAPPY to help you find one that you can use. They will be HAPPY to help you learn how to use it safely. Those big, ugly men wearing jeans overalls and MAGA hats WANT you to be safe. They WANT you learn how to shoot, if for no other reason that they don't want you to shoot them by accident. And, here's the part that it may take you awhile to wrap your head around: THEY DON'T CARE ABOUT YOUR POLITICS. Every last one of them believes that EVERY American has the right to be safe and secure. And this is a principle that transcends any and all tribal prejudices.
Another thing you can do is to lobby for/vote for open-carry, concealed-carry, and stand-your-ground legislation. Because what good is buying a weapon to protect yourself if you aren't allowed to use it? That's just dumb. Also "gun free" zones. They're dumb, too. Perhaps you haven't noticed that so many shootings occur in "gun free" zones that they should probably be called "free fire" zones.
Once you've mastered your weapon, there will longer be any reason to be afraid. And what do you think will happen if more women did this? What if the potential mugger or rapist lurking in the shadows next to the jogging path had to think about whether the woman running by had a weapon she knew how and was not afraid to use? I'll tell you what I think: I think there'd be fewer rapes and muggings. A lot fewer. Because women would, indeed, have The Power.

Moron Recommendation
Here is one that looks quite interesting:
25 Just found "Mud, Blood and Poppycock" by Gordon Corrigan at the used book store in my AO. Just started it but the author states he will set the record straight on how WW1 was not a "lost" generation and how many of those who had participated actually enjoyed their service and were proud of their part in the war before the marxists got hold of the historical record.

Posted by: Hairyback Guy at February 25, 2018 09:12 AM (EoRCO)
Thankfully, Mud, Blood and Poppycock: Britain and the Great War is still in print.
The popular view of the First World War remains that of BLACKADDER: incompetent generals sending brave soldiers to their deaths. Alan Clark quoted a German general's remark that the British soldiers were 'lions led by donkeys'. But he made it up.

Indeed, many established 'facts' about 1914-18 turn out to be myths woven in the 1960s by young historians on the make. Gordon Corrigan's brilliant, witty history reveals how out of touch we have become with the soldiers of 1914-18. They simply would not recognize the way their generation is depicted on TV or in Pat Barker's novels.
I had always heard that WWI was a stupid and bloody waste of lives, incompently prosecuted, and accomplished nothing except got things set up for WWII. It would be interesting to hear another view. I'm usually suspicious of revisionist history, but I'm kind of curious about this one, what with my confirmation bias and all. The Kindle edition is $7.99.

___________
FenelonSpoke recommends Take Your Life Back: How to Stop Letting the Past and Other People Control You, written by Stephen Arterburn (no, not 'Afterburn') and David Stroop:
Your past and current circumstances don't have to define you, and they don't have to determine the direction of your life. Take Your Life Back is the key to moving from reactive attitudes and behaviors to healthy, God-honoring responses that will help you live the life you were meant to live.
"Good sections on recovering from trauma. [The authors] have both done years with people getting stuck because of prior abuse and shame." -- FenelonSpoke.
___________

Sharkman has just finished 'reading' (actually, listening to) and old classic:
32 Finally finished listening to the unabridged version of The Count of Monte Cristo which I downloaded onto a flash drive from LibriVox.

My favorite novel of all time, the reader, David Clarke, did a fantastic job and now I have moved on to Mr. Clarke's other LibriVox effort:

Every single Sherlock Holmes story by Sir A. Conan Doyle. Absolutely wonderful readings.

Posted by: Sharkman at February 25, 2018 09:15 AM (GckyN)
LibriVox has multiple versions of the count of monte cristo. The David Clarke version can be downloaded from this link.
David Clarke's Sherlock Holmes narrations are here.
___________

Books By Morons
Moron author (and lurkette) artmemis reminded me that her seventh Acton & Doyle Scotland Yard murder mystery, Murder in Misdirection, is now available.
It was a bit puzzling, that Chief Inspector Acton hadn't mentioned the body they'd discovered in the burnt-out church, even though he must have known that Doyle would find it of great interest. Was the arsonist caught up in her own fire, or was there a deeper, more sinister tale told by the blackened rubble?
The Kindle version is $4.99.
___________
GAINZZZ: Moron Ron Marinella announced over on votermom's GoodReads group that he has published Finishing Strong! Strength Training for Old(er) Guys:
It is said that, unless we work at it, our muscle mass peaks when we hit 35 or so and starts a downward trend picking up speed in our 60's and 70's--leaving us with half or less muscle than we had in those good old days...The primary objective of this book is to convince the senior-aged man (60-90) it is not too late to recover a good deal of that lost muscle and have some fun at the same time. This book is designed to provide a base of knowledge leading to a personal routine of nutrition and strength-building to set the senior on the road to restoring muscle and, in doing so, better health.
One selling point of the eBook version of this book, in addition to portability, is the inclusion of hyperlinks providing quick access to referenced documents and websites.
___________

Don't forget the AoSHQ reading group on Goodreads. It's meant to support horde writers and to talk about the great books that come up on the book thread. It's called AoSHQ Moron Horde and the link to it is here: https://www.goodreads.com/group/show/175335-aoshq-moron-horde.
___________
So that's all for this week. As always, book thread tips, suggestions, bribes, rumors, threats, and insults may be sent to OregonMuse, Proprietor, AoSHQ Book Thread, at the book thread e-mail address: aoshqbookthread, followed by the 'at' sign, and then 'G' mail, and then dot cee oh emm.
What have you all been reading this week? Hopefully something good, because, as you all know, life is too short to be reading lousy books.

posted by OregonMuse at
09:00 AM
|
Access Comments