« Frederick Douglass: American Badass
|
Main
|
The Morning Report 2/15/18 »
February 14, 2018
Wednesday Overnight Open Thread (2/14/18 ) Valentine's Day Edition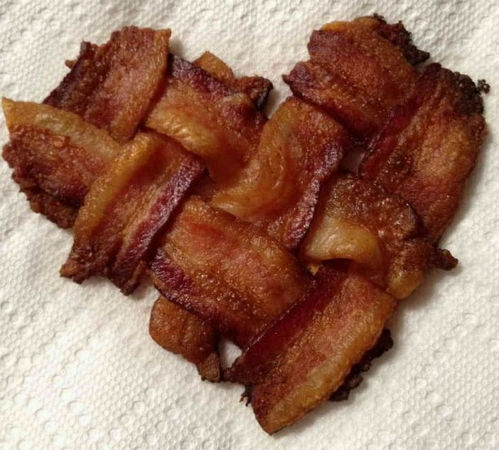 (Love is in the air at The ONT)
*****
Quote of The Day
4) Love is patient, love is kind. It does not envy, it does not boast, it is not proud. 5) It does not dishonor others, it is not self-seeking, it is not easily angered, it keeps no record of wrongs. 6) Love does not delight in evil but rejoices with the truth. 7) It always protects, always trusts, always hopes, always perseveres. -1 Corinthians 13:4-7 New International Version (NIV)
*****
Perhaps you have heard of Mark Belling. He fills in for Rush once in awhile. He can be heard on IHeart Radio WISN 1130AM Milwaukee. He recently wrote a column with some interesting observations about the youth of today.
The lack of God in their lives is central.
*****

More push to insulate the youth of today from discomfort. Purge, purge away.

This idea is working itself out in one of Minnesota's largest school districts. A decision to pull two of the most influential novels in recent American history, To Kill a Mockingbird and The Adventures of Huckleberry Finn, from Duluth's school district's required reading curriculum was made last month. The decision was based on the desire to be "considerate of all students" because of the racial slurs used in the novels.

"When curriculum materials are making some students feel uncomfortable, then we need to make a better choice," said Bill Gronseth, superintendent of Duluth Public Schools

My guess is that Kayne West and the song "Gold Digger" are cool.
*****

An interesting interview. North Korean defector is interviewed.

Would you ever want to move to a western country like the United States, the United Kingdom, Australia, or any other?

Wish to move to European countries or Australia or New Zealand, but not United States or South Korea. Not much good feelings about United States and South Korea.

Can you expand on your feelings about the United States? Is this because of things you were taught in North Korea, and do you feel they were accurate?

Not because the things taught in North Korea. I understand United States is not a good place to live especially for the poor and the Asians. And also becasue personally I have some bad experience with Americans and South Koreans, I would say both are usually arrogant.

What was something about life outside of N.Korea that surprised you the most/seemed strange to you after leaving? (This can be something that might not seem significant to everyone else. Just something that really shocked you.

The wasting of food. Why do the Chinese always orders more than what they are able to eat and why do the American and the Europeans destroys the corn or wheat or milk just to put up the price in the market?

Is there one thing you actually liked about North Korea you miss?

The simple living and everythings are in order.

What political ideology do you belong to?

You mean now? I hate any form of government.
Fawning over Little Fat Boy's sister is harmful.

Sure, Little Fat Boy's sister knows nothing of this. Another reason why I have not watched 1 minute of The Winter Olympics.
*****

Well my, my, my A good sex life may lead to cheating on your partner.

Being trapped in a sex-less situation is bound to create frustrations which lead to infidelity… right?

Well, not according to a new study by Florida State University. Researchers claim that you're more likely to play away if you're already sexually satisfied, because better sex means you want more of it.

Yep, your epic sex skills are what's driving your partner to seek it out elsewhere, apparently.
*****
Did you forget that special gift for that special someone? $170 and a big kiss might get you out of trouble. Then again maybe not.


Plenty of people pay good money for treatments that remove imperfections from their faces, and apparently there are some who are willing to fork over cash to get rid of blemishes from their behinds.

Butt facials are now being offered at spas across the country.
*****

Love of country? Nope. Love of your significant other? Nope

Chalk up another point for liberal hypocrisy. One of the NFL players who knelt during the national anthem as a protest against "mistreatment" by America's police officers ended up in handcuffs on Sunday, after he allegedly assaulted his girlfriend and was caught with illegal weapons.

"San Francisco 49ers linebacker Reuben Foster was arrested this weekend for domestic violence and possession of an assault weapon … making this his 2nd arrest in a month," TMZ Sports reported.
Thugs gotta thug, I guess.
*****

Public schools in Kansas may be adding a worthwhile and useful class.

A House bill heard in committee last week to standardize gun safety education in Kansas schools would draw in large part from a program organized by the National Rifle Association.

The measure, HB 2460, would base firearm education programs in elementary and middle schools on the NRA's Eddie Eagle Gunsafe initiative. The sponsor of the legislation, state Rep. John Whitmer, R-Wichita, says the NRA's program, which teaches kids who encounter a firearm not to touch it, leave the area and tell an adult, sends a good message.

"It's a great program, out Eddie Eagle bill," said Whitmer shortly after the proposal's first hearing in the Committee on Federal and State Affairs.
*****
The Musical Interlude
The musical interlude is a little different tonight. The staff picked out some of their favorite Valentines Day songs. And we are running with those.
If you want February 14th musical history, click here.

Frank Zappa's observations on breakups.

A little Shakespeare for us mouth breathers.
*****

Some people should not reproduce. And some people should be given rewards for not murdering people who should not reproduce. Genius Award Winner.
I'm surprised the little bastard didn't wind up as the second DB Cooper.
*****
Knocked down but not out. Tonight's Feel Good Story of The Day.

When Andrew Kurka was only 13 years old, he was an award-winning wrestler who had achieved several state titles. Then, an ATV-related accident left him paralyzed from the waist down.

Instead of allowing negativity to consume him, however, the youngster from Homer, Alasha became a Paralympic champion.
*****
Tonight's ONT has been brought to you by "Here, hold my ............"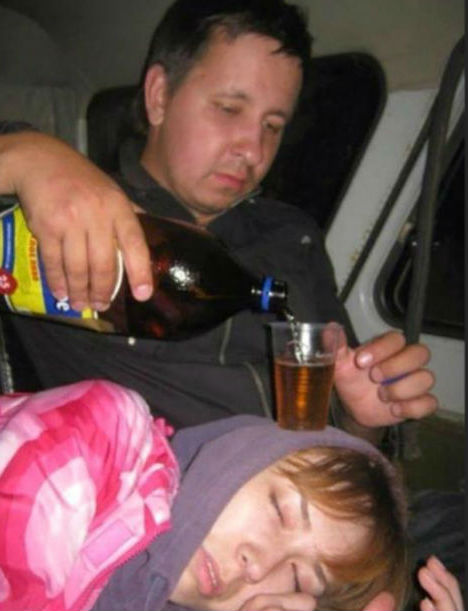 And
Valentine's Day Advertising.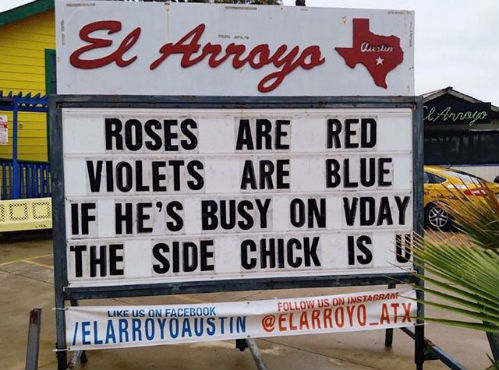 *****

Notice: Posted with permission by AceCorp, LLC. There was no beer or bacon injured in the production of this ONT. And Mrs. Mis. Hum. approves. Win-Win.

posted by Misanthropic Humanitarian at
10:00 PM
|
Access Comments