« Saturday Gardening Thread: Peared Off [KT]
|
Main
|
Mini Chess Thread 02-10-2018 »
February 10, 2018
Ace of Spades Pet Thread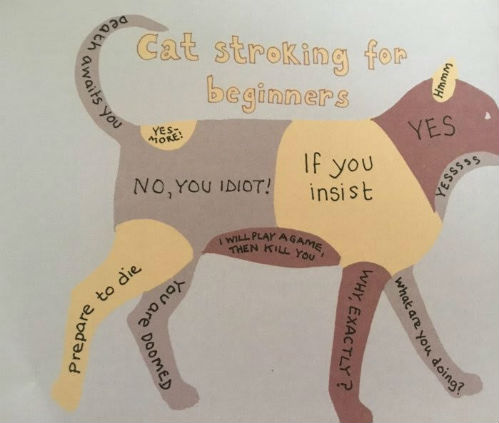 ***

Welcome to the almost famous world famous Ace of Spades Pet Thread. You need to take a break and sit back, relax and enjoy the world of pets.

***
A Little of This. A Little of That.

Not only do they have breathing problems. Now they have walking issues. Pugs in the news.
If you don't think this is cute there is no hope for you.
Naughty dog, very naughty dog.
RIP Piper, The Airport Dog. h/t Dandor the Realanator

Quite the pet and a unique family. h/t Anonosaurus Wrecks.
***
Meet The PetMorons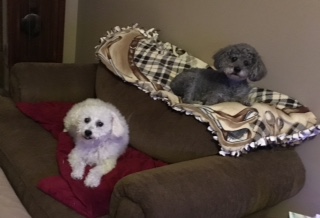 Hello. I love the Pet Thread (and Ace, of course). Thanks for doing it.

This is Tikki and Rufus. They're both schnoodles. Many years ago, after a respectable two-year grieving period over the loss of our beloved basset hound/yellow lab mix, we decided to find non-shedders!

Tikki is the gray one. She's almost 12. She experienced a severe back injury several years ago; but with the help of a daily pain pill, she is irrepressible, active and loves life. She's very loveable, quite vocal, and bosses us around like she owns the place. The white one is Rufus (technically Rufus II, having been named after the basset/lab). He just celebrated his 9th birthday. Rufus can be very timid and used to roll over on his back at the sight of another dog other than Tikki. He's grown into his own since then, though, and bosses Tikki around in a very no-nonsense but gentle way. He sticks to Tikki like glue, probably as an attempt to keep her in line. He's sweet and playful.

They're great guard dogs and bring a lot of joy to our lives. Thanks for letting me tell about them.
You can call me Mrs. SOB.
No need to thank us here at the Pet Thread. It is our pleasure to post your cute pups!
Thanks for the kind words!
***
'm robeartoe mostly lurker.

This is Whiskey my blue heeler on his 21st birthday celebrating with my prize kid. He used to hate everything but me and said prize kid but now he's mellowed with age and likes most people here at the house if they will throw a stick for him to fetch and he never gets tired He hates almost all other animals,the Amish and anyone trying to get close to his truck so he can't always go with me he's too aggressive but as a reward I'll take him around the neighborhood and let him bark at the Amish it makes his day. He can't chase cars because there is very little traffic on our island and he is fenced in but he swims after boats that go slower than he thinks they should Don't think he is all negative I have never had a dog that loves me as much as him He watches me like a hawk and protects me from any thing he deems a threat he's a pretty good dog all things considered
You had a party and didn't invite us? Woof.
***
Hi there. NadineCharmichael here. Longtime lurker, but rarely ever a poster.

Thought I would make my first attempt at this for the pet thread.

This is Lucy, an Australian Cattle Dog. We lost her 3 years ago this week to sudden stage 4 leukemia lymphoma, but I swear I can still hear her huffing indignantly in the evenings when I'm doing dishes instead of waiting on her hand and foot.

Lucy was a rescue and had some serious abuse issues when we first got her. We finally hooked up with a retired Marine K9 trainer who helped teach us how to train her, and she settled into being the most clever, witty, sarcastic, pathetic, dramatic child (sorry, I mean dog) I've ever met.

For a cattle dog she was beyond mellow and easygoing. She never did care to fetch anything or play much with toys- such behavior was far too plebian for Herself, but she loved hiking, hunting, and medium rare steaks. She took no shit from anyone except me and my husband, but always with the We Are Not Amused face. A favorite activity was to steal the peanut butter jar, eat the lid, lick as much peanut butter as her snout could reach, then hide the jar under her bed to avoid detection.

She was a great dog. Damn, I still miss her.

Always a fan of you guys!
Cheers,
NadineCharmichael

What a cutie! Sorry for your loss. It sounds as if Lucy was perfect for you and you were perfect for her. Thank you for sharing with us.
***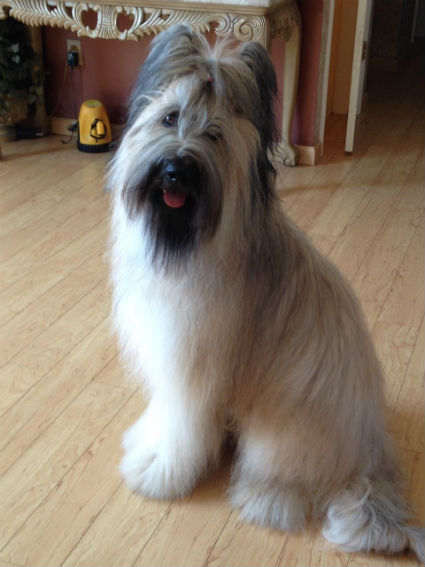 Miles The Briard-Kevin
That's all that Kevin wrote. I suspect he doesn't have time to write since he is busy grooming Miles.
***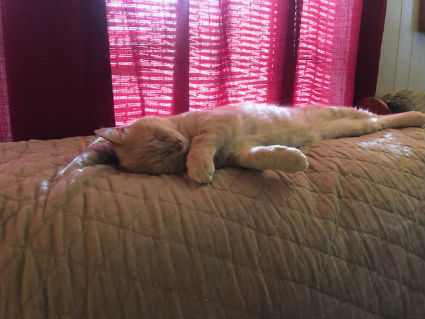 *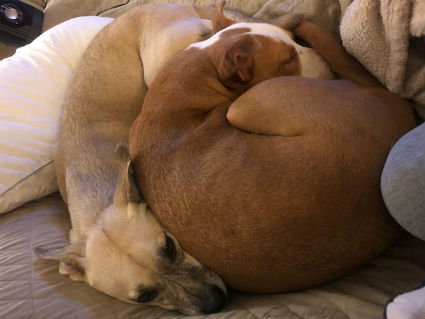 I've been lurking around Ace for about a year. Love the pet thread, but have never posted. Here are a few of our rescuers. Gus, the cat of many names, was picked up at a country store as a six week old kitten with numerous ailments, but he's doing great now. We thought he'd transition to being an outside cat, but he's having none of that.

The two snuggling dogs are Bonnie (black nose cur mix) and Merry (all around good dog) were slow to warm up to Gusser, but we've explained that Poopoo Kitty is not for eating and they've that's probably okay.

Thanks for the pet thread! Eppie's mom
Thank you for sharing. We are happy that you are lurking but don't be afraid to jump in. The water is fine.
***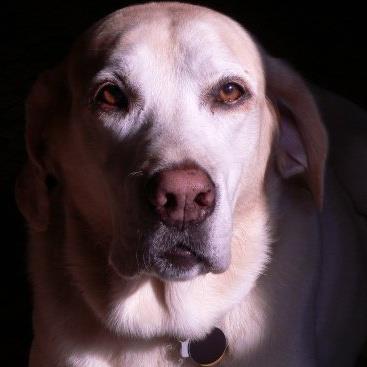 *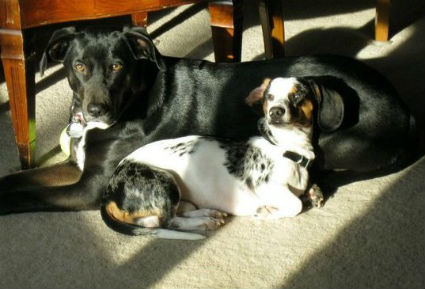 I'm a long time lurker and sometime poster. Mr. L. and I really enjoy the pet thread. It's nice to know there are so many great pets out there in the horde.

The Labrador retriever was my beloved yellow dog, named Jake. He came to us as a rescue. He was a pile of energy and a dear soul. We spent more money on that dog than if we had gotten him from a high priced breeder. He had all kinds of medical issues, like the time he got a numb spot on his tail and practically chewed the whole thing off. It looked like a crime scene when my husband came home. There was blood everywhere from about dog-high down. Somehow Jake survived, although the vet had to amputate what was left of his tail. He had lots more issues but managed to live until he was 16 years old. I miss that dog like crazy.

The other two are Grrr (dachshund in front) and Jazzy-June (black mutt in back) Jazzy came to us as a recue as well. She is now 12 years old but still acts like a puppy. She was advertised as a Lab but is really all terrier. Barks her fool head off at everything and digs many holes. She hates storms and riding in the car. A pain in the ass but she is my dog and I am her human. She never leaves my side except to sleep in the sun. Grrr is a double-dapple dachshund, which almost always means sight or hearing problems. Grrr is blind but thankfully hears just fine. He came to us from my husband's nephew, who had no business taking care of himself, let alone a dog. Grrr was inadvertently left behind (long story) when the nephew was passing through town. I fell in love with that dog and wouldn't give him back! Grrr loves everyone, especially Jazzy. He sleeps most of the day under a blanket or on our bed, unless its summer where he spends all his time on the patio. He gets around really well unless we rearrange the furniture! He loves to go for walks and runs like crazy with my husband at his side.

My vet once summed our dogs up this way: "Don't you have any normal dogs?"

Thanks for providing such a wonderful place to enjoy da pets!

Mrs. Leggy

All dogs are normal!!!! They just display normalcy in different ways. Thanks for sharing with us Mrs. L
*****
You Morons make this thread work. Thank you all for your contributions. Do you have something you wish to share? You can share with us at petmorons at gmail dot com
Here's wishing you all a great week!!!

posted by Misanthropic Humanitarian at
02:56 PM
|
Access Comments