« Mini Chess Thread 01-27-2018
|
Main
|
Saturday Overnight Open Thread (1/27/18 ) »
January 27, 2018
Saturday Evening Movie Thread 01-27-2018 [Hosted By: TheJamesMadison]
1st Annual Ace of Spades Best Picture
I hope you're all dressed to the nines, because it's time to celebrate some movies.
A few weeks ago, I asked you all to nominate your favorite films from 2017. A couple of weeks later, we all voted, and today I'm opening the envelope.
It was an interesting vote with two related movies taking a clear majority together, but splitting that half almost equally. It was "almost", as there was one that took it over the other.
And the winner is…
Dunkirk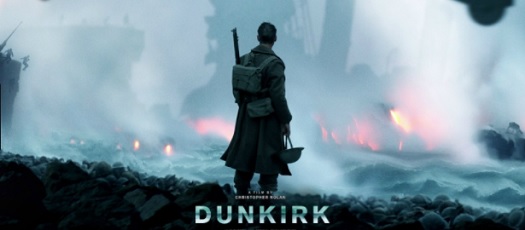 Dunkirk
is great. I have no problem with this result. It's a wonderful portrait of heroism in the face of certain defeat. It's also a great little trick of a movie that uses its three timelines moving at different speeds to great effect when they all combine at the end. I also find its ending, especially how the character of George's story winds down, as surprisingly affective on my emotions. It's a fantastic ticking clock of a suspense picture, and I love it.
Congratulations, Mr. Nolan. Your ampersands are in the mail.
The Runner Up



It can't be hard to guess what was the runner up. Darkest Hour is a film that I, personally, have not seen yet, so I can only offer second hand accounts of the movie's qualities, which I won't bother with.
I bring it up for two reasons. The first is that Dunkirk walked away with the top spot with 28% of the vote while Darkest Hour fell just short at 25%. Two movies that close in opinion for the Horde deserve to be celebrated equally. The second reasons is because of how the two movies are supposed to compliment each other. Nolan's film is big, expansive, and also completely lacking any real context for the action it portrays. This doesn't both me, but it does for many people. However, that context is provided in Darkest Hour, which is much smaller, navigating the underground war rooms of London instead of the open beaches of France.
I've heard that the two movies are great to watch one after the other because of that complimentary nature between them, and it seems as though you all agree.
What should I send to Joe Wright for runner up? A one free ride in the barrel?

Oscar's going to get this wrong

This is going to be the one time I'll mention the Oscars this awards season, because I really don't care about them at all. I only bring it up to let you all know that Oscar will get it wrong again this year. They often do.
Throughout the Oscars' history, they've gotten it wrong a lot. Raging Bull losing to Ordinary People. How Green was My Valley beating Citizen Kane. Apocalypse Now losing to Kramer vs. Kramer.
Don't get me wrong, I have quite a bit of affection for most of the movies that wrongly won (except How Green was My Valley, which is boring and kind of bad, sorry John Ford), but looking back from decades in their futures many of these winners are known simply because they beat better films for the award.
Does it decrease the greatness of Goodfellas because Dances with Wolves beat it? What about The Right Stuff losing to Terms of Endearment?
They don't always get it wrong, though. Unforgiven deserved its award completely. Same with Schindler's List, The Godfather, and A Man for All Seasons.
It does seem, though, that the Oscars has decided to revel in its new esoteric nature rather completely over the last decade and a half. Almost like The Return of the King winning Best Picture broke them from ever awarding a large budgeted and money making movie ever again. They did nominate Avatar, but it honestly didn't deserve to be in the list at all. The last time they were close to grabbing the mantel of awarding things that people consider to be great at the same time with things that were popular was with The Dark Knight, which they didn't even nominate.

Who Cares Anymore?
Why do people watch anymore? Who even watches anymore? No one's seen most of the movies that are nominated for the big awards, and we all know that the few popular films that get through won't win.
So, it's better to just not outsource your celebration of film. You don't need to see rich spoiled brats who don't know much ecstatic because they get to take pictures with Harvey Weinstein. You don't need to see the ponderous speeches about how movies are the most important thing in the world and Hollywood is a driving force in making the world a better place.
Let's just crack open some bourbon and celebrate the movies from 2017 that we loved, with special attention to our winner, Dunkirk and the runner up, Darkest Hour.

Movies of Today
Opening in Theaters:
Maze Runner: The Death Cure
Hostiles
Next in my Netflix Queue:
Enter the Void
Movies I Saw This Week:
Triple 9 (Netflix Rating 3/5 | Quality Rating 2.5/4) Poster blurb: "I think it wants to be the crime epic of the 21st century, but it's too unfocused and shallow to achieve it." [Amazon Prime]
Duck Soup (Netflix Rating 5/5 | Quality Rating 4/4) [Rewatch] "My favorite comedy. Ever." [Personal Collection]
Exodus: Gods and Kings (Netflix Rating 4/5 | Quality Rating 3/4) [Rewatch] "The 4-hour cut may be a great film (hopefully we'll see it one day), but this one is chopped down severely. Still, the grandeur of the spectacle is amazing." [Personal Collection]
The Day of the Dolphin (Netflix Rating 2/5 | Quality Rating 1.5/4) "George C. Scott explains dolphins in various swimsuits for an hour, and then a boring thriller takes over." [Netflix DVD]
Welcome to Me (Netflix Rating 4/5 | Quality Rating 3/4) "Slyly funny and enjoyable story of a crazy persona and her enablers." [Netflix Instant]
Dunkirk (Netflix Rating 5/5 | Quality Rating 4/4) [Rewatch] "The best movie of 2017, or so I'm told." [Personal Collection]

Contact
Email any suggestions or questions to thejamesmadison.aos at symbol gmail dot com.
I've also archived all the old posts here, by request. I'll add new posts a week after they originally post at the HQ.

posted by OregonMuse at
06:51 PM
|
Access Comments