« In All Of The Excitement I Forgot..........
|
Main
|
Sunday Gun Thread: Striker-Fire Edition (With Additional Fashion Content) »
January 21, 2018
Food Thread: On A Wing And A Prayer
Chicken is surprisingly resilient, and handles a wide range of cooking techniques that would destroy other meats. Low-and-slow works nicely, and surface-of-the-sun temperatures can be fantastic. But...there is nothing quite so disappointing as overcooked chicken. Yuck! I can eat overcooked beef, and in my opinion lamb cannot be overcooked; I'll eat the crispy burned end of a leg of lamb, and I'll do it every day and twice on Sundays!
So what to do about that? Well, take a close look at the chicken in the photo, and you will see a temperature probe that is set in the thickest part of the breast. This was a new recipe (in the language of the greater suburban Dildo, that means, "I have no idea what I am doing, and I don't want to keep jumping up from my drink to check how the chicken is cooking"), so I figured that if I just cook the breast to the correct temperature, everything else should be fine.
And it was. That is some browned and golden and sexy looking chicken!
What? No! You may not have the recipe.
******
From Ferrous, (mostly a lurker but occasional commenter) a link for an amusing video series called "Binging With Babish."
Follow along with my torso every week as I recreate the iconic and obscure foods from your favorite movies and TV shows, all in dazzling 4K. We'll make some delicious dishes, have a little fun, and if you're not careful, you might just learn a thing or two.
It's a funny idea, but the guy is also a pretty good cook. This isn't a failed comic trying to get YouTube clicks. He knows what he is doing.
******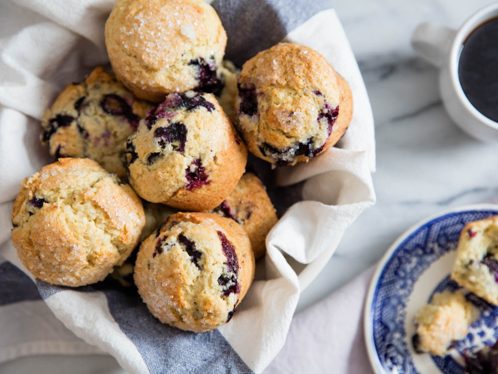 "Serious Eats" is a pretty good cooking site that tries hard to clean up a lot of detritus in the cooking world. So many recipes include (or exclude) steps just...because. For instance, here is a nice recipe for
Classic Blueberry Muffins
that has a rational solution for the horrible and sometimes marriage-ending problem of blueberries sinking to the bottom. It has the additional advantage of keeping that extra flour out of the batter, so the muffins are moister, and there is nothing worse than a dry muffin!
******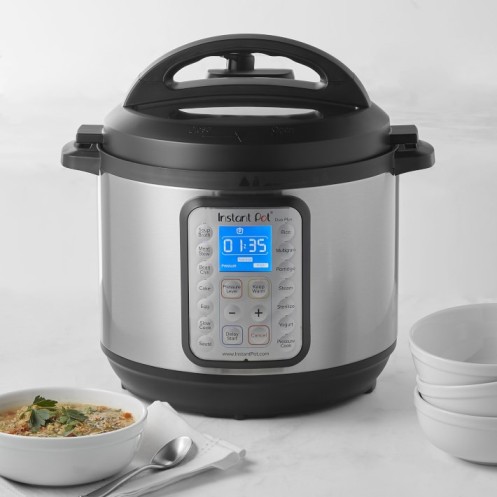 I got two emails within a few minutes asking my opinion of instant cookers. Artisanal'ette should know better...what the hell do I know about this stuff? Actually, she and I had the same opinion; we already have multipurpose tools in the kitchen that do all of the things that an instant cooker does. This is my response:

Eh….I have never used a pressure cooker, so I don't know what I am missing. I have a Dutch oven that works perfectly as a slow cooker, and I steam stuff all of the time on the stove with a simple pot and steamer top, and that is really easy. I usually jazz up my rice with sautéed onions or garlic or shallots and then cook the rice a bit in the fat before I add the water, so I have no need for a rice cooker.
I rarely need a time-saver in the kitchen. I know how to cook, and for most things I know exactly how long they take. And…I like to cook, so it's not some onerous chore to putter around the kitchen checking how my artichoke looks in the steamer, or popping the lid on the Dutch oven to see how the pulled pork is doing
Bluebell's similar question was a bit scary, because RED SOX FAN, so kitchen safety is paramount. As you may know, none of her knives have sharpened edges, and her husband turns off the breakers for the kitchen when he leaves the house.
Adding a big appliance to the kitchen counter doesn't mean that most people would throw away their Dutch Ovens and their steamer inserts and such. All it does is duplicate what most of us already have. If time is of the essence and (sort of) one-pot convenience is important, then have at it! But I really don't see the advantage, although I am confident that I will be beaten soundly about the head by the commenters for this heresy.

******
Basic Tuna Tartare


1 pound very fresh tuna steak

1 ounce olive oil

1 lime, juiced and zest grated

¼ teaspoons wasabi powder

½ tablespoons soy sauce

½ teaspoon hot red pepper sauce

¾ teaspoon kosher salt

½ teaspoon freshly ground black pepper

¼ cups minced scallions, white and green parts

¾ tablespoons minced fresh jalapeno pepper, seeds removed (optional)

1 teaspoons toasted sesame seeds,

1 ripe Hass avocado
Cut the tuna into 1/4-inch dice and place it in a large bowl.
Combine the olive oil, lime zest, lime juice, wasabi, soy sauce, hot red pepper sauce, salt, and pepper.
Pour mixture over the tuna, add the scallions and jalapeno and mix gently but well.
Cut the avocados into 1/4-inch dice.
Carefully mix the avocado into the tuna mixture.
Allow the mixture to sit in the refrigerator for at least 1 hour.
Add the toasted sesame seeds, if using, and season to taste.
Serve on good tortilla chips.

******
Food and cooking tips, dark chocolate caramels, Perfectly marbled prime NY strips, Yorkshire pudding and other goodies with impressive girth:
cbd dot aoshq at gmail dot com

posted by CBD at
04:00 PM
|
Access Comments