« Some Afternoon Filler
|
Main
|
Weekend Gun Thread »
January 14, 2018
Food Thread: Sometimes Restaurants Really Do Make It Better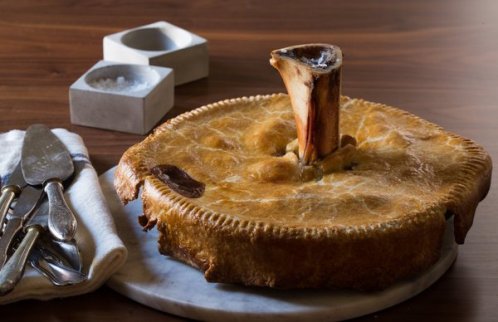 That's a venison and trotter pie from an article in the NY Times Food Section. It is based on a recipe from a pretty good (and very expensive) restaurant in NYC, which serves it in smaller ramekins for individual servings. It looks great, and I will try to order it if I can get into the restaurant (New Yorkers always flood restaurants after write-ups like this one), but I will never bother to try to make it. It's just too much work!
But it is a perfect dish to try at a restaurant, which uses its economies of scale to streamline the process. It would take me all day to make that dish, but in a busy restaurant kitchen, its many steps are seamlessly delegated to the several prep cooks and others behind the scenes who make eating in restaurants worth the extra expense. Sometimes they just do it better!
Fish and Chips is another one. Yeah, I could make it at home, but I'll pay a restaurant so I don't have to clean the fryer and tolerate the smell of fried fish for a few days.
I'm not sure where I am going with this, because as I get older and more comfortable in the kitchen, there are fewer and fewer dishes I won't attempt at least once. And my culinary adventures are pretty much restricted to when I travel, because I prefer to cook my own food at home, and go out locally only to socialize (and because most of my local restaurants are pathetically bad).
By the way, the restaurant has a 90-day aged porterhouse, for only $375. But it is served with truffles, so really, it's quite a bargain! And the 160-day aged Tomahawk rib-eye is listed at "MP," because it's probably $500, and even in NYC there are some things that are just too embarrassing to put on a menu. I hope.
******
From commenter "artisanal'ette," who really does appreciate good food (unlike some...)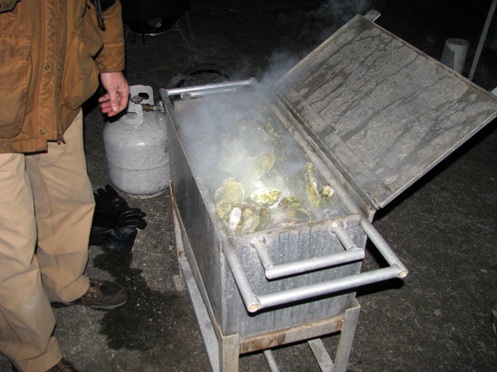 I have to say, fresh oysters, quickly steamed/roasted are delicious.

3 bushels! There were a lot of people, a tent set up, and long tables where the oysters were poured onto.

The roaster was custom made (see the high heat jets underneath?). Only took a few minutes for each bag full.

Then we ate like pigs. There was a huge pot of chili staying hot on a portable Coleman Road Trip grill. And cornbread, and other stuff (crab dip!) Lots of booze. A fire pit and other patio heaters.

Was a fun time into the night.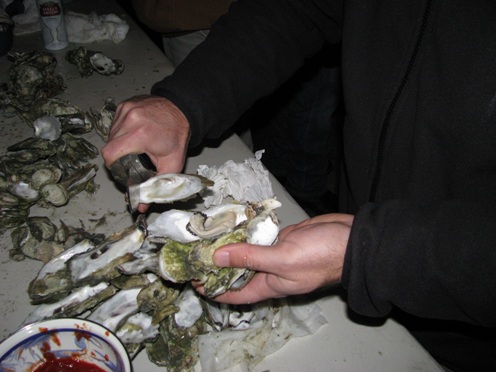 ******
This is amusing...and foul-mouthed...but mostly amusing. Well, maybe a bit of both.
******
Okay, this is just weird. It would never occur to me to put fish in a slow-cooker. First of all, I just assumed that it would break apart into nothing after four hours! Second of all, I don't have a slow-cooker, so it's not going to happen in my kitchen anyway.
But plenty of people swear by them, and if I weren't comfortable cooking slow in a Dutch oven I would certainly consider getting one.
Slow Cooker Catfish Stew seems like a pretty standard stew recipe. I would use this with pork and not change a thing. Is there anything special about catfish that makes it a good choice for low and slow and long?

******
Remember that technique for caramelizing onions in last week's Food Thread? Yeah, it was dumb. I knew it was probably going to be stupid before I tried it, but I had to see it through. Maybe, just maybe it was some brilliant technique that only a few French grandmothers knew, and I was going to be let in on the secret. Except...there is no secret. The recipe called for putting a piece of aluminum foil on top of the onions, but what the hell is that going to do? The basic recipe is:


Evaporate some of the moisture from the onions (slowly, so they don't burn) while possibly converting some of the carbohydrates and complex sugars into simple sugars (that's a guess).

On higher heat caramelize them until they are a deep golden brown.
Huh...no room for tricks there! They add a bit of sugar to the second step, but that's well known.
Anyway, I only had a pint of beef stock, so I mixed it with a pint of chicken stock and it was excellent!
Pro tip: There is no such thing as too much Gruyere on top.

******
Lidia Bastianich's
Capellini Capricciosi (Spicy Capellini)
looks pretty damned good, and pretty damned easy. And to make it even easier you could leave out the tomato and just increase all the other ingredients. That way you don't stain your white shirt by splashing tomato sauce all over yourself.
That must be a corollary of Murphy's Law, that the odds of splashing tomato sauce are proportional to the shade of the shirt the cook is wearing.

******
I have no idea where this is from, but I will bet I saved it because I like the tomato sauce; nice and fresh and not overcooked the way too many sauces are nowadays.
Spaghetti With Roasted Eggplant And Grape Tomatoes
Tomato Sauce:
1/4 cup extra-virgin olive oil
1 onion, chopped
5 garlic cloves, minced
2 cans (28-ounce) whole, peeled tomatoes, drained
Handful fresh basil leaves, torn
Salt and freshly ground black pepper
2 small (3/4 pound) eggplants, stemmed but not peeled
2 to 3 garlic cloves, chopped
Salt and freshly ground black pepper
Extra-virgin olive oil
1 pound dried spaghetti
1 pint cherry tomatoes, stemmed
1/2 cup freshly grated Pecorino, plus extra for serving
Handful fresh basil leaves, torn
First, make the tomato sauce: Heat the oil in a large saucepan over medium heat. Add the onion and garlic and cook, stirring, for 7 to 10 minutes until the vegetables are soft but not browned. Add the tomatoes, crushing them in your hand to break them up. Add the basil and season with salt and pepper. Cook until the sauce is reduced and thickened, about 10 minutes.
Preheat the oven to 425 degrees F.
Cut the eggplants crosswise into 1/2-inch-thick rounds and put them in a large bowl. Add the garlic, salt, and pepper, and drizzle generously with olive oil. Toss to coat, drizzling in more oil if you needed. Arrange the slices in a single layer on a baking sheet and roast 20 minutes until eggplants are very tender.
While the eggplants are roasting, bring a large pot of salted water to a boil for the pasta. About 5 minutes before the eggplants are done, drop the pasta into the boiling water and cook until al dente, 6 to 8 minutes. Drain. Bring the tomato sauce to a simmer and pour it into a large pasta bowl. Add the drained spaghetti and stir to coat with the sauce. Fold in the eggplants and the cherry tomatoes. Add the cheese and basil, and another drizzle of oil, and toss gently. Serve immediately and pass extra cheese at the table.

******
Food and cooking tips, dark chocolate caramels, Perfectly marbled prime NY strips, Yorkshire pudding and other goodies with impressive girth:
cbd dot aoshq at gmail dot com
&topic=world_news">

posted by CBD at
04:00 PM
|
Access Comments