« Saturday Gardening Thread: Useful plants [KT]
|
Main
|
Mini Chess Thread 01-13-2018 »
January 13, 2018
Ace of Spades Pet Thread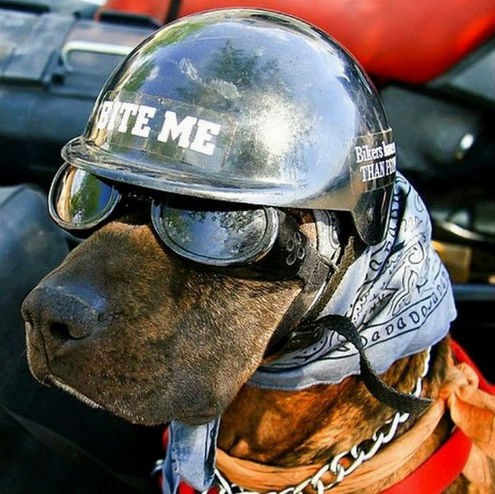 (Doggeh Moron)
*****
*****
*****
A Little of This. A Little of That.

Talk about a low down piece of scum. Man sells puppy for meth.

Deer. Not exactly a pet, but we do cover the world of animals. Daring rescue of a deer.
Dog put to work. Mush! Mush!!
More dogs put to work. Watch out where the Huskies go, don't you eat that yellow snow.
*****
Meet The PetMorons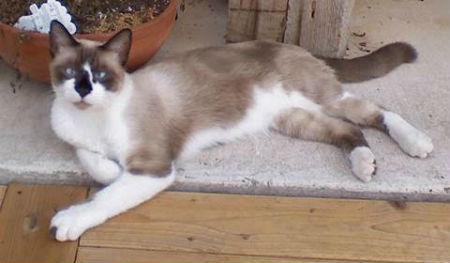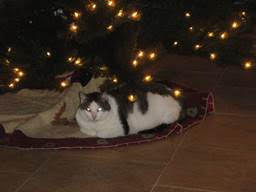 We must look like soft marks because we have, not one, but two rescue kittehs. First was a Siamese mix, named sam.i.am, a/k/a "Dirt" because he likes to roll around in the dirt. Dirt was about 18 months old when someone dumped him out in the country (because everyone knows that country folk adopt any and all pets dumped out their way, amirite?). That was actually our lucky day! Dirt is what my cat friend terms a "great cat" because he has a good disposition and generally does not use his claws or teeth on the furniture or on the humans who cater to his every wish and demand. Dirt is an outdoor cat and genuinely prefers to be outdoors, except on chilly mornings when a warm bed is available.

Gizmo's story is wildly different, as he was feral when he decided to crawl up in the skid plate of my truck to hitch a ride to his new home at the tender age of 12 weeks. Dirt discovered a presence in the engine compartment and, once released, the kitten ran to the woodpile. After a few days, Gizmo decided to become friendly with the food-giver, and even allowed a little lap time in return. Gizmo has matured but he's retained that little kitten face. Dirt adopted Gizmo and showed him the ropes of living as a country cat. But Gizmo decided that being a full-time outdoor cat was a crazy idea, and decided to be a house cat instead. He also adopted the Scarlett O'Hara policy of never going hungry again (obviously!). Gizmo decided that the Christmas tree was erected as a tribute to him, so he uses it as his special hideaway and doesn't try to climb it or grab at the ornaments. Guests to our home never see Gizmo since he runs and hides at the slightest indication of their arrival.

Thanks for all your work on the Pet Morons column. Love it and I never miss it! And thanks to Ace for allowing such a wonderful opportunity to bond with fellow Morons over our love for pets!
No need to thank me, it is you folks who keep this thread going.
*****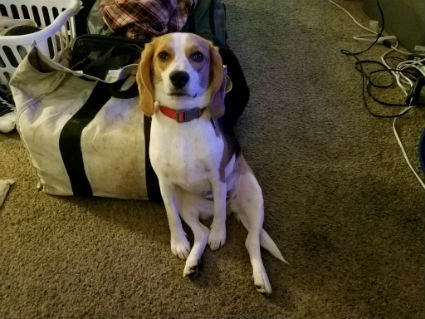 Family members love the pet thread and asked that Gracie be included. She is variously also known as Hell Hound and Devil Dog. She has taste-tested the entire apartment. -Lurker
Hard to believe that cute puppeh would have taste tested the entire apartment. Cute.
*****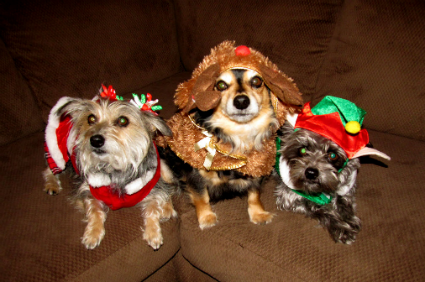 Penny Leonard and Jawa, our beloved rescues that have rescued us as well.

Cheers,

Svitelli
That must have been a challenge in getting them all dressed up for the Horde. Thanks sending this in.
*****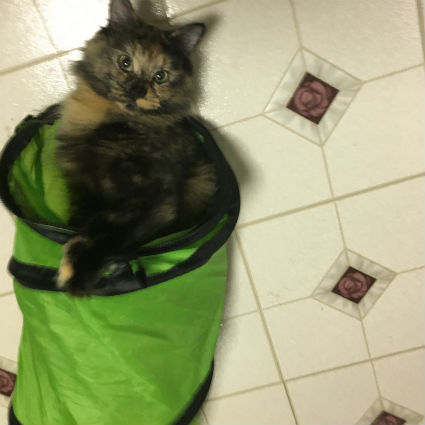 Lexi just woke me up for breakfast.-Carol
Thanks for sharing Carol. Hopefully Lexi is catching on with your sleep routine.
*****
This my daughter-in-law's Bull Mastiff, Chyna. Conor has been a great help and reminds me of a mosquito, constantly buzzing around his girl friend Chyna, secure in the knowledge that he is the Alpha dog. I took this picture when Conor was discussing the "Canine Philosophy of Sharing Your Bones" with Chyna. The gratuitous snarling and growling must be heard to be believed, although no dogs were injured in the taking of this picture.

Hrothgar
It is so good to hear from you Hrothgar. Good to see Conor is in training mode.
*****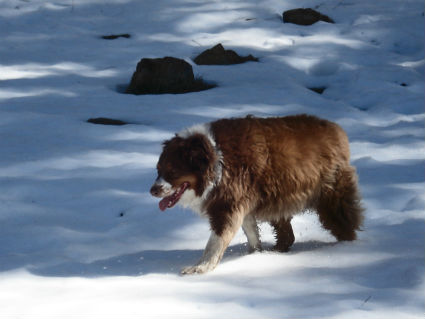 Wingler was our Red Tri Australian Shepherd. She loved camping and hiking with us, swimming at Dog Beach, and playing at the park. We don't get snow in San Diego, so I drove her out to Mount Laguna to see snow for the first time. It was one of the best days of either of our lives. She passed in July of 2016, but we had 14 wonderful years with her. I still miss her every day. Thanks for letting me share- Robert the Bruce
She looks pooped after being in the snow all day. Thanks for sharing Robert the Bruce. We appreciate it.
*****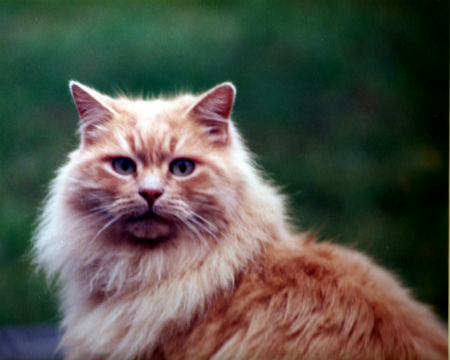 Hi there. Permanent hermit-lurker and decade+ long fan of the HQ (just got my copy of the Cookbook!). This is my big guy Bubba. He's a Maine Coon; big, autistic (he is oblivious when I make eye contact with him), lazy as hell, chirpy and chatty, and a fur explosion. I got him from a rescue shelter 2 years ago I think he's about 4 years old. He knows how to chill and knows he runs the joint. Thanks Morons! -Lurker Art
A terribly abused looking critter if you ask the Horde. Thanks for the submission Lurker Art.
*****

As usual you folks don't disappoint. What a great group of PetMorons. Thanks for the submissions. If you want to submit something for consideration you can reach us at petmorons at gmail dot com.
Thanks again and have a great week!!!

Top pic via Suburban Men

posted by Misanthropic Humanitarian at
03:00 PM
|
Access Comments