« EMT 1/7/18
|
Main
|
Mid-Day Open Thread And Vitriol Throwing »
January 07, 2018
Sunday Morning Book Thread: 01/07/2018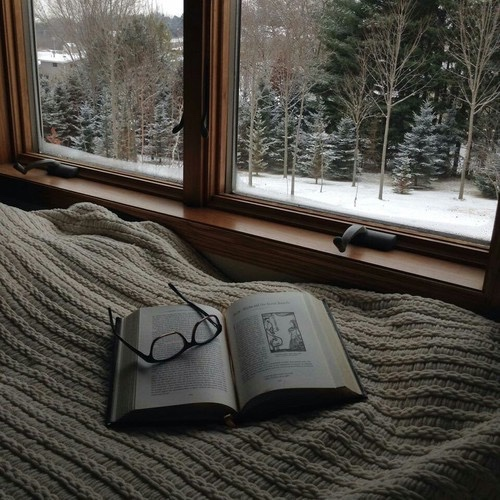 This is the weekend to snuggle up with a good book, a warm blanket, a glass of something warming, and contemplate nature from the inside (hopefully not of a tauntaun)!
And if you haven't read Jack London's wonderful short story, "To Build A Fire," you should. Immediately! Here's the full text, and it's even in a nice readable font. So no excuses.

Day had broken cold and grey, exceedingly cold and grey, when the man turned aside from the main Yukon trail and climbed the high earth-bank, where a dim and little-traveled trail led eastward through the fat spruce timberland. It was a steep bank, and he paused for breath at the top, excusing the act to himself by looking at his watch. It was nine o'clock. There was no sun nor hint of sun, though there was not a cloud in the sky. It was a clear day, and yet there seemed an intangible pall over the face of things, a subtle gloom that made the day dark, and that was due to the absence of sun. This fact did not worry the man. He was used to the lack of sun. It had been days since he had seen the sun, and he knew that a few more days must pass before that cheerful orb, due south, would just peep above the sky-line and dip immediately from view.
In my youth I loved Jack London, and discovered during college that he had bought land just an hour or so away from school, and had built a huge home he called -- of course -- Wolf House, now part of Jack London State Park. It burned down just before it was completed, and he died soon after...too young I think. But, much of his writing is flavored by an insane mix of socialism and social Darwinism, and some of it is simply unreadable.
Yet...his short stories are wonderful, and some of his long form work is a delight, especially for the YA readers in the house. "White Fang" and "The Call Of The Wild" are great fun; they certainly introduced me to a strange new world. "The Sea Wolf" may be his best book, although it too is clouded by London's odd view of the world. Regardless, it is good reading.
******
******
From commenter "Mary Poppins' Practically Perfect Piercing," a request:
I was hoping you could mention my new short story, Thirteen Moons, on the Sunday book thread: Thirteen Moons: A Supernatural Story Starring Theda Bara

It takes place in Hollywood in 1935. Theda Bara was once the most famous silent star in the world, but now she's just an ordinary housewife. But because of her past, she's asked to track down a copy of Thirteen Moons, a silent movie that no one has seen for almost 20 years. It turns out that finding the movie is the easy part - coming back alive will be the problem.

Thanks,
MP4
Sounds like fun! I'm a sucker for short stories....
******
And another from the mailbag, this one from commenter...uh...Mark, because that's the first name of the author!
I'd like to pitch my latest to the morons. "Walden Shock" is a 21st version of "Walden Two", minus the collectivism, adding some Calvin Coolidge, with strong hints of the foundational strength of the United States Constitution. Stepping up to the bridge to the future that the Singularity presents, it is an optimistic and family oriented story.

When you have cowboys, guns, and robots in West Texas, it don't get no better!

From the blurb:

The Singularity will bring about the End of History. Everything we know or discover about the universe will be impacted. People are seriously wondering if human society will be the beneficiary.

Every culture in the modern world has produced dreamers that perceive a way to a Utopian society. Almost without exception, they preach a world devoid of love, freedom or initiative.

Walden Shock illustrates a community stepping into the future of artificial intelligence where human ingenuity and family cohesion are the cornerstones of society. You will be stimulated and entertained as the singularity arrives in West Texas with guns, cowboys and robots.

Thanks,
mark
******
One of the many reasons I have pretty much stopped reading the NY Times book reviews (and many others) is that seemingly every single one in recent memory has had a political component to it. Yes, I get it, politics is downstream of culture, but every once and a while I would like to read some literary criticism that isn't chock full of the writer's political philosophy, and chock full of criticism of my political philosophy.
Obviously there is a certain pomposity involved with being a literary critic, but more and more they simply validate the truism that "Those who can write, write. Those who can't write, write reviews."
What I want is an honest evaluation and personal opinion of the quality of the writing, the plausibility of the plot, the quality of the dialogue, and an overall impression of the book.
What I don't want is for the reviewer to insert his politics into the review. If I want political commentary, I will look for it. But I sure as shit don't want to hear about the reviewer's opinion of conservative political philosophy and get snide comments about Donald Trump along with an evaluation of the dialogue. Do that, and I will studiously ignore you.
&topic=world_news">

posted by CBD at
09:00 AM
|
Access Comments