« Saturday Evening Movie Thread 12-30-2017 [Hosted By: TheJamesMadison]
|
Main
|
EMT 12/31/17 - Happy AoS Lifestyle Day! »
December 30, 2017
Saturday Overnight Open Thread (12/30/17)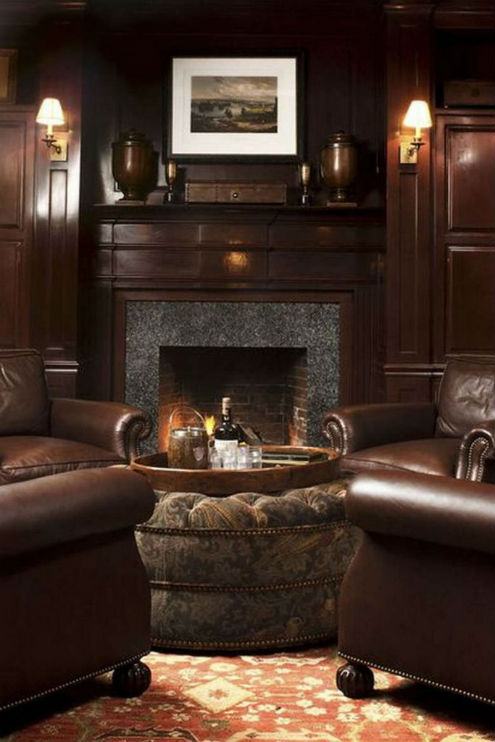 (Yes, this is The ONT)
*****
Quotes of The Day
Quote I

"If the war against drugs is lost, then so are the wars against theft, speeding, incest, fraud, rape, murder, arson, and illegal parking. Few, if any, such wars are winnable. So let us all do anything we choose." Theodore Dalrymple
Quote II

"Jeff Sessions and the Trump administration are still trying to fight a 1980s drug war that is socially unjust, economically backward and against the will of the American people," Sen. Ron Wyden (D-OR)
*****
I'm dreaming of a white blue New Year's. Blue snow in Russia.
*****
Did you ever use this for a pickup line? Hey Baby, do you want to get closer to God? Someone did a long, long time ago.

It was sex all the time at this 1800s commune, with anyone you wanted and none of the guilt
Life at the Oneida Colony was kind of a like a key party, but no one had cars and everyone was doin' it for Jesus.

Do angels have sex? John Humphrey Noyes thought so. Related question: If they do the nasty in heaven, is it really so nasty after all? Noyes reasoned not. These were the basic philosophies that animated the creation of Noyes's Oneida Community, a 19th century colony of so-called Bible Communists who believed that free love and ecstatic sex would bring them closer to God.
The story of John Humphrey Noyes — as told by Ellen Wayland-Smith, a descendant of Oneida's original inhabitants, in her 2016 book, Oneida: From Free Love Utopia to the Well-Set Table, about the colony — is one of a man desperate to reconcile his competing corporeal and celestial desires.
*****
Are you playing Power Ball or some other lottery tonight? If you're a winner do you plan on purchasing a tropical island. You better stay away from this place.
*****
Have you made a New Year's Resolution? Have you decided to enter the Porn Industry? Before you make that leap, did you do your homework?

"I don't even know how other girls do it," Eva Lovia said. By any standard, Lovia's career in the porn industry is a success. Both the Adult Video News (AVN) Awards and XBIZ Awards showered her with nominations for 2018, notably Female Performer of the Year. She commands a rate "significantly higher than the majority of the industry."

Yet the 28-year-old lives in Wilmington, North Carolina, and no longer travels to L.A. for two weeks each month when she'd "shoot every single day, sometimes twice a day." She has decided it makes more sense to "do everything on my own."
*****

To the Left money is either grown on trees. Or farted out by unicorns. How not to save a shopping mall.

It comes as no surprise that when it comes to advice on running a business, The New York Times is the last place one should turn to. The NYT ran a story about an economically failing mall in upstate New York that is turning itself around with a lot of feel-good strategies that won't help the bottom line:

When the Payless ShoeSource at the St. Lawrence Center closed this spring ... Erica Leonard, the mall's manager ... turned over vacant storefronts to local merchants who sell bourbon maple syrup and wood sculptures carved with chain saws.
*****

Do you give a rat's ass what they wear? My Give-A-F*ck Meter is broke.

BREAKING NEWS – MUST CREDIT MASHABLE! Dwayne Johnson confirms men will also wear black to the Golden Globes in protest of sexual misconduct.

Gentlemen, you can't wear black tuxedos here – this is an awards show!

Update: "The idea, I assume, is that they'll be wearing black shirts with their tuxes this year instead of white ones,"
*****

The Top 50 Conservative web sites.
I threw up in my mouth a little bit when I saw #27. Well they are part of the Salon25.
I suspect that the "men" on Salon's Hot 25 of conservatives dig this chick.

On Friday, HuffPost editor Emily McCombs issued a tweet containing her New Year's resolutions. One of those resolutions simply read: "Band together to kill all men."

"New Year's resolutions: 1. Cultivate female friendships 2. Band together to kill all men," she tweeted.
How sad to have that much hate in one's heart.
*****

President Donald J. Trump, love him, hate him, indifferent to him. He shows more class than the JEF ever did when it comes to our men and women in uniform.

President Donald Trump and his family have been down at the "Winter White House" — his Mar-a-Lago resort in Florida — for a relaxing break over the Christmas and New Year holidays.

Trump has made it a point most days this week to express his gratitude toward the men and women who serve this nation, providing a full Christmas feast for those who protect him, meeting with the local police department as well as paying a visit to a local fire rescue station to thank firefighters and paramedics for the "fantastic job" they do.
*****
NHS, The UK's wonderful health care system counting on drunks to help them out.

The UK's taxpayer-funded National Health Service is considering setting up more mobile stations in cities to take care of seriously drunk people—an effort to ease the pressure on its jam-packed hospital ER departments.

The cash-strapped NHS will monitor the success of its mobile drunk tanks over the New Year weekend as part of a national study to be released early in 2018, before deciding whether or not to expand them.

"NHS doesn't stand for National Hangover Service," NHS CEO Simon Stevens said. He had stern words for binge drinkers: "It is frankly selfish when ambulance paramedics and A&E nurses have to be diverted to looking after revellers who have overindulged and who just need somewhere to safely sleep it off."
*****
The ONT Musical Interlude
December 30, 1999, George Harrison and his wife Olivia were attacked when an intruder broke into their home in Henley-on-Thames, Oxfordshire. Olivia beat off the attacker with a poker and heavy lamp. Harrison who was stabbed in the chest was admitted to hospital and treated for a collapsed lung and various minor stab wounds. His wife, Olivia, was treated for cuts and bruises she had suffered in the struggle with the intruder. Police later arrested Michael Abram from Liverpool who had nursed an irrational obsession with The Beatles. via thisdayinmusic.com
***
December 30, 1946, Born on this day, Clive Bunker, drummer, Jethro Tull, (1969 UK No.3 & US No.11 single 'Living In The Past'). via thisdayinmusic.com
***
December 30, 1969, Peter Tork quit The Monkees buying himself out of his contract which left him broke. He went on to form a group called Release and played banjo on George Harrison's soundtrack to the film Wonderwall. via thisdayinmusic.com.


December 30, 1942, Born on this day, Mike Nesmith, vocals, guitar, The Monkees (1967 UK & US No.1 single 'I'm A Believer' plus 10 US & 8 UK Top 40 singles). He wrote 'Different Drum' (sung by Linda Ronstadt with the Stone Poneys), and was the executive producer of the cult film Repo Man (1984). via thisdayinmusic.com

December 30, 1945, Born on this day, Davy Jones, vocals, guitar, The Monkees (1967 UK & US No.1 single 'I'm A Believer' plus 10 US & 8 UK Top 40 singles). Actor in 1986 London cast of 'Godspell'. Jones died on 29 February 2012 of a severe heart attack due to atherosclerosis. via thisdayinmusic.com
*****

The next step in online dating, DNA based matches.

Online dating is largely a succession of misery and humiliation, which is why so many of us are willing to pay an algorithm to find us the perfect match. The newest entré to the arena of apps that promise to help you find love: Pheramor, a Houston-based startup that claims to use DNA as the basis for its matchmaking algorithm. Simply swab your cheek with a Q-tip and—voila!—Pheramor's app will populate with a cadre of genetically optimized potential Mr. or Mrs. Rights.
*****
Conflict resolution = good. Conflict resolution by calling the Cops to settle a criminal activity = Genius Award Winner.

DECEMBER 27--A man and a woman are facing prostitution charges after they sought law enforcement's assistance in settling a dispute over a $150 payment for a sexual encounter, according to South Carolina police.

As detailed in an incident report, a state trooper was flagged down at 1 AM Thursday by Kimberly Moore, 30, and Robert Sartor Jr., 65. Moore, who was standing with Sartor outside a Marathon gas station, told the trooper that Sartor "owed her money for prostitution."

Moore later told Union County Sheriff's Office deputies that she had earlier contacted Sartor and "asked him to come get her and get a hotel room." Moore said that Sartor offered her $150, and that she "knew what the money was for.
*****
He could have turned his back and walked away. But he didn't and he is Tonight's Feel Good Story of The Day.

Police in Columbia, South Carolina praised a homeless hero last week who came to the aid of a female police officer being overpowered by an assailant during an arrest.

In a gas station parking lot, she was knocked to the ground several times by the much larger man who had attacked the store clerk while wielding a knife.
*****
Tonight's ONT has been brought to you by God Awful Christmas Illumination.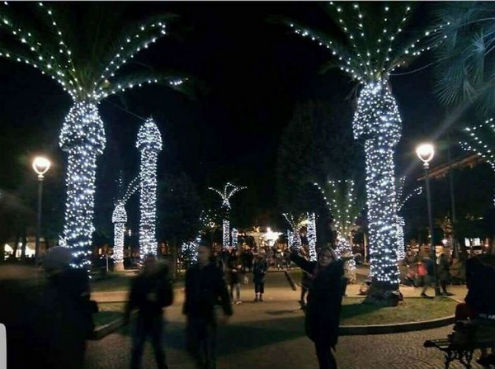 AND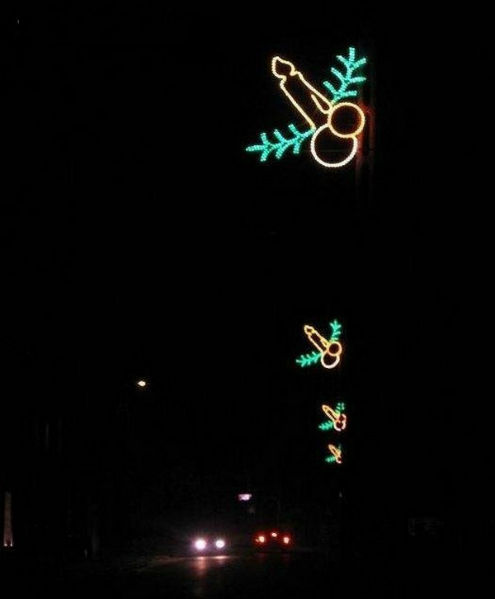 Notice: Posted with permission by AceCorp, LLC. Geography lessons include but are not limited to: Tipping is not a city in China and Denial is not a river in Egypt.

posted by Misanthropic Humanitarian at
10:00 PM
|
Access Comments