« A Mini Chess Thread
|
Main
|
Saturday Overnight Open Thread (12/23/17) There Still Is Time Edition »
December 23, 2017
Saturday Evening Movie Thread 12-23-2017 [Hosted By: TheJamesMadison]
Merry Christmas!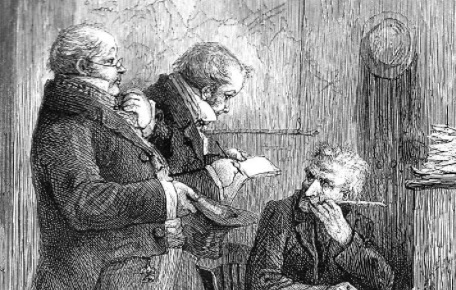 Christmas is in two days, so what better time to talk about some Christmas movies? I'd write the "
Die Hard
is the greatest Christmas movie ever" post now, but I think it's a bit of a cliché at this point (troll level: sad and predictable). So let's do something wholly original and talk about
A Christmas Carol
instead!
Which One?
It's true, there are many, and I haven't seen them all. I have no real intention to either. However, here's my personal favorite:
I have a couple of reasons for loving this one that won Best Animated Short at the 1971 Oscars. The first is the director of the short, Richard Williams. He's one of the best animators you might have never heard of (assuming you've heard of any beyond Walt Disney, they're not exactly a bunch of celebrities). Williams was the animation director on Who Framed Roger Rabbit? and got close to finishing his magnum opus The Cobbler and the Thief (which is a post on its own).
I love hand drawn animation in general, and the animation style of this short, which evokes the illustrations in early editions of Dickens' novels, I find intoxicating. I love to just look at it.
The second reason it's my favorite is because A Christmas Carol is a surprisingly small story, and I think it's effectively told in 25 minutes. I don't begrudge other editions taking longer to tell more of the story, but I think Williams got to the point very well. He also includes the often overlooked sequence with the Ghost of Christmas present where the spirit takes Scrooge to other small celebrations, especially the one in the lighthouse.

There Are So Many Others
The ones I'm most familiar with are the computer generated film by Robert Zemeckis and The Muppet's Christmas Carol. I've seen others (like the one from 1951 staring Alastair Sim as Scrooge and Scrooged with Bill Murray), but it's those two that I seem to see repeatedly. And there's a good reason for that: I own both.
The Robert Zemeckis film is more of a mixed bag than it should be. Jim Carrey is a pretty good Scrooge (although he's definitely weird as the Ghost of Christmas Past), and Zemeckis brings in some great visual ideas. But then, in sequence after sequence, he takes those visual ideas way too far and for way too long. I love Zemeckis as a filmmaker (including his rendition of Beowulf in particular), but when every visually stunning sequence needed to be cut in about half, there's a problem with the film. Look at the below sequence:
It's starts out with that great visual of the ominous shadow appearing at the behest of the Ghost of Christmas Yet to Come, popping out of the wall and becoming more threatening, and then quickly closing in on Scrooge. And then it just becomes ridiculous and silly, losing any semblance of tension or danger.
The Muppet's Christmas Carol on the other hand, is much easier to enjoy. My only problem with it is that Dolley insists on watching it twice a year, so I've seen it way too much to the point that I simply don't want to watch it.
However, the movie keeps a lot of the original text and Scrooge's lines coming out of Michael Caine's mouth is a treat. He's a very good Scrooge. The music's a mixed bag (I find "One More Sleep 'til Christmas" intolerable, but "It Feels Like Christmas" is jaunty and fun), and they cut the most important song from the final edit ("When Love is Gone") because it's too sad. "We can't have a movie about a man revisiting his failings in life be sad!" I imagine a studio executive screaming. On its own, it's actually a pretty good rendition of the tale, with enough little asides by Rizzo and Gonzo to play well but not enough to overdo the story (dropping them from the third act was a good idea).

What's Yours?
So, what's your favorite rendition of A Christmas Carol?

Movies of Today
Opening in Theaters:
Jumanji: Welcome to the Jungle
The Greatest Showman
Pitch Perfect 3
Downsizing
Next in my Netflix Queue:
Army of Crime
Movies I Saw This Week:
The Lost World: Jurassic Park (Netflix Rating 3/5 | Quality Rating 2.5/4) [Rewatch] Poster blurb: "Pretty solid repeat of the original's scares until the out of place final 20 minutes." [Personal Collection]
Star Wars: The Force Awakens (Netflix Rating 4/5 | Quality Rating 3/4) [Rewatch] "Charming entertainment with a sleek and enjoyable veneer." [Personal Collection]
Star Trek: Beyond (Netflix Rating 5/5 | Quality Rating 3.5/4) [Rewatch] "The best of the three reboot movies. Sets out to entertain and little else, manages it.." [Personal Collection]

Contact
Email any suggestions or questions to thejamesmadison.aos at symbol gmail dot com.
I've also archived all the old posts here, by request. I'll add new posts a week after they originally post at the HQ.

posted by OregonMuse at
07:24 PM
|
Access Comments