« Saturday Gardening Thread: Resisting Winter [KT]
|
Main
|
Saturday Evening Movie Thread 12-16-2017 [Hosted By: TheJamesMadison] »
December 16, 2017
Ace of Spades Pet Thread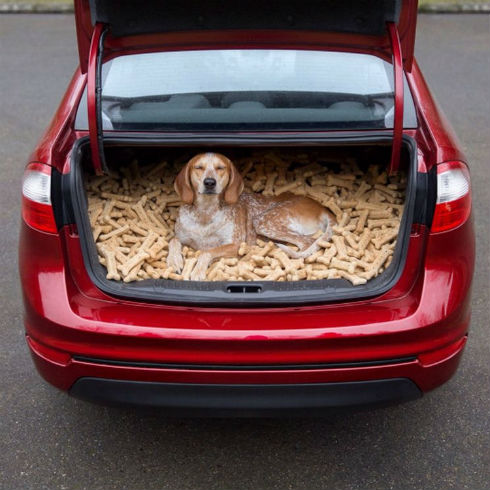 (Livin' the dream. Woof!)
*****

Thank you for stopping by and checking out the almost world famous Ace of Spades Pet Thread. Where animals are the center of our attention. Let Fido or Fluffy or both curl up on the couch with you and relax for a while.
*****

From the sidebar earlier this week.
Irrepressible commenter Toni (aka Ritabootoo) passed away on Friday, December 8, 2017. Here is a bit more info. RIP. [Update] A memorial service for Ritabootoo, who passed from cancer last week, will be held this Thursday, December 14th at the Wooster Funeral Home in Clementon, New Jersey. 6:30 - 7:30 is visitation followed by a service led by Father Adam at 7:30pm.

An 'ette and friend of Ritabootoo sent me this email and I thought I would share it with the Pet Thread gang.
Ritabootoo's memorial service went beautifully, with 150 mourners showing up, straining the capacity of the funeral home. People were lined up to get in. Father Adam led a touching, soulful and dignified service. Afterward, many repaired to a diner to comfort Toni's husband Bob, and share inspirational stories of Toni's life. The love and care shown to Toni and her family on behalf of AoSHQ and faithful readers has given comfort and solace to everyone who loved her.

If you would like to post the above to the pet thread or anywhere else, please feel free. (Or not.) OI can also go in and post in the comments.
All my best,
Anonymous-9
*****
A Little of This. A Little of That.
The Ace of Spades Pet Thread strives to stay away from politics. I'm not sure if this is political or just f*cking stupid. Vegan diets for dogs at LA animal shelters.

Wow, this dog has a weird appetite.

OK, I'll break the political rule, just this once. Smart dog.
*****
Meet The PetMorons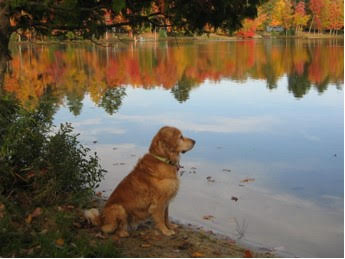 Hi Mis Hum – Grammie here This is Annie, the best Golden Retriever who ever lived. I took this picture up at our cabin in the U.P. of Michigan. Annie was a dedicated swimmer. It was hard to fish while she was around, because she always followed the boat. Unlike these modern-day posers, Annie really was a certified therapy dog, and worked four days a week in my daughter's hospital. She learned how to ride the hospital elevators and get off on the right floor, all on her own. She did not care for the 3rd floor Psych ward. She died one week before her 15th birthday. When God made dogs, I'm convinced He had Annie in mind. -Grammiewinger
Just a beautiful photo in so many ways Grammie. Psych ward? I take it she didn't read the ONT on a regular basis. Thank you for the submission.
***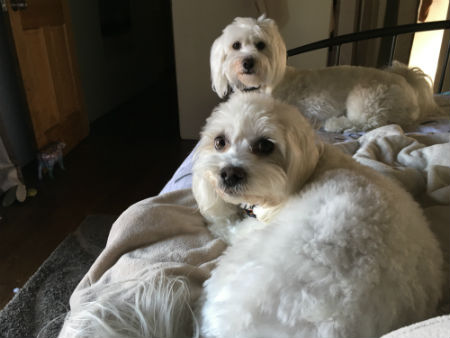 Hi, Just a lurker for many years but wanted to share my doggehs. These are Coton de Tulears. The one in the foreground is Romeo and in the back is Ollie, although we misnamed him, should be named Turbo or Whirling Dervish! Both are great dogs and hypoallergenic as they have hair instead of fur. After grooming they are like giant unbelievably soft cotton balls. They rule the place and they know it! Thanks for the best thread of the week. Mike
Well Lurker Mike thank you for the kind words. We appreciate your support and the photo of your pups. They look pretty angelic at the moment.
***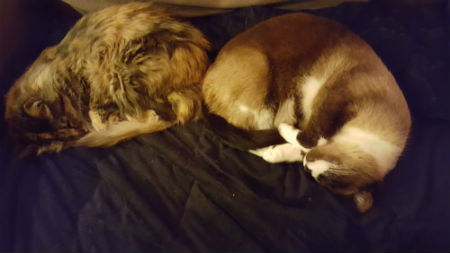 Pooka (on left) is an opinionated, bossy 17 year old torbie who is without a doubt, The Boss of the World. She has allowed Subedai (on right) (and Subie's not pictured brother, Jochi) to join our rag tag family. Really, they are the bosses of our world. Wouldn't have it any other way. BTW, Jochi and Subedai were generals in Gengis Khan' s army. Jochi was also his son. My husband is the brainiac. I am just an old wino lurkerette. (brainiac)
I'm just guessing here but they certainly appear to be mistreated. Blankets and furniture for pets? Who has ever heard of anything like that? In all seriousness, thanks for sharing. Your world seems to be a good one.
***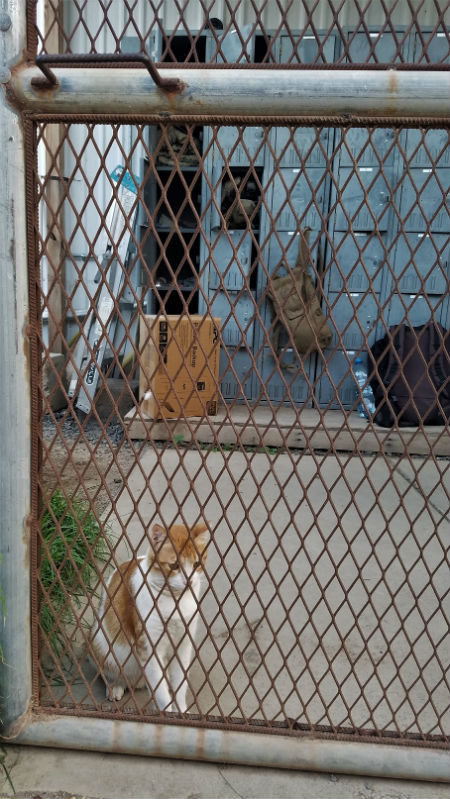 *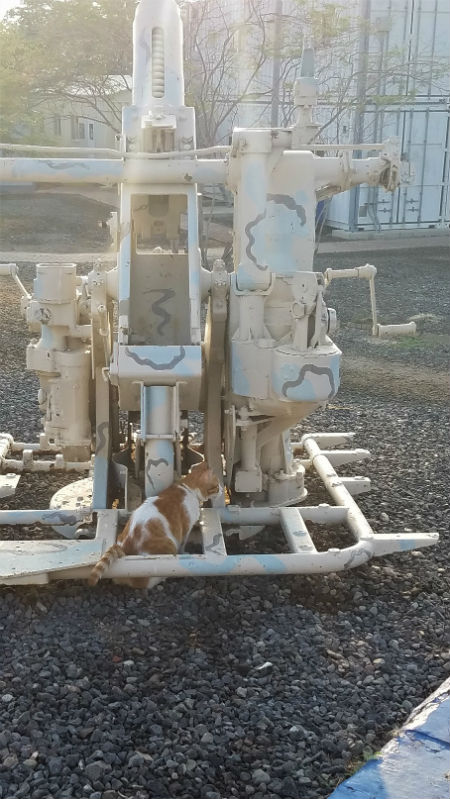 Hello, long-time lurker, rare commenter – don't know the policy on "office pets," but since I don't have one of my own, I figured why not. This is Sammy, the (semi)feral cat who owned the compound I worked at whilst deployed to Camp Lemonnier, Djibouti (USAFRICOM). She had all her shots and was basically allowed the run of the place to keep the pests down. She eventually got used enough to people to sit quietly and let her picture get taken. And everyone and a while, she'd roam outside her territory – hence that pic of her with the AA gun, she was stalking some pigeons when I found her that morning (the pigeons got away). Don't know how she is now, but I hope she's on friendly enough terms with the humans in the compound to sit quietly for photos still! Regards, "Where's my prezzy?"
It speaks volumes that you do not have a pet of your own yet take photos of this "feral cat" and speak so highly of it. Thanks for sharing. And just remember everyone you don't have to be owned by a pet to send us a photo or 2.
***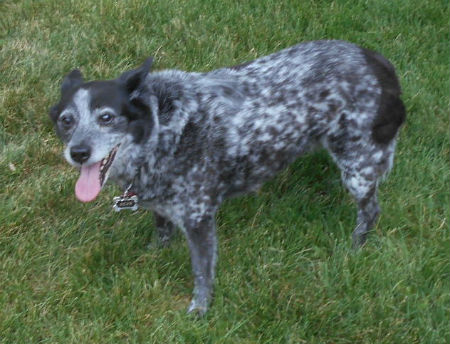 This is GSXR, pronounced Jixer, an Australian cattle dog. She has been on You Tube fetching a beer from the fridge and closing the fridge after. Her favorite trick is when getting petted, to do a front somersault to get the petting to include a tummy rub.

(nic) Billll

Quite the smart doggeh and a very good trainer. I don't think I would want mine to know how to open the refrigerator. Thanks for sharing with us. Feel free to submit the videos with us.
***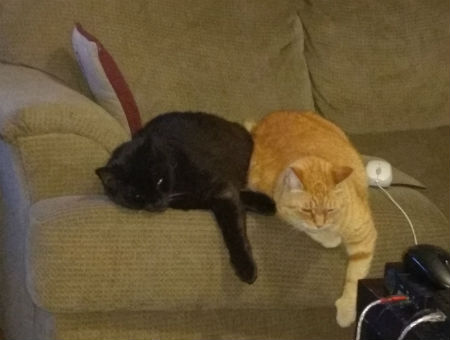 I'm Tigre's owner: the orange tabby cat who's superpower is getting belly rubs. Here is another pic of Tigre, his brother Koushka, and a pet morons story.

A couple of years ago Koushka was at the vet's for about a week. Though sweet,
Koushka is an alpha cat. Lighting reflexes, unconscious grace, killer
instincts but only if provoked. While he was gone, Tigre-the-lummox, who when
he tries to get in the cat version of the Karate Kid's crane position
routinely gets his claws caught in the carpet, was gleeful. "Yay! I'm the
alpha cat now!"

Then Koushka came home. So Tigre, with the personality of a clueless
marshmallow and the strength of cotton candy, decided to fight him. Imagine a
bored gorilla flicking a bug of its shoulder. Yeah, that's a good description
of Koushka deflecting Tigre. Over and over again. For months.

Things calmed down after Tigre pretended to surrender but instead bit Koushka
in the b*lls. And Koushka stopped batting him away and put him in his place
(without bloodshed, good kitty.) Now they're best of buddies again. - Safewrite.
Funny, they don't look like trouble makers. Quite the adventure there with those two.
***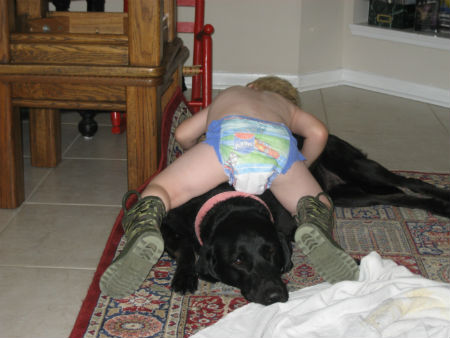 *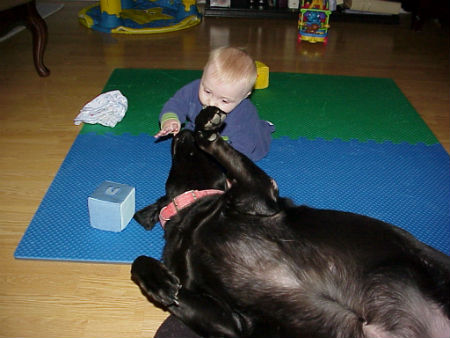 *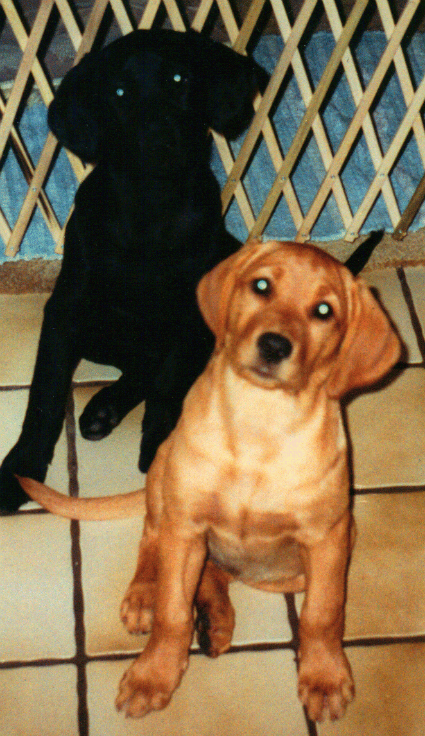 I got Loki and her sister Lacey as give-away dogs. My son was in basic training and asked me to get a black one for him when I went to get the 'orange' one for me. (see baby pictures) By the time he was home, I was already attached to Loki. He named her after the Norse god. Loki was 1/2 Lab, 1/2 Golden. She weighed about 85lbs full grown and had a vicious bark.

The "on dog" photo was taken when Liam was 3 and Loki was 7. Liam is now 12 and Loki has passed on. Loki was not raised around kids. She let Liam do 'whatever' and if she got tired of the pestering she just went in bedroom and got in her bed. One of the best dogs ever. As you can see from the 2nd photo, Loki liked Liam before Liam could walk. My name? "Nana"

Quite the cuties! We really appreciate you sending these in.
*****
You folks never disappoint. What a great bunch of pets!! Thanks so much.
If you have any photos, stories or tips for the Pet Thread please forward them to us at petmorons at gmail dot com.
You folks and your pets have a wonderful week!!!!

posted by Misanthropic Humanitarian at
03:00 PM
|
Access Comments