« Thread before the Gardening Thread: How's that holiday shopping going? [KT]
|
Main
|
Ace of Spades Pet Thread »
December 16, 2017
Saturday Gardening Thread: Resisting Winter [KT]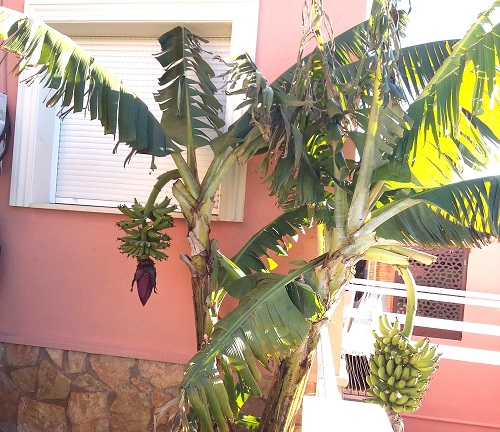 Photos by The Horde
Well, it looks like The Horde includes some folks who are resisting winter. The photo above is from fastfreefall in Valencia, Spain.
Been a while since i last submitted something for garden thread. I dont know if this counts but i have a banana tree growing alongside my house and was surprised to see it with fruit. They actually taste good. This foto shows second batch of bananas. I thought one plant gives fruit then dies but im pretty sure this is same plant givng subsequent batches. Interesting. Now i need to learn how to make banana bread.

Thanks for all you do.

All the best,
Thanks, fastfreefall! Growing banansa in winter. Imagine.
Blake sent in the following;
Night shot:
Our backyard is surrounded by Redwoods and I've taken to putting lights in the trees surrounding the yard during the Christmas season. The lights are visible from a good distance down the street, I might add.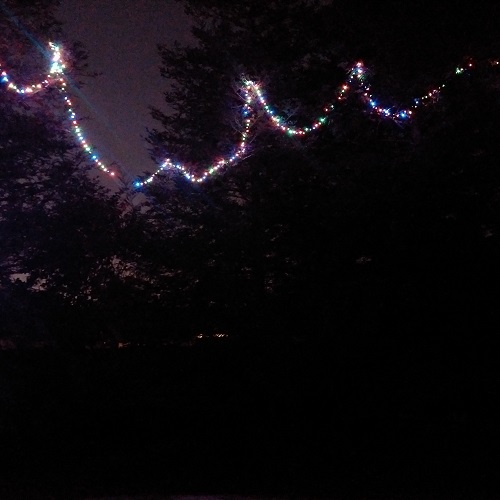 Day shot:
The Palo Verde Desert Museum that I mentioned two or three weeks ago is also pictured. I'll get a better photo to you once it blooms next spring. I might mention, the Desert Museum was maybe 4' tall when I planted it 7 months ago. . . .

I bought the Desert Museum because it is located right in the middle of an expanse of concrete that gets very warm. We were assured the tree would thrive under such conditions. It has and I hope it will provide some much needed shade on that portion of our patio.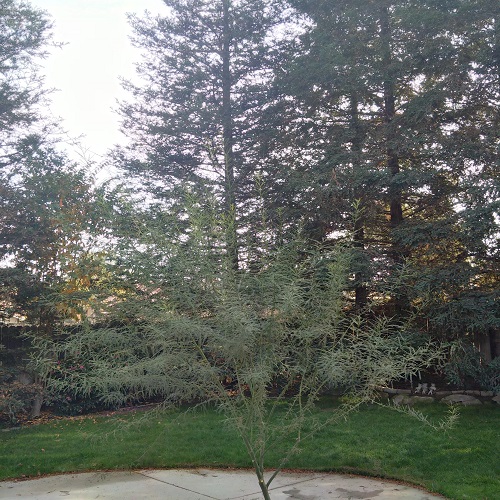 We look forward to more photos from Blake.
Illiniwek sent in some photos, too.
Turnips keep getting bigger, and have survived down to 11 degrees, with several nights in teens and low 20s. I have a lot, but they are bigger on the edges where they were less crowded. Deer have been picking at the tops, they bite the tops out of them later.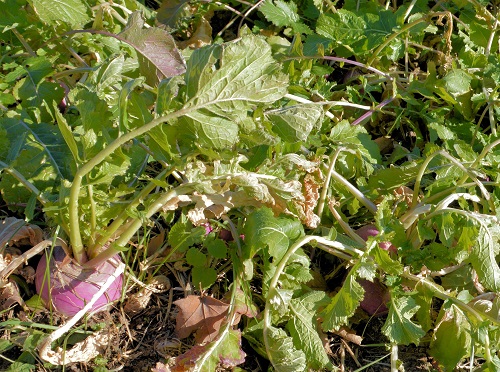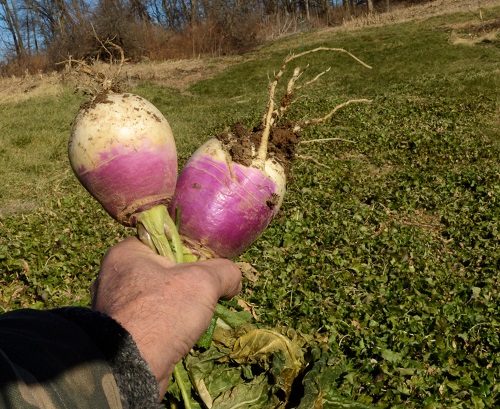 Snow peas are complaining that the weather is getting colder, not warmer. They don't get much sun, and are showing the stress, but held up really well.

I should have put some lettuce in there at the same time. afaik day length is not an issue, but they still need more heat and sun. Amazing they are still alive.

I had the perforated [plastic] on hand. If they had bloomed I might have added a second layer of solid plastic. Need to read up on exactly the point of the perforated ... a little airflow while holding most of the heat and moisture I presume.

I'd get about a ten degree boost in sun, and 5-10 warmer on cold nights. In that range there doesn't seem to be enough pressure difference to push the heat out through the holes.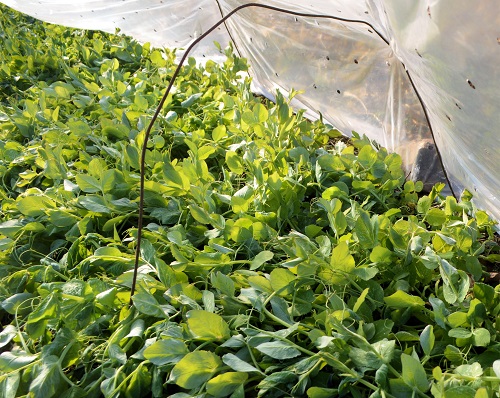 We have some more great photos waiting to keep us hopeful through the winter. We would like to see yours, too, especially if you have something Christmas-themed.
Get your train snowplow ready
Catalog Corner
I got a special notification on Twitter last week:
ok plant nerds settle in for a good one
Great tip. This thread is about the Whole Seed Catalog from Rare Seeds, AKA Baker Creek. One seed catalog that actually costs money. You can order seeds for free online, so the catalog is the attraction here.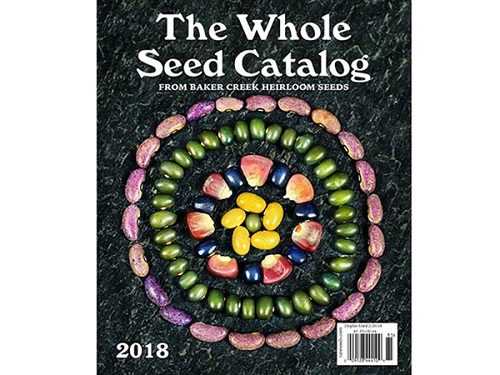 Turn down the lights. Grab a drink. Mute this thread is you do not want breathless, faintly risque livetweeting of a seed catalog for the next hour. . . . .

Let us speak, O internet, of strawberries! The Scarlet, an ancient variety popular in colonial America, praised for its bright red skin and pure white flesh. These "amazing little berries are very different from other strawberries." .
I enjoyed this thread. Reminded me of the old days, reading the catalog produced by JL, Hudson, Seedsman. Of course that was not a community experience. Strictly prose, with a little poetry, black and white. No phone, no internet. But today, even the Seed Curmudgeon has succumbed to the internet, with the occasional photo, to boot. Here's his entry for Phytolacca acinosa:
'HIMALAYAN POKEBERRY'. Long racemes of white flowers followed by long columns of shining black berries. Hardy perennial to 3 - 5 feet, with large leaves up to 10" long which provide autumn color. Himalayas to 9,000 feet, through China and Japan. Zone 6. The young leaves, cooked well in several changes of water are eaten in India. The root is used medicinally, and in ancient China were used by sorcerers. Aged seed germinates in 2 - 6 weeks.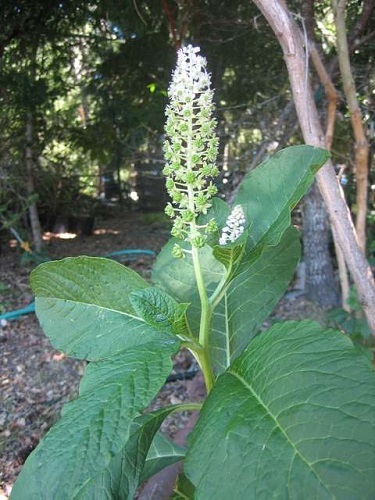 I've been getting more seed catalogs in the mail and seeing more email notifications from catalogs lately. Here's a video on choosing seed catalogs. And a craft website featuring antique catalog gift tags you are free to download.
I'm looking forward to some reading time over the next few weeks. How about you?
Gardens of The Horde (and Friends)
Nothing much new going on in my garden. Here's a photo of one of the geraniums in my cousin's basement in Utah. She's glad for a little indoor gardening time.
Anything going on in your yard or garden?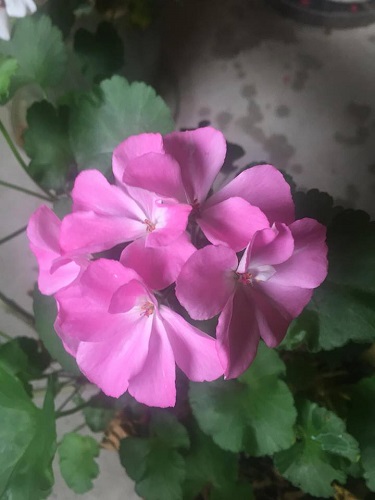 If you would like to send information and/or photos for the Saturday Gardening Thread, the address is:
ktinthegarden
at g mail dot com
Include your nic unless you want to be a lurker.


posted by Open Blogger at
01:03 PM
|
Access Comments