« Ace of Spades Pet Thread
|
Main
|
Saturday Overnight Open Thread (12/16/17) »
December 16, 2017
Saturday Evening Movie Thread 12-16-2017 [Hosted By: TheJamesMadison]
Top Tens, Revisited
So, I had an idea. Bear with me.
Remember months ago when we discussed all of our top tens? Well, I love all of the movies in mine, and I'm sure that you love all of the movies in yours, so why not do a somewhat regular feature on them? It's fun to talk about things one loves.
So, I'm going to irregularly talk about one movie at a time in my own top ten, and I'm going to work chronologically. It's as good a way as any.
So, without further ado…

The Passion of Joan of Arc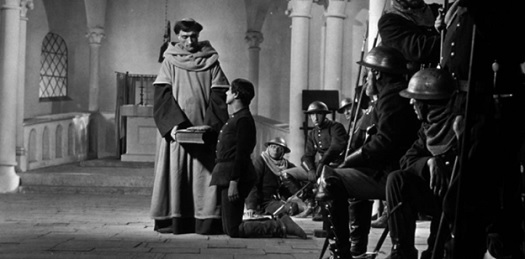 When a medium is only twenty years old, what does it mean to be called the best of that medium? When
The Passion of Joan of Arc
was released, narrative film was really only about 20 years old. It's seems like a paltry selection of films from which to pull the best ever. I suppose the closest corollary in my lifetime would be video games. Mass consumer video games seem to have a birth in the late 70s and early 80s. When a game came out in the late 90s and early 00s that was considered one of the best ever, at the time, how long will that opinion last? Will people who play games in 2080 still consider that game to be one of the greatest ever?
Such questions come to me when thinking about the reception The Passion of Joan of Arc received upon its release. I've read contemporaneous reviews that called it the greatest film ever made. Seems like a small feat when compared to a movie called greatest ever now, with 90 more years of films to deal with.
And yet, I don't think anything has changed about this film's place at the height of cinema.
Film as an Emotional Medium
To really begin, here's a link to the entire movie with the Voices of Light soundtrack. Do yourself a favor, especially if you've never seen this movie, and at least bookmark it to watch at some point.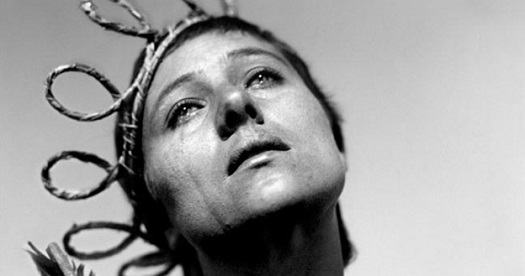 Film is really primarily an emotional experience. Storytelling in general asks people to connect with fictional characters, to understand who they are and why they do what they do. That's particularly strong in film because we actually see people's faces as they go through events.
The use of faces in The Passion of Joan of Arc is particularly important. Whenever people talk about this movie, the one thing that comes up most is the central performance by Renee Folconetti. She was a stage actress who had never worked in film before. She would also never work in film again. Part of that is probably because of what we actually see in the movie. She's obviously emotionally distressed, and there are stories that the direct, Carl Theodore Dreyer, pretty much tortured her to get the performance, and it was wildly effective.
Joan's eyes are wide with innocence as she navigates her interrogators' questions, making them seem alternatively foolish and unserious. It's both Joan's strength and fragility, all told through Falconetti's performance, that sells the conflict. We are with her from the beginning to the end, and it's quite an emotional journey.

Experimental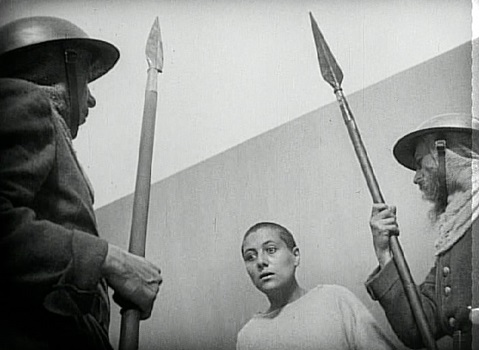 I revisited the movie for this post and I had completely forgotten how much the camera moves. I don't know about you, but when I think of silent filmmaking, I imagine hand-cranked cameras on tripods. The cameras used in The Passion of Joan of Arc were hand-cranked, but it feels like they were never on tripods.
The camera swings around, back and forth, and is always pushed right into actors' faces. The production company actually spent a significant amount of money building an entire French medieval town for the film, and they were angry at Dreyer because the audience barely sees it. The movie has wider shots here and there, but the story is almost entirely told in close-up, and often at off angles.
For those who think that filmmakers never really got inventive until that one movie that speaks to them personally but was released in the late 90s and they watched at a formative time, it's interesting to see them take in the fast editing and fun camera work in a movie from the 20s.

Preservation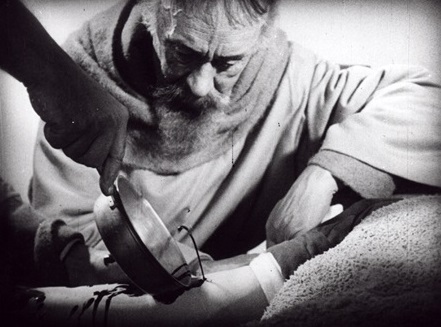 I provided a link earlier to a free streaming version of the film. If you do just go over and watch the first few minutes, there's a bit (the copy is from the Criterion collection version) that includes a brief history of the film, including the fact that the original version was considered lost for decades.
I can't find any images of the comparison, but one difference between the cut Dreyer cobbled together after the original negative went up in flames and the one we have today is in a scene late in the movie where Joan gets blood-let. First of all, it's an actual arm, an actual knife, and actual blood. And they did it twice, to the same person (apparently not Falconetti), within minutes.
The first version is what's in the restored, original cut. The spray is strong and jumps out of her arm. In the cobbled together cut, the spray is much less powerful. (I know I've seen that alternate take, and I think it's on the Criterion DVD as an extra, but I'm not reorganizing my attic to find it. I have the ripped version of the movie on my hard drive, and that's going to be good enough for now.)
I don't place film preservation on the same level of importance as someone like Martin Scorsese (whose movie Hugo is a celebration of film preservation), but The Passion of Joan of Arc and the fact that it was completely lost for decades, and could have been lost forever, tells me of the effort's importance. I never want to see that cobbled cut with alternate takes for everything. It's not what Dreyer had decided was the best representation of the film he had made. It was a lesser version. I'd never want that.

Greatest Ever
I only order my Top Ten based on either time or alphabetically. I'm not interested in pitting movie 5 and 6 against each other. I just want to celebrate them both.
The one exception to that rule would probably be this. I think that if I were to ever actually order the list from best to least best, The Passion of Joan of Arc would be number 1.
It was the greatest movie ever made in 1928, and I think it very well may be the greatest movie ever made in 2017 still.
And, as a complete coincidence (seriously, I finished this post and then saw the announcement about an hour later), Criterion is finally releasing this on Blu-ray. I'm excited.

Movies of Today
Opening in Theaters:
Star Wars: The Last Jedi
Next in my Netflix Queue:
Hairspray
Movies I Saw This Week:
Longford (Netflix Rating 4/5 | Quality Rating 3/4) Poster blurb: "Interesting little tale whose purpose seems a little muddled." [Netflix DVD]
Of Gods and Men (Netflix Rating 4/5 | Quality Rating 3/4) "Exists on the line between drama and thriller without fully embracing the potential of either, but it manages well enough." [Netflix DVD]
War for the Planet of the Apes (Netflix Rating 5/5 | Quality Rating 4/4) "The scenes between Harrelson and Serkis' Caesar are absolutely electric." [Personal Collection]

Contact
Email any suggestions or questions to thejamesmadison.aos at symbol gmail dot com.
I've also archived all the old posts here, by request. I'll add new posts a week after they originally post at the HQ.

posted by OregonMuse at
05:14 PM
|
Access Comments