« Thread before the Gardening Thread: Speaking up [KT]
|
Main
|
Ace of Spades Pet Thread »
December 09, 2017
Saturday Gardening Thread: Lights in the Night [KT]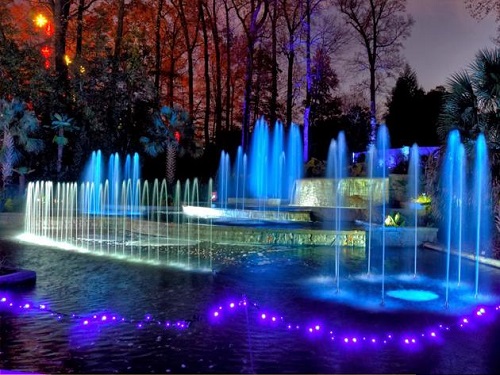 Hello, gardeners and friends of gardeners. I have been dismayed by the fires south and west of us this week. Hope to hear today from those who were near or in a fire zone. Are you all OK?
I was especially struck to hear about some of the expensive real estate lost in and near Bel-Air. Guess it's not the first fire there, though. I've only been to Bel-Air once, but it occurred to me that the brushy hills below many homes would be susceptible to wildfires. I've seen a few from the road or from the air, and most of them were on hillsides or in canyons. Those may not be the only danger zones now. Winds are picking up. Yipes.
I thought that today some calmer scenes were in order. The photo above is from the Atlanta Botanical Gardens. There's a slide show at the link. Lots of features there, including a musical light show and S'Mores kits, but I liked the relatively simple lights around the fountains above. I wonder what those fountains look like in the snow?
There are places where water features are frozen solid, however. Different approaches are possible even there.

Here are some Winter pond ideas from a landscaping firm in Kalamazoo, Michigan. Penguins, waterfalls of lights, or this extravagant inspiration from a botanical garden in Washington State.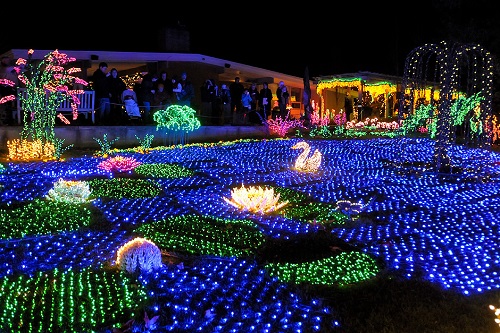 We are looking forward to some night lights or other seasonal decorations in your yard or garden. We have one set on hand . . .
Feeding Chickens
CaliGirl sent in a photo of her pampered chickens eating pomegranates, making some members of The Horde jealous: "They come running when I get near that bush/tree."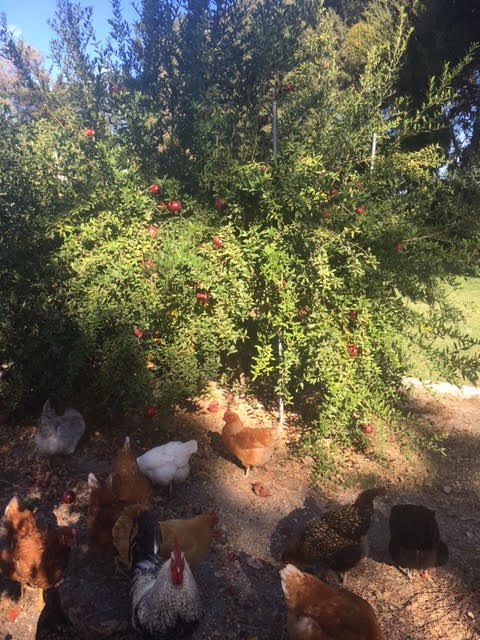 Sometimes the branches on one of our trees bend over like that when harvest season approaches. We should probably do a little pomegranate summary sometime soon.
Feeding People
That photo also gives me a chance to post the recipe for Gordon's "Chicken Feed, Repurposed", aka Pomegranate Salsa. Couldn't find it last week when I posted the photo.
Pomegranate Salsa

Do not wear white when working with pomegranates!

Preparing the arils: Slice just deep enough to score the skin all the way around. Break it apart with your hands. Arils (the purple seed juicy things) go into one bowl, rind and white stuff in another. The brownish and/or clearish airls go away, they're not good. Fill the seed bowl with water, so the white bits can be gotten out. Drain them well. This does take some time, so allow for that.

Arils from four pomegranates
1 jalapeno, seeded, minced
1 small red onion, minced
Zest of 1/2 lime, juice of two limes
1/2 tsp salt
1/2 cup of chopped cilantro

Mix it up. Some people say add a bit of sugar, but they're silly. Don't omit the salt, really. It needs it.

It's better a day later. Stir it up before serving.

Serve with scoop tortilla chips. It's considered thoughtful to close your mouth before biting down.
Crunchy salsa!
And remember to check out The Deplorable Gourmet in the sidebar. Bet there are some recipes that go with Pomegranate Salsa.
Back to the subject of chickens, does anybody besides CaliGirl keep chickens for egg production? If so, you might be interested in George Washington's Eggnog, which uses raw eggs. They say these are Washington's instructions for the finished eggnog: "Let set in cool place for several days. Taste frequently."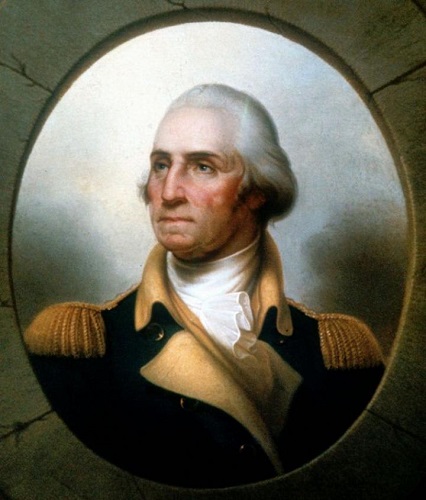 Meanwhile, you may soon be able to try scrambled eggs made from beans. The in-crowd raves about them. This is sustainability in their dreams, apparently. Look appealing?
The beans used to make "scrambled eggs" are mung beans, the kind typically used in Chinese cooking as "bean sprouts". If Ace can sprout broccoli seeds, he can sprout mung beans. Keep them in the dark so they won't turn bitter. I think they are better for you after cooking. Also safer. Don't know if raw eggs or raw sprouts are more likely to be infected with dangerous bacteria. Follow directions, Think about using tested seed just for sprouting. I have sprouted mung beans. They really are better than the ones you buy at the store.
You might want to try sprouting this winter. Sprouting is the fastest kind of gardening. Tips and recipe at the link. Next thing you know, you'll be doing microgreens.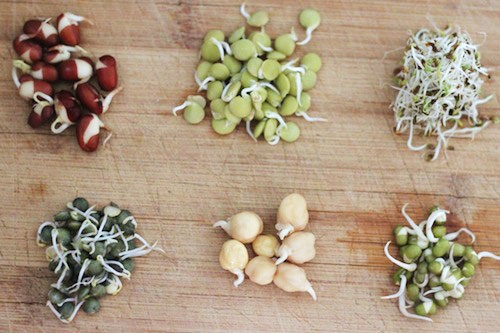 Co-blogger Challenge
This week, in an ONT, Misanthropic Humanitarian posted a photo of the ultimate riding lawnmower.
I'll see your riding lawnmower and raise you a nut shaker. Weird to see a line of these short little machines going down the road.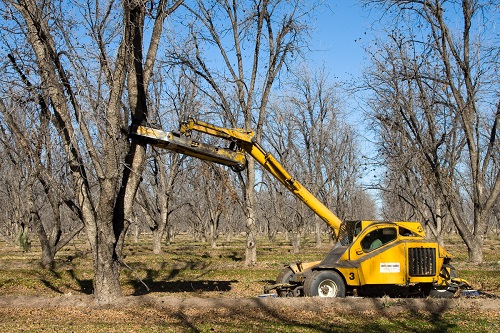 Gardens of The Horde
We haven't experienced the winds the are driving the California fires here in the Central Valley. In fact, about the time the current round of fires were starting, the fans went in the citrus groves in the nearby foothills because of freeze warnings. The tomato plants in our front yard froze except for the ones draped over the sidewalk. Picked some green tomatoes. The Snapdragons, Chrysanthemums and China Pinks made it through this frost. Even out in the open. Plants on the porch are still good.
Anything going on in your yard or Garden?
If you would like to send information and/or photos for the Saturday Gardening Thread, the address is:
ktinthegarden
at g mail dot com
Include your nic unless you want to be a lurker.


posted by Open Blogger at
12:30 PM
|
Access Comments