« A Little Of This...A Little Of That...
|
Main
|
NeverTrump, Bluecheckmark Mafia: James Clapper is a Saint That Never Lies! (MJ) »
December 03, 2017
I got this message from Red Onion State Prison...wherever that is.
Hello, Morons and Moronettes, and welcome to the second AoSHQ Moron Cookbook contest! The cookbook is coming along nicely, and should be available soon, in time for Christmas. You will all be the first to know when it's ready. To help you pass the time while you wait, here's another chance to win a free cookbook! Solve the cryptogram, send us the solved message in the body of an email, and if you are the first person to solve it correctly, we will send you a free cookbook when they come out! Note: you will have to be willing to give us your mailing address in order to collect your prize. All details, including where to send your answer, are at the bottom of the cryptogram. GO!!
[The contest is now closed....some obsessive-compulsive puzzle-solving Moron named "Eris" solved it]
******
I redeemed myself from the biscuit catastrophe at Thanksgiving dinner, courtesy of Bluebell, who shared her foolproof biscuit recipe with me. In reality, biscuits are easy to make, and the problem last week was a lousy (or at least incomplete) recipe. As usual, I went off on a tangent and I started thinking about how to get the flaky version, which are nothing more than layered dough, rather than the simpler and easier version that most of us bake.
The problem is over-handling the dough and making it tough, and all that requires is good technique. I found this recipe and video, which is nothing earthshaking, but the video is quick and fun and her rolling "pin" is really cool!
Foolproof Flaky Biscuits
Biscuits seem odd to me, because the only other baking I do much of is bread and cookies, and those doughs are much more tolerant of handling. Hell, some breads need the rough stuff to turn out well.

******
This is on the menu tonight, because cooking doesn't get much easier than this:
Chicken Baked With Potatoes, Cherry Tomatoes and Herbs
. I have ranted about chefs who write recipes that require nine bowls, pots and pans when two or three would do. And I hate them!* So it is a pleasure to see an interesting recipe that either by design or luck doesn't call for or require the contents of my kitchen cupboards.
*Well, Ina Garten is occasionally guilty of that, and I don't really hate her...just her politics.

******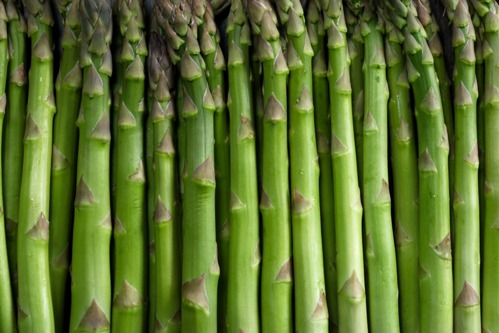 I roasted some asparagus last night and, as is becoming more and more usual around here, especially off-season, the stems were woody and stringy. Drizzled with olive oil and a pinch of salt, then finished with grated Parmesan. The tips were fine, but when half the stalk is inedible it really puts the damper on the meal. I wonder if this is the origin of the expression, "Just The Tip?"

******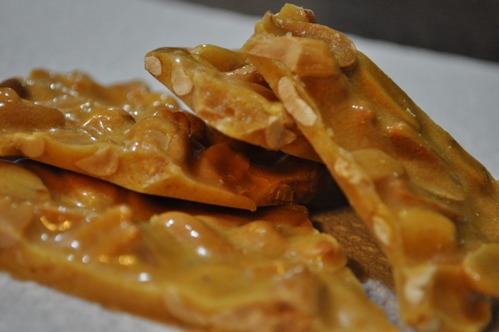 Any candy makers out there? I want to make peanut brittle with chocolate chunks embedded in it. But obviously the chocolate will melt at the brittle stage (300°F), and by the time it cools enough it is too hard to mix in any chocolate. Any ideas, or am I going to have to suffer this Christmas season without exactly the candy I want?
I thought of this because I made some pecan bars with the extra pecans from my Thanksgiving pecan pie, and at the last minute I tossed in some chocolate chunks. They melted, but it worked out really, really well. Maybe the peanut brittle will work out that way....

******
Here is Tyler Florence's beef chili recipe, which is damned good. I have made it a few times and was quite pleased with it. But it is a huge PITA. So a few days ago, when I wanted chili, I looked at this recipe and said to myself, "Nope, I'm using chili powder and a few other things and he can screw off."
And my chili was great, because chili is almost always great.
But if you want to give this one a shot, have at it.
Beef Chili


3 tablespoons olive oil

3 pounds beef shoulder, cut into large cubes

Sea salt and freshly ground black pepper

2 tablespoons ancho chili powder

1 tablespoons ground coriander

1 tablespoon ground cumin

1 tablespoon sweet paprika

1 tablespoon dried oregano

1/4 teaspoon ground cinnamon

2 onions, diced

10 garlic cloves, halved

3 canned chipotle peppers in adobo, chopped

1 jalapeno, seeded and chopped

1 teaspoon sugar

2 tablespoons tomato paste

1 (28-ounce) can whole tomatoes, crushed by hand

1/2 cup masa harina

3 cups shredded white Cheddar, for garnish

2 bunches chopped chives, for garnish

1 1/2 cups sour cream, for garnish
In a large soup pot, heat the olive oil. Season the beef shoulder all over with salt and pepper, add it to the pot and brown it. As it's browning stir in the chili powder, coriander, cumin, paprika, oregano and cinnamon. Lower the temperature under the meat to "toast" the spices.
In a food processor puree the onions, garlic, chipotle peppers, jalapeno, tomato paste and sugar and add it to the pot. Increase the heat to medium to steam vegetables a little and sweeten the peppers. Add enough water to cover by 1 inch, about 1 quart, and add tomatoes with their liquid. Bring to a boil and skim off any foam that rises to the surface. Reduce the heat and simmer until the meat is fork-tender and comes apart with no resistance, about 2 hours.
As it cooks down, add more water, if necessary. When done, stir in the masa harina. Take a potato masher and mash the chili so the meat comes apart in shreds. Season with salt and pepper, to taste. Garnish each serving with the shredded Cheddar, chives, and sour cream.

******
Food and cooking tips, real Maraschino cherries, Perfectly marbled prime NY strips, good biscuits (not the crap I made for Thanksgiving) and other goodies with impressive girth:
cbd dot aoshq at gmail dot com
The New Cookbook Is Here! [Almost...] &bodytext= I got this message from Red Onion State Prison...wherever that is. AoSHQ Cookbook Contest #2 Hello, Morons and Moronettes, and welcome to the second AoSHQ Moron Cookbook contest! The cookbook is coming along nicely, and should be available soon,...&topic=world_news">

posted by CBD at
04:00 PM
|
Access Comments