« Ace of Spades Pet Thread
|
Main
|
Saturday Overnight Open Thread (12/2/17) »
December 02, 2017
Saturday Evening Movie Thread 12-02-2017 [Hosted By: TheJamesMadison]
In Praise of Okayness



In Amadeus, Antonio Salieri considers himself a fine and respected composer until he hears the divine notes written by the impudent Mozart. The genius of Mozart drives Salieri to what he describes as murder (working Mozart to death writing his Requiem) because it makes his own work seem so much less by comparison.
Was Salieri's work bad? We hear snippets of it through the movie, but it's not bad. It's just not Mozart. Does that make Salieri's work worthless? Not at all. It's still worth a listen.
I think the same principal applies to movies.

Somewhere Between Good and Bad
A movie that has some good parts that engage you but doesn't quite come together for other reasons is the sort of thing I'm thinking of. Okayness, in my mind is different from mediocrity. Mediocrity, from my perspective, arises from a lack of imagination rather than skill. Okayness tends to have the opposite beginning, a burst of imagination with a lack of skill (which of course can be taken too far into badness, but we're talking about balance here).
I see a movie that I can't call bad, but can't call good either, and call it okay. There's some stuff in there to recommend, but it doesn't work overall. Would I recommend such movies? I rarely do, and when I do the recommendations are couched in hedges about how you need to get past this or ignore that to get to the good stuff, and yet, on balance, I considered the movie a worthwhile watch to me, personally.
Let's look at some examples!

Abraham Lincoln: Vampire Hunter



This movie isn't good. It's also not quite bad. It's okay.
I've seen it a few times. It's an easy watch anchored by a decent central performance by Benjamin Walker, some reasonably entertaining action sequences, and a pretty good overall production design that evokes the period fairly well. On the other hand, it has a couple of ugly action sequences that are covered in brown CGI dust, it's pretty ridiculous and probably doesn't keep its tongue in its cheek well enough, and it falls into the one trap of biographical movies that way too many fall into: telling the whole life of a man in 100 minutes.
I honestly did not expect Abraham Lincoln: Vampire Hunter to have the problem of a poorly told biographical movie, but it does.
Still, by the time of the final act, most of the issues are out of the way and we have Abraham running around on the top of a train, fighting vampires with his axe and bestie by his side, while the train rides over a flaming bridge. So it's got that going for it.

Otis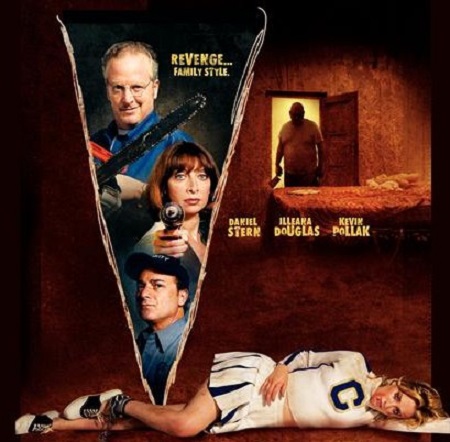 I actually just saw this movie this week, and it falls right in that camp. It's not good. It's also not quite bad. It's okay.
It's essentially broken into two halves. The first half is about the character Otis who kidnaps a high school girl and play acts some high school fantasy. It's never explicitly explained why he's doing it, but he's most likely mentally ill and fixated on a life he never had and feels like he deserves. It only really works at all because the girl provides an anchor from whom we can view the proceedings, and we can also see her figure out how to deal with him and angle for her escape.
The second half is her family trying, and failing, to take revenge against Otis. The two halves don't really play together at all. They have completely different points, and the movie doesn't really hold together.
However, after the opening sequence, the movie had me chuckling at its black humor pretty consistently through the whole thing. It even made Dolley laugh pretty hard at a few things late in the movie. So, I can't quite recommend it, but I had a reasonable time while watching it.

Immortals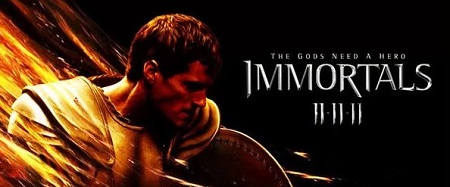 It's not good. It's also not bad. It's somewhere in between. One could say, I think this movie is okay.
I absolutely love the visual design of the movie. Dirty but arty and couched in an Ancient Greek aesthetic all filtered through an Indian man's eye. I also love the action in the movie. It's violent and bloody and arty, especially towards the end. From beginning to end, it's fantastic to look at.
The problem is that the story is kind of, well, stupid. I make no effort to defend it at this level, not because it goes against actual Greek history or anything (I don't care about movies keeping to history), but because it barely makes any sense, especially the gods. Zeus dictates that no gods shall interfere, and then gods interfere, he kills a god, and then Zeus interferes. It's…well…kind of stupid.
But damn does it look good doing it.
I'll pop this in every once in a while and watch it all the way through, cringing at the stupidity but kind of loving it anyway.

In the end
I'm the kind of guy who never turns off a movie after I start it (although I did stop watching Michael Moore's Sicko about halfway through because of its duplicity, lies, and general awfulness. It's my one mark of shame.). I've never walked out of a movie. I always want to like a movie, and just because I think a movie falls short of goodness doesn't mean that I want to toss it out completely. I genuinely do have affection for the above three movies. I just don't want to toss them out completely because of their large flaws specifically due to the things that they do do right.
What are those movies that fall between goodness and badness that you still find yourself going back to in order to enjoy its small pleasures?

Movies of Today
Opening in Theaters:
The Disaster Artist
The Shape of Water
Next in my Netflix Queue:
Longford
Movies I Saw This Week:
Otis (Netflix Rating 3/5 | Quality Rating 2.5/4) Poster blurb: "It almost works, and it's quite funny while doing it." [Netflix DVD]
Spider Man Homecoming (Netflix Rating 4/5 | Quality Rating 3/4) "Well made and entertaining." [Personal Collection]
Revenge of the Nerds (Netflix Rating 2/5 | Quality Rating 1.5/4) "Did the jokes fall this flat in the mid-80s?" [STARZ]
Chappie (Netflix Rating 2/5 | Quality Rating 1/4) "Neill Blomkamp the director is completely wasted working with Neill Blomkamp the screenwriter." [Netflix Instant]
Ponyo (Netflix Rating 4/5 | Quality Rating 3/4) "Absolutely marvelous animation and an incredible score overcome a middling story." [STARZ]
Wings (Netflix Rating 5/5 | Quality Rating 3.5/4) "Early example of big budget Hollywood at its epic best." [Personal Collection]
Captain America: Civil War [Rewatch] (Netflix Rating 4/5 | Quality Rating 3/4) "Cut out Zemo and I think you might have a great little movie. As it is, it's too unfocused for greatness, but entertaining enough for goodness." [Personal Collection]

Contact
Email any suggestions or questions to thejamesmadison.aos at symbol gmail dot com.
I've also archived all the old posts here, by request. I'll add new posts a week after they originally post at the HQ.


posted by OregonMuse at
06:34 PM
|
Access Comments