« Saturday Gardening Thread: How natural is your garden? [KT]
|
Main
|
Saturday Evening Movie Thread 12-02-2017 [Hosted By: TheJamesMadison] »
December 02, 2017
Ace of Spades Pet Thread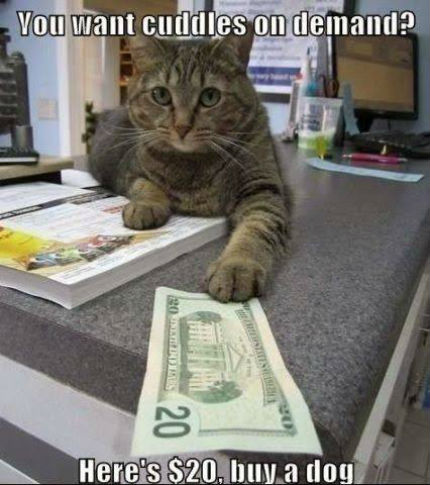 ***

Welcome to the almost world famous Ace of Spades Pet Thread. Time to sit back, kick up your feet and enjoy the world of pets.
*****
A Little of This. A Little of That.

Jump around. Can't be at a UW Badger game? Then use the trampoline in the back yard.
I've had pets to the vets for a number of years. Never seen a patient like this.
Not a pet story. But a feel good animal story. Hunters aren't a bad group.

Dammit Dad. Hurry it up.

Mayo jars do not make good hats. Just ask this cat.
Speaking of cats, Are they jerks? h/t ALH
*****
Meet The PetMorons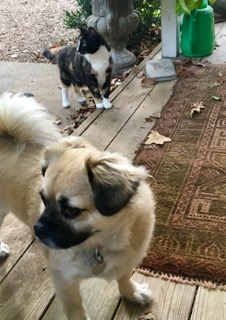 Dear Hoard, here is a picture of Mittens and her pal Pugs. Big Boy could not make the photo shoot as he was sleeping. Mittens is a 'walk on'. One cold rainy December day she was on our doorstep as we were leaving. I did not tell hubby I had been feeding her for a week to let her know she was welcome to live with us. She says she photographs best in daylight when Mom has not been drinking out of her favorite glass with the coon skin cap. She follows on all of our walks as long Pugs is with us. - Lurker annieb
Wine? Coonskin cap? Tell us moar. Looks like the kids get along quite well. Thanks for lurking and jump in. The water is fine.
*****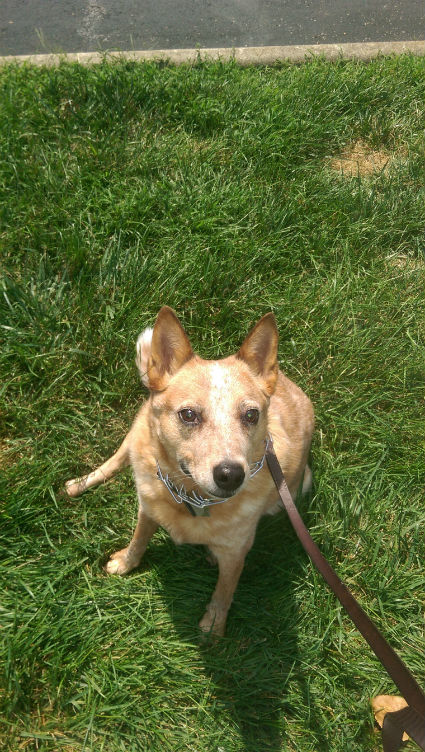 I go by Serous451AD.

Ajax has been graciously shown on the pet thread before. I love this photo though. It was taken the day of the eclipse , outside my apartment. He had no idea what I was doing staring up at the sky, but the eager, happy look on his face was priceless.

Thanks for the pet thread.
You and Ajax are welcome. He's a cutie.
*****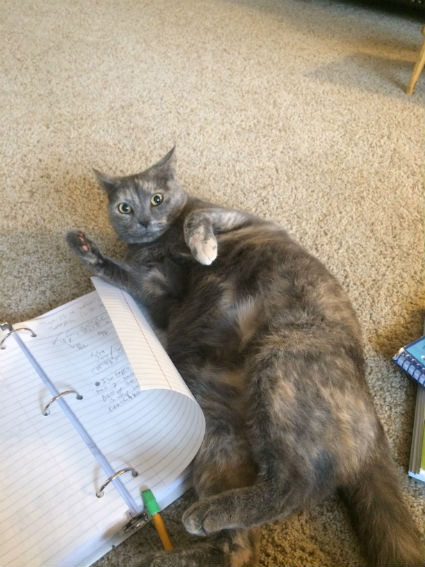 Anyone who truly loves cats, knows they need to be laughed at. They are warm and snuggly, they purr and cuddle, they also drive you crazy.

This is Twitchy, named for her temperament. Our other cat won't move if you shove your cold toes under his body, she'll flee in terror if you turn your head nearby.

She is not overweight, but maybe her head is a bit too small for her body. It has become a running gag to make fun of her pudgy appearance (I assume she couldn't care less), or her stress eating. She'll push our male cat away from the food. Of course, she's probably responsible for the dip in nuisance rodent population as a parade of dead mice and shrews didn't start until she arrived.

In this picture she came and lay on my daughter's schoolwork displaying her glorious bulginess and her twitchiness. -Ruth
It appears that your cat is very much abused. It's a good thing we can't track you down. Thanks for the submission.
*****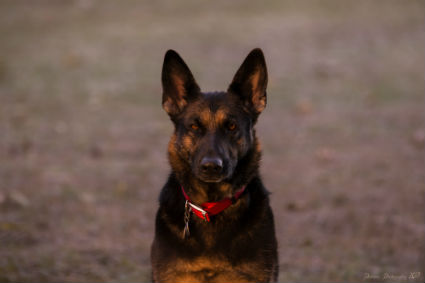 Thought I'd send a recent Lena shot. We lost our beautiful Jakob to cancer back in May, and Lena has adjusted to being the 'only dog' very well. As a matter of fact, she seems to enjoy it. All the attention, all the time. She's a hoot, and has helped heal our broken hearts over Jacob's death. Elizabeth (lizabtha@the HQ)
So sorry to hear of your loss. We are glad to hear that life is returning to normal. Quite the pose there by Lena. All you need is an Ole.
*****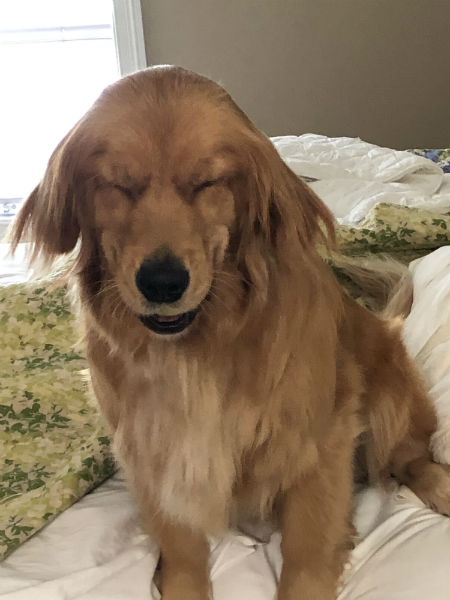 Thought I'd share my recent pet-sitting adventure. I have shared my two babies previously (Maddie and Chloe shown on the left), but our first-time house guests for the weekend were much bigger...Kal-El (middle) and Lexie(right).....over 175# combined. They belong to my adopted son's family who had to attend a funeral. We all had a great time playing and napping...only hard time was at feeding time..it kinda was a circus getting them to eat their own food and not bully others... lol. I really enjoy the pet thread, but was surprised no one sent in Halloween costumes. I might have to send ours in to start a trend. Thanks so much!! MrsTxEngr
I bet feeding time was a challenge.
*****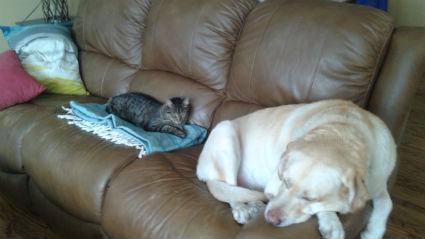 Longtime lurker, maybe once or twice poster, but have forgotten my name... These are Merv the Cat and Dot the Dog. Merv is 10, Dot is 8. The Doots is our third Lab, and the best combo of traits of Elvis and Beebs, who preceded her, though no relation. Merv succeeded Lucky who lived to 17. Merv is a purrer extraordinaire. Both are rescues. We love them and our grandbabes do, too.

Love the thread.
Kim
Thanks so much Kim, we appreciate your kind words. Great looking pets. Wonder if they chase each other around when you're not around?
*****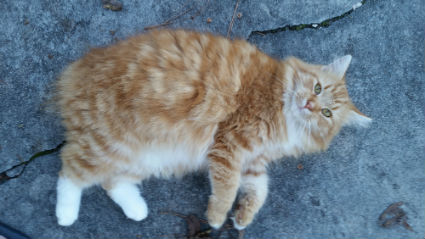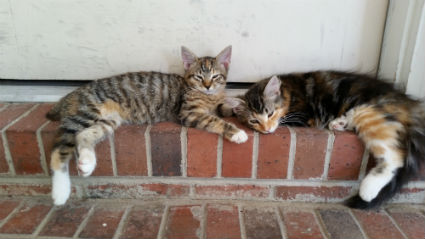 Fluffy is the orange, gorgeous, and, what's the word kids use now...oh, yeah, "thick", kitty on the concrete.

The second pic captures her daughters, Lulu (bobtailed like mama) and Ruby. Their no-account daddy is a tiger-striped, long-tailed rascal, who doesn't pay child support, or even drop off a squirrel for the holidays, the sorry bastard.

Keep up the good work! I'm "eastofsuez", long time fan of this site.

Well eastofsuez that's quite the family of kitty-kats you have there. Thanks for taking the time to submit the photos and story.
*****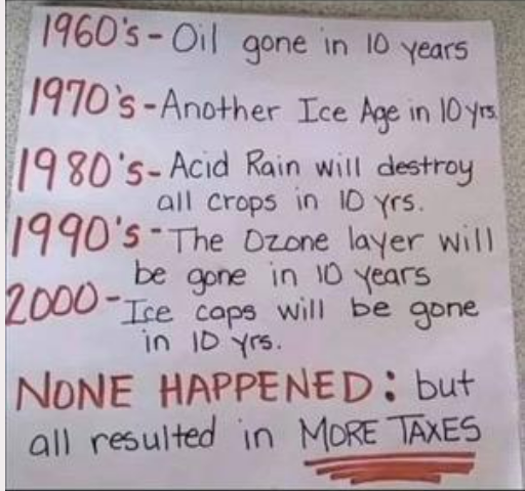 My three jamokes....

Hailey, the black/lab hound mix my daughter got from a rescue while she was in college. When she graduated, she moved to a small apt. So we got Hailey. She hates cats...and moles...and rabbits. And the latter two she's brought us on several occasions. Thankfully, no cats!

Bruiser is the Yorkie...he runs the show. He belonged to my niece and when they were transferred to Ft. Leonard Wood, they could only have two pets...so we got Bruiser. He gives Beau trouble all.the.time.

Beau, the black pit, was my in-laws dog and our newest addition. When my FIL died and my MIL moved to a smaller place, she could also only have two pets. So we got Beau. (there's a theme here, huh?) He's a goofy, sensitive dog that lives to fetch a ball. He'd do it til he collapsed if you let him.


They were all plotting against me in this pic.

Tami
Thanks for taking the time to submit this photo Tami. A theme? Is it only 4 legged animals you take in or do you take in the 2 legged ones as well? Asking for a friend.
*****

Thanks guys and gals 'rons & 'ettes. What a great group of pets this week. Lots of love on display.
If you would like to share something with us, please send us your nic name, your pet's name and any other interesting information. You can also send in tips, stories and the photos to us at petmorons at gmail dot com.
Thanks and have a great week!!!

posted by Misanthropic Humanitarian at
03:00 PM
|
Access Comments