« Thread before the Gardening Thread: Conservatives in Education??? [KT]
|
Main
|
Ace of Spades Pet Thread »
December 02, 2017
Saturday Gardening Thread: How natural is your garden? [KT]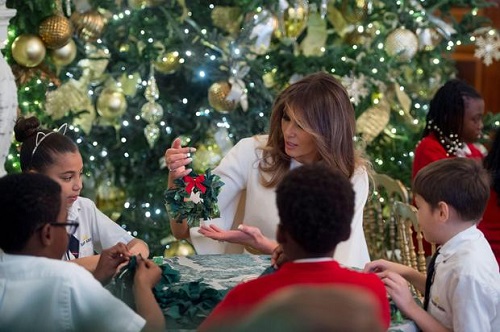 Have you retreated indoors for gardening activities yet?
White House Christmas Slide Show here.
Hello, gardeners and friends of gardeners. This is about the time of year when I start to think about the extent to which our gardens welcome wildlife and nature, or are refuges from wildlife and nature. You know, "nature, red in tooth and claw", with some really nasty weather, also. Where does your garden fall in the nature vs. protection from nature continuum?
Feeding songbirds and game birds
I have been promising a list of flowers that produce seeds attractive to songbirds. Turns out that some of those seeds are also attractive to game birds.
There are too many to mention here, but John Scheepers Kitchen Garden Seeds has a songbird habitat flower garden seed mixture that provides a good starting point. Twelve annuals and perennials chosen to attract and nurture larks, chickadess, titmice, warblers, thrushes, mocking birds, sparrows, cardinals, finches, goldfinches and wrens." They include:
Amaranthus caudatus (Love Lies Bleeding)

Carthamus tinctorius (Safflower)

Centaurea cyanus (Cornflower)

Coreopsis lanceolata (Lanceleaf Coreopsis)

Cosmos bipinnatus (The typical Cosmos)

Delphinium ajacus (Larkspur)

Echinacea purpurea (Purple Coneflower)

Eschscholzia California (California Poppy)

Helianthus annuus (Common Sunflower)

Panicum miliaceum (Proso Millet)

Papaver rhoeas (Shirley Poppy, Flanders Field Poppy)

Rudbeckia hirta (Black-eyed Susan)
We have featured several of these flowers recently here on the Gardening Thread, but not Amaranthus caudatus. The most common ornamental kind is red, going by the name Love Lies Bleeding, Tassel Flower or Foxtail Amaranth. All of the amaranths should make good feed for little birds. Before the Spanish came, tiny amaranth seeds made up much of the Aztec's energy consumption. Here's a photo of Love Lies Bleeding, from a page that includes a variety of amaranths, at Swallowtail Seeds.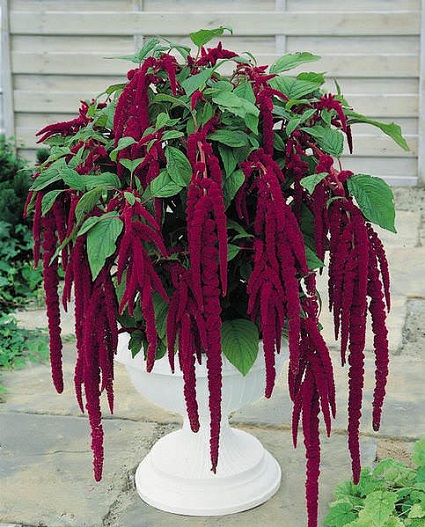 'Amaranthus' means something like 'unfading flower" in Greek. The colorful seed heads do last a long time, similar to the flower heads of its relatives from the Celosia clan. And some kinds of amaranth have showy leaves for a season-long display. Amaranth leaves are also edible, though amaranth leaves from cultivars bred specifically for eating may be tastier than most ornamental types. I think some of the weedy amaranth species you see out there are edible, too. Not saying that they are tasty, necessarily. Most amaranth seeds don't sprout unit the ground temperature is 70 degrees, so think of them as a summer/fall attraction.
One species that is cultivated for its edible leaves is A. tricolor, which may sport showy yellow to deep red leaves before the seed heads appear. The older ornamental ones are called 'Joseph's Coat'. Green ones grown as hot-weather spinach are called 'Tampala'. This 'Joseph's Coat' type is called 'Perfecta'.
Some varieties are known as "Summer Poinsettias". This one is 'Molten Fire'.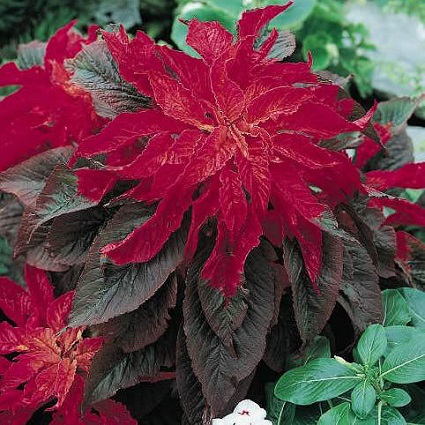 Have you ever eaten amaranth? I have grown and eaten the leaves of a dark-leaved tall one, a seed variety. Don't think it was A. tricolor. I didn't bother trying to eat the seeds.
I don't think we've said much about millet for a while, either. From a piece called The First Grain:
Millet was once known, not necessarily by name, as the little round seeds in bird seed that the birds never seemed to eat. Recently, however, Americans have decided to join the rest of the world and to think of millet as a nutritious and healthful food.

"Millet" is not actually a taxonomic group, but a flag of convenience flown by several different genera of grasses in two subfamilies of the family Poaceae that have been cultivated throughout the Old World since the Stone Age.
Some of these millets are tropical, others grow naturally in temperate climates. Proso millet was cultivated in Switzerland back in the day of the Pile Dwellers, and in the Middle Ages. Back to the previous piece:
The common millet is also called proso (from the Slavic name) millet or white millet (P. miliceum). Not closely related to other millets, its wild ancestor is still unknown, but appears in the archaeological record as a cultivated plant in the Caucaucus (Georgia) in the 5th millennium B.C. Although used primarily as a foodstuff for centuries, during the 20th century it was largely grown to feed livestock and birds (domesticated, wild, and caged). In this gluten-free era it is now making a comeback as a health food. . . .

It is the golden millet and red millet, cultivars of P. miliaceum, that most feeder birds tend to shun. Ducks love golden millet though, and duck hunting web sites urge landowners to plant the stuff near their hunting grounds to attract migrating flocks in the fall. Caged birds, like parrots, will also eat golden millet.

Apparently the sticking point is whether you have bird seed that contains "proso millet" or just "millet". The former is what you want and the latter is just filler. Ground-feeding birds will eat proso millet (eastern species prefer white proso and western species prefer red proso) with gusto.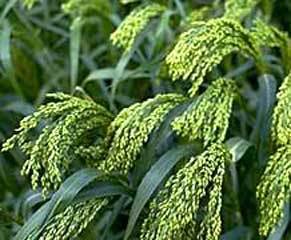 Anybody planting Proso Millet for game birds? If people want to eat it, it has to be hulled. It can be malted for beer. The Missouri Botanical Garden notes that it is still the staple grain in Northern Korea.
Amaranth seed makes a nice complement to Proso Millet seed, because the former is high in lysine and the latter, like many grains from grasses, is low in lysine.
Protecting Plants from the Cold
There has been a fair amount of discussion in the comments of designs for cold frames and similar structures for extending the growing season. Hank Curmudgeon sent in this piece on a hinged hoop house, for those looking to extend their salad garden into winter. I really like the hinge idea. The guy is in Norway, and he's planting in spring. In fall, you could maybe add a cheap-to-run heating cable and throw a blanket over it at night. If you just need a few degrees of frost protection and some wind protection, you might consider a medium-weight floating row cover in place of plastic. And don't stand in the planting bed. Construction video at the link.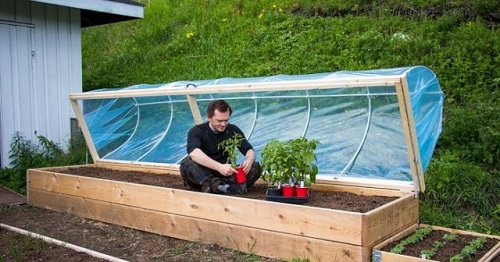 This design would not provide the maximum in cold insulation, but it seems very practical. Have you got other design ideas?
Protecting wildlife from . . . other wildlife?
A lot of people were impressed by Illiniwek's heron photo last week. His heron eats mice. Welcome on a farm, I would imagine. Cumberland Astro remembered that he had a video of a heron actually eating:
That picture you posted of a blue heron yesterday reminded me of this video I took at South Padre Island, Texas in Winter 2016. My wife and I were at a nature preserve when we saw a heron catch a big fish. It then proceeded to execute the fish and swallow it whole. My wife offers some humorous color commentary as she's watching this unfold.
Thanks to CBD for making it possible to embed that dramatic video.
O.K., so that video was not taken in Cumberland Astro's garden. But what if he had a koi pond? How many people install koi ponds in order to watch herons eat those (sometimes very expensive) fish? Here's a video with one idea for keeping herons from eating your koi. I dunno. I am sure I would eventually injure myself on that rebar. Got any other ideas for a less natural koi pond - one without significant deadly bird/fish interactions?
Gardens of The Horde
From Pat* in Idaho's Treasure Valley, famous for posting those detailed garden notes that lure us back to AoSHQ gardening comment threads late on Saturday or on Sunday, this surprising photo:
Wed. Nov. 22nd - a vixen in broad daylight (8:50 AM) in our back yard, unfortunately engaged in eating a neighbor's chicken.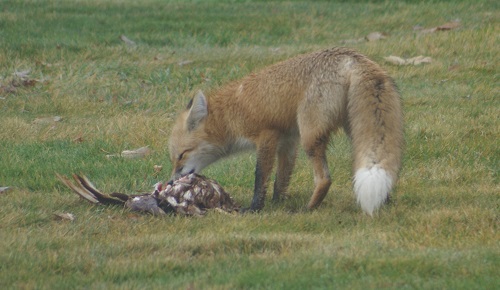 Speaking of chickens, some people have been dismayed that CaliGirl's pampered chickens get pomegranates for lunch, while they cannot afford pomegranates. Gordon sends in a photo of his famous Pomegranate Salsa, or "Chicken Feed Repurposed".
I'm ready for some salsa. Hope everybody has a great weekend.
If you would like to send information and/or photos for the Saturday Gardening Thread, the address is:
ktinthegarden
at g mail dot com
Got any decorations up in the yard yet?
Include your nic unless you want to be a lurker.

posted by Open Blogger at
12:49 PM
|
Access Comments