« Weird News Dump
|
Main
|
Saturday Gardening Thread: How natural is your garden? [KT] »
December 02, 2017
Thread before the Gardening Thread: Conservatives in Education??? [KT]
Serving your mid-day open thread needs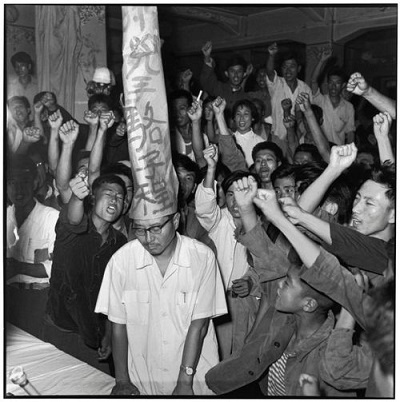 Dunce Cap, Cultural Revolution
That photo kind of reminds me of The Inquisition at Laurier University for showing a short YouTube video featuring Professor Jordan Peterson for discussion.
But Steven Hayward over at Powerline, one of the few non-leftists to actually teach classes at Berkeley lately, has another piece up this week on why there are so few conservatives in higher education now.
I am long overdue in delivering a World Wrestling Federation-style smack down on Damon Linker, one of my favorite liberal writers, for a column he wrote in The Week way back in August on "The Real Reason There Are So Few Conservatives on Campus." . . .

Let's take Damon's second major claim in the piece first. Conservatives, he says, are less interested in breaking "new knowledge" that is the mode of operation for universities these days, even in the humanities. In other words, conservative academics are like baseball players trying to play in the NFL--it's just a different game. There is something to this criticism, but only because it accepts as its premise that breaking "new knowledge" is the sole function of a university, rather than being partly a repository for conserving and passing along the knowledge capital of our civilization. . . .
Why should the knowledge capital or our civilization matter when we can emulate German Research Universities of the 19th Century?
This problem was understood to some leaders of higher education when our universities were deciding to emulate the German research-university model in the late 19th century. One of the presidents of Harvard at the time (I forget which, but as I'm on an airplane at the moment I can't check Louis Menand's account of this) thought it might be necessary to have two faculties at Harvard--a graduate research faculty, and a purely teaching faculty to carry on the older mission of being the transmission belt of our heritage, unburdened with the task of grinding out endless journal articles that almost no one will read.

So it is true that most conservatives in the humanities are wholly alienated from the mode of humanities instruction in universities today. Linker and other liberals should ponder that the number of majors in humanities and social sciences (excluding economics) has fallen by two-thirds over the last 30 years even at our most elite universities, corresponding precisely to the transition in the humanities from the old style to the "new knowledge" style. By contrast, note that the scarce conservative professors and their courses are often very popular with students (my courses all have long waiting lists, while the radical left courses--most that I check on are barely half full; also, check out the Thomas Jefferson Center for the Study of Great Texts at UT/Austin--it's ragingly popular with students). Maybe there's a lesson here?

Besides, even conservative keepers of supposedly "old knowledge" have relevant challenges to make to the so-called "new knowledge." . .
Hayward then goes on to note that "most of the so-called 'new knowledge' in the humanities is, simply put, crap". And to examine a typical job announcement for ideological bias. For contrast, a couple of job announcements from Arizona State University's new School for Civic and Economic Thought and Leadership, which has been set up by conservatives, are included.
Know anybody who might be interested?

While you're in the neighborhood, you might want to scroll through Powerline's Academic Left posts. Kind of entertaining, if troubling.
Is this the real life? Is this just fantasy?

posted by Open Blogger at
11:14 AM
|
Access Comments