« Ace of Spades Pet Thread-Answering The Ultimate Question Edition
|
Main
|
Saturday Overnight Open Thread (11/18/17) »
November 18, 2017
Saturday Evening Movie Thread 11-18-2017 [Hosted By: TheJamesMadison]
Real Vs. The Unreal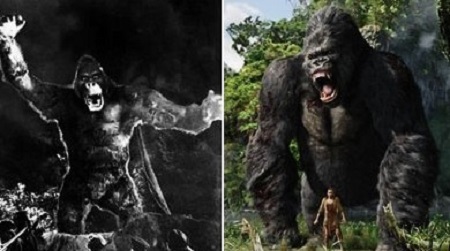 I don't think it'll be a terribly controversial thing to say here that practical effects work better, generally, than computer generated effects. I think the models used in 60s and 70s sci-fi are more convincing than many cutting edge special effects today. Even comparing the original King Kong model to that of the Peter Jackson film, there's a very palpable difference in how the two carry on film. In the original, you may notice when Kong is part of a background while live actors are part of the foreground, there being a difference in lighting and clarity between the two, but you're never unsure that the camera was actually looking at something real. In Jackson's movie, for all the money they threw at the screen, Kong often had a weightless quality (especially when he jumps) that make the visual look somewhat less real by comparison. It's an effervescent quality that's hard to define.
Although it's easy to find examples from big budget action movies, I think that the effect of actually capturing things on film is better encapsulated with smaller examples. We don't have much experience with space ships, but we do understand what a bird flying through the sky looks like.
Below are two examples from some older movies where the fact that the filmmakers actually captured the events on camera had an appreciably visceral effect on me.
Bad Day at Black Rock

Bad Day at Black Rock is a very small little movie from the 50s staring Spencer Tracy as a man who shows up to a very small town called Black Rock looking for a man he's never met for personal reasons. It turns out that the townspeople killed the man he's looking for and don't really like the fact that Tracy is poking around. At one point, Tracy is driving back from a farm outside of town and one of the hoods, played by Earnest Borgnine, is pursuing him in a car.
The two are driving, one in front of the other, along a single lane road with what looks like a steep drop off to one side. It also looks like they're driving at about 50 miles per hour when the car behind rams into the car ahead.
It doesn't seem like much, but it shocked me, because it really looked like they went out to the desert, by a dangerous drop off and rammed two cars against each other. The normal faking that a modern day movie would use (composition and green screen predominantly) were very obviously not being used. That feeling of reality was cheap to attain the way they did, and wildly effective.

Kes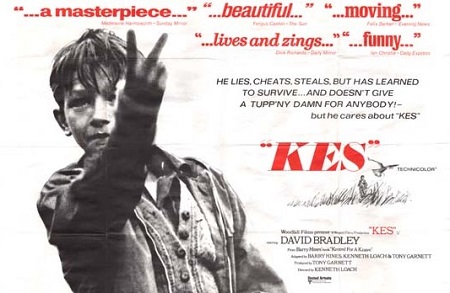 Kes is a tiny little British movie set in a small coal mining town. It's about a boy, largely isolated from the other boys his age, and he finds an escape from his miserable little world of bullies and neglect in a kestrel. He adopts it and trains it.
Why I bring this up is because of the little scenes where the boy actually trains his bird. I didn't need to even look up any background on the movie to conclude that the kid had a real connection with the bird. The bird hadn't been trained by someone else and the boy hadn't been given a quick hour of training himself on how to handle the bird. He was comfortable with it in a way that can't be faked. It turns out that the boy did in fact train the bird (three of them, actually), so the connection we see is real.
I imagine what would happen if someone made this movie today, and I can't escape the idea that the kid would never have been given the bird. The production crew wouldn't trust him. The insurers would object in case the bird hurt the boy. They'd probably use some CGI to capture some shot they just couldn't do practically. And it would all create a distance between the film and the audience by comparison. Would it matter narratively? Not really, but movies are about emotional connection, and part of that equation is the audience buying the events on screen as actually happening on some level.
Having the boy actually train the bird enhances that experience that high quality fakery can't.

One More Example
One modern direction who understand getting as much in frame practically as possible is Guillermo del Toro. He loves men in suits for monsters. He loves intricate costumes and makeup effects. He's definitely not a guy who will plaster some green cloth on something, throw up his hands, and say, "We'll do it in post!"
One great example of del Toro's visual approach is near the end of Pan's Labyrinth. The step father of our main character Ophelia got a nasty cut on his face, splitting his cheek on one side. Alone, he looks in a mirror and sutures the wound shut, all in frame. It looks very real, and it's because it mostly is.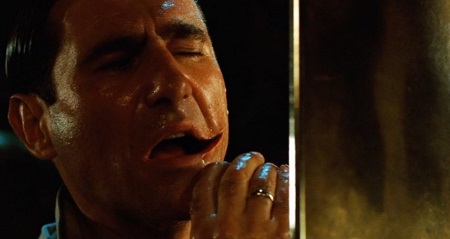 Well, it's mostly makeup. I could imagine another director just placing some green cloth on the actor's face and throwing the problem to the CGI folks months later. Instead, they built the outer layer of the wound with makeup and placed a small sliver of green at the center to allow the post production team to add the inside of the mouth.
It's a small effect, but it looks very real, and, combined with the actor's performance, it feels very real.
Again, it's a small effect, but it represents a wonderful combination of old school and new school effects to create an emotional resonance.

Lessons
For any filmmakers out there (I doubt it), I'd say that things in frame are better than things done in post. Think of the practical puppet creature effects in John Carpenter's The Thing versus the terrible and fake looking computer generated effects in the remake from a few years ago. The production of that remake actually did create puppet effects which were, apparently, on par with Carpenter's movie, but because the director had no idea what he was doing or how to use puppet effects, they refused to use any of it. There's a story where the director looked at a puppet which was designed to work from a specific angle, but he wanted to look at it from a different direction, so he chose the terrible CGI so he could put the camera at a different place instead of doing as he had designed it and having something that looks good.
What are some of your favorite practical effects? What about modern day uses of practical effects?

Movies of Today
Opening in Theaters:
Justic League
Wonder
Roman J. Israel
Next in my Netflix Queue:
I Saw the Devil
Movies I Saw This Week:
Agora (Netflix Rating 3/5 | Quality Rating 2/4) Poster blurb: "Interesting and intelligent historical epic that is surprisingly distant." [Netflix DVD]
Ink (Netflix Rating 2/5 | Quality Rating 1.5/4) "Ambition without much skill or narrative cohesion. There's some fun visuals, though." [Amazon Prime]
The Adventures of Pluto Nash (Netflix Rating 2/5 | Quality Rating 1/4) "I was expecting such a bomb to be more interesting in its badness." [Netflix DVD]
The Voices (Netflix Rating 3/5 | Quality Rating 2.5/4) "The tonal clashes are handled awkwardly making the second half work much less well than the first." [Netflix Instant]

Contact
Email any suggestions or questions to thejamesmadison.aos at symbol gmail dot com.
I've also archived all the old posts here, by request. I'll add new posts a week after they originally post at the HQ.


posted by OregonMuse at
05:56 PM
|
Access Comments